The American Veterinary Medical Association Convention in St. Louis provided a forum for numerous aspects of our profession. Philippe Cousteau presented a vital keynote address with awe-inspiring videos advocating global clean water and a sustainable earth.
AVMA marked World Veterinary Year with a display created by Dr. Fred Born of the American Veterinary Medical History Society honoring the 250th anniversary of the first veterinary school in Lyon, France. Dr. J.F. Chary, the president of Vet2011, opened a full day symposium with Drs. Pappaioanou, Gorczyca, B.A. Miller, Vallat, Deem, Jessup, Vroegindewey, and Mazet, covering history, public health, wildlife and disaster response for improving global One Health.
The Leo Bustad Companion Animal Award went to Dr. Nancy Kay, Dipl. ACVIM, for her book, "Speaking for Spot," and her devotion to helping pet owners learn more about the health, care and well-being of their companion animals. The prestigious award is sponsored by The Delta Society, AVMA and Hill's Pet Nutrition.
At next year's AVMA convention in San Diego, Dr. Kay will present the Bustad Memorial Keynote Lecture to kick off the human-animal bond sessions organized by Dr. Robin Downing, president of the American Association of Human-Animal Bond Veterinarians.
This year's HAB sessions opened with Dr. Kenneth Gorczyca's Bustad memorial lecture followed by the remarkable Dr. Downing, who led attendees on a full day bond-oriented journey of caring for patients "From Womb to Tomb."
The Society for Veterinary Medical Ethics presented its most esteemed award, the Shomer Ethics Award, posthumously to Dr. Franklin Loew. Dr. Loew joined Dr. Robert Shomer to establish the SVME and he established the Ethics and Values Signature Program at Tufts and the first official course work in veterinary medical ethics with Andrew Rowan, PhD, and Jerold Tannenbaum, JD, during his 10-plus years as dean at Tufts following his deanship at Cornell. Dr. Debbie Kochevar, the current dean at Tufts CSVM, proudly accepted the Shomer Award on behalf of. Loew and will oversee its $2,000 grant for a scholarship in ethics. Mr. Tannenbaum, who teaches ethics at University of California, Davis, and is the 2009 Shomer Award recipient, nominated Dr. Loew.
Iowa State veterinary student Kristin Willer, class of 2013, won the SVME-Waltham Student Essay Contest for her excellent answer to the question, "Are veterinarians obligated to provide palliative and hospice care?" Kristin's winning essay is published online and she presented it at the Ethics Plenary Session.
The legendary Dr. Robert M. Miller opened the Ethics Plenary Sessions with two astounding hours on equine ethics. Dr. Miller sincerely and courageously presented his ethical viewpoints on mean and brutal handling, breeding genetic disease, racing 2-year-olds, futurities and drug use in sport horses, unwanted horses, BLM pressure on wild mustangs and the consequences of the horse-slaughter ban.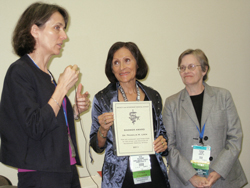 Tufts CSVM dean Dr. Debbie Kochevar, left, the 2011 Shomer Ethics Award from Dr. Alice Villalobos, SVME president, and Dr. Patty Olson of American Humane.
Yes, we are speaking of RMM, the famous veterinary cartoonist, equine behavior expert book author and "Mind Over Miller" columnist for Veterinary Medicine.
Dr. Miller concluded that greed, pressure to win and ignorance drive man's meanness to horses, especially for show, sport and futurities. He urged organized veterinary medicine to unite and take a firm stand against any practices that qualify as abusive and unethical, including using drugs that are not medically indicated.
Attendees heard the truth about the extent and prevalence of horse abuse actually being formally addressed at AVMA. Feedback has been congratulatory and confessional. Some felt awakened out of a stiff trance, hoping that these issues will be addressed similarly at equine meetings in the future. The forthright Dr. Miller is a treasured mentor to many. I personally consider RMM to be the Will Rogers of our profession.
Patty Olson, DVM, PhD, former president of the Morris Animal Foundation, presented a proposed research funding organization from the American Humane Association. The ethical stipulations regarding the care and handling of animals participating in AHA research projects coincide with the way all clinicians would want their companion animal patients treated if enrolled in a clinical trial.
Dr. Paul Pion, Dipl. ACVIM, presented his own normative ethics for keeping the Veterinary Information Network and the 48,500 members of its community independent of industry and pharmacy bias. VIN members enjoy an open forum to freely discuss cases, opinions, efficacy, adverse events and personal experiences with products and services.
Dr. Jose Peralta, PhD, who teaches ethics at the Western University of Health Sciences in Pomona, Calif., discussed ethical issues emerging from his lecture, "Declawing, Devoicing, Desexing and Student Issues." Peralta expanded his discussion to include global animal health and welfare issues and the development of a new specialty in animal welfare.
I presented two papers. The first was a case scenario that provokes the hot question, "Are Veterinarians Obligated to Provide Palliative and Hospice Care?" The second discusses the ethics of practicing "either/or" medicine in a lecture, "Pay or Kill: Overcharging, Overtreatment: Why Aren't There More Options for this Economy?"
This paper asks tough questions such as: "Do either/or policies promote more euthanasia or more overtreatment and overcharging than originally intended?" and "Is the pay or kill policy ethical? Is it fair?" These are difficult questions to answer, especially for those working at busy emergency facilities trained by business consultants and for those working at facilities that primarily focus on the bottom line. Many veterinarians are not allowed much wiggle room or time to generate options that might satisfy patient needs, yet stay within pet owners' financial ability and their own moral and ethical standards.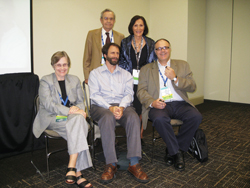 The Speakers Panel, seated, from left, Drs. Patricia Olson, Paul Pion and Jose Peralta. Standing, Drs. Robert M. Miller and Alice Villalobos.
The Ethics Plenary Sessions held many attendees entranced for the entire day. Providing a forum for veterinarians to discuss touchy dilemmas and harsh issues is what the SVME is all about. SVME membership includes being on the VETETHICS List Serv, an email forum that discusses ethical issues under the watchful supervision of Dr. Sylvie Cloutie at the University of Washington.
Remember AVMA's old roundtable discussions? They were replaced by "Inside the Issues: Panel Dialogue." I was asked by Dr. Lydia Gray, AVMA section manager, to organize two lunchtime programs. Panelists syndicated columnist Steve Dale of Steve Dale's Pet World, Drs. Tina Ellenbogen, Amir Shanin, Robin Downing and CVTs Valarie Hajek Adams and Ann McClenaghan spoke and answered questions from the audience on the topic "Are Veterinarians Obligated to Provide Palliative and Hospice Care?"
The AVMA executive board recently approved revisions to the "Guidelines for Veterinary Hospice Care" based upon recommendations of the AVMA Human-Animal Bond Committee chaired by Dr. Gail Golab.
The revisions state, "Veterinarians who do not offer hospice services should be prepared to refer clients to a veterinarian who does offer hospice." The AVMA is also revising its "Guidelines for Euthanasia" and Veterinary Clinics of North America published its first issue devoted to palliative medicine and hospice care with Dr. Tami Shearer as guest editor. Chapters are written by Drs. Shearer, Downing, Landsberg, DePorter, Shanin and me, along with CVTs Adams and McClenaghan and others. This VCNA volume reveals and directs readers to everything the V-team needs to know about providing end of life care. Vet Clin Small Anim. Vol. 41, No. 3, May 2011.
Dr. Villalobos is a past president of the American Assn. of Human-Animal Bond Veterinarians and is president of the Society for Veterinary Medical Ethics. Her column appears every other month.