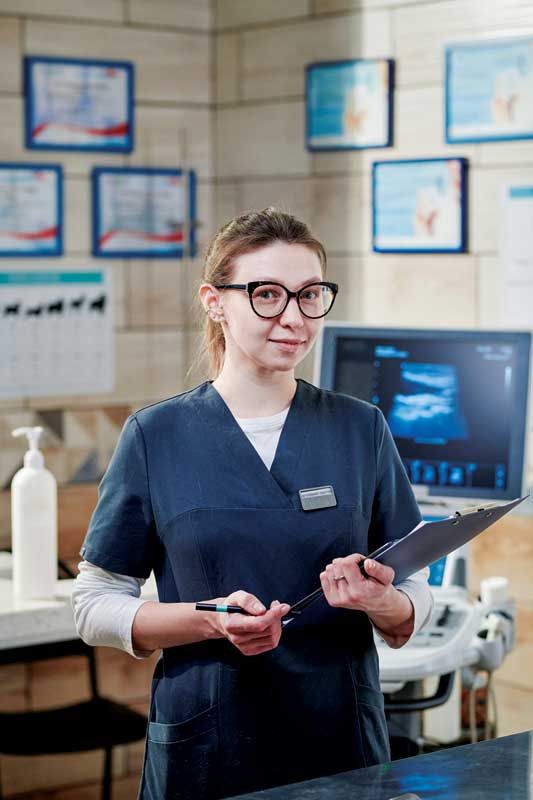 National Veterinary Technician Week is all about celebrating the hard work your technicians put in every day and thanking them for their efforts all year long. After all, they help fulfill an important role by providing excellent patient care and education to your clients.
We have seen some clinics only celebrate their technician team during Vet Tech Week while other clinics celebrate their entire support team, as well. Truthfully, there is no reason these ideas, or recognition in general, must be implemented during just one week a year. Vet Tech Week should be implemented in your work culture immediately if you are not already doing it. Celebrating your team and showing them appreciation can improve your work environment tremendously. If you are not sure where to start, use these helpful tips to kick off an awesome week!
Source early
How do you plan a fun, eventful week with a small budget or no budget at all? Start by enlisting your inventory manager or someone who has a good relationship with your vendors (distributors) to help with the planning. Unless you are aiming to make the event a complete surprise, you can also involve your management team for more ideas. How do you go about funding a weeks' worth of excitement for your team on a small budget? Believe it or not, your vendors will be your No. 1 supporter!
Vendors allot an annual budget for clinics, so coordinating with them early in the year is key. A good practice is to start sending out emails by June, but if you are a little late in planning it this month, do not stress! We recommend starting at the top of your vendor contact list and making your way down, asking if they would be able to support your team by providing lunch, donation, or any extra goodies they may have.
Another way to provide your team with a memorable week is to use any rebate cards you receive from vendors. There are also purchasing websites like Vetcove that give you cash back perks for using their website. You can get a check to your clinic or redeem cash back to be able to purchase some goodies. Similarly, you can also get your team a gift card of their choice through the purchasing websites. After all, there is nothing more rewarding than a team who feel appreciated!
Plot it down
Keep organized for a seamless planning and start scheduling your week after you have worked on gathering funds. Otherwise, there is a good chance you will have double breakfast/lunch and be short another day. Last thing you want to do is scramble around trying to make up for it.
Depending on the number of vendors your clinic has, it is ideal to aim to plan a lunch every day at the minimum. At a previous clinic, we had plenty of vendors, so we were able to plan breakfast and lunch every day for our team. We highly suggest you gather a list of restaurants in the area your team would like to have for lunch.
We usually pick out our favorite restaurants prior, then reach out to our vendors one at a time asking if they have extra budget to provide lunch from this place on this date and time. They usually are very flexible and work with you, but just make sure to mark it down as soon as they confirm with you.
Organizing something like this takes time, so as we stated, make sure you start your planning early! Keep a separate calendar or spreadsheet for each time you confirm with a vendor and figure out which days you have gaps and begin planning other fun activities.
Another thing to consider is the ordering. We find it easier to place the order for the clinic and reach out to the vendor for payment. For example, if you have a team member with food allergies, you want to make sure they are getting the correct meal, so in our opinion it leaves less errors by placing the order yourself.
Go with a theme
As managers, we wear many hats every single day, so prepping for a week-long event can seem overwhelming even if you start planning months in advance. Find inspiration online for party themes and decors (Pinterest and Facebook have been our friend for many years!). Below are some of the themes we have done over the years and what we coordinated with them:
Fiesta!
"Let's taco 'bout how much we appreciate you!"
° Breakfast – burritos
° Lunch – taco Tuesday (Walking tacos are super easy!), nachos and cheese, guacamole
° Dessert – churros, piñata cookies
° Drink – alcohol-free margaritas
Gift – succulent, hot sauce
Decorations – piñatas, reds, yellows, greens, sombreros
Jackpot!
"We won the jackpot having you on the team"
° Breakfast – avocado toast
° Lunch – corn dogs
° Dessert – 100 Grand candy bars, gold coin chocolates
° Drink – alcohol-free margaritas
Gift – scratch-offs, cash (using a money machine is extra cool!)
Decorations – green, gold, money, slot machines
M & M Day!
"The work you do is motivating and meaningful"
° Breakfast – muffins
° Lunch – macaroni and cheese assortment (lobster mac, bacon mac, broccoli mac, etc.)
° Dessert – Macarons
° Drink – anything that starts with M
Gift – M & M's
Decorations – everything M! M & M's are easy and cute!
MVP!
"Most Valuable Player!"
° Breakfast – pancakes in the shape of sports balls (footballs, baseballs, etc.)
° Lunch – hot dogs and French fries
° Dessert – Cracker Jack!
° Drink – soda
Gift – tickets to a sports game
Decorations – everything sports
Movies!
"A day with the stars"
° Breakfast – cinema rolls (cinnamon rolls)
° Lunch – individual pizzas
° Dessert – popcorn with all different toppings
° Drink – soda
Gift – movie tickets
Decorations – Walk of Fame, photo booth, costumes, cinema
Once you determine your themes, you will be able to add little gifts to give out every day. Have your tech team fill out wish list so you can tailor the gifts to each person or look at some of these ideas:
Socks with their pet's face on it
Embroidered scrubs, jackets, vests
Work shoes
Lunchboxes
Hand sanitizer, soaps, lotions
Funny T-shirts
Tote bags
Candles
Gift cards
Coffee cups, water bottles
Gym memberships
Artwork of their personal pet
Hair ties, hats, beanies
Your teams work hard every day and the past two years have been tough in so many ways!
Don't hold back with celebrations in 2022—utilize some of these ideas to knock Tech Week out of the park!
Emily Shiver, CVPM, CCFP, CVBL, is a certified veterinary practice manager serving as the Florida regional director of operations for Family Vet Group. Her passion is creating and maintaining positive, successful workplace cultures, as well as helping practices increase revenue and the client experience. Shiver enjoys every aspect of inventory and strives to help practices meet and exceed their inventory goals. She and her husband reside in Lakeland, Fla., with their two Patterdale terriers and a few other furry family members.
Rachel Singletary is a practice manager in Lakeland Florida working with Family Vet Group who has started from the bottom and moved her way up. She has managed many different areas of animal hospitals and her top passion is inventory, staff development, and budgeting. Client satisfaction, growth and inventory are major factors in her daily life because she strives to provide a positive experience for both her clients and staff.