For the past 11 years, Veterinary Practice News has hosted the annual "They Ate What?!" radiograph contest, where veterinarians send in the craziest and strangest radiographs they've encountered in their practices.
This year's winner was Patricia Clark, DVM, of German Flatts Veterinary Clinic in Ilion, N.Y. Her patient, a 5-month-old pit bull named Jasper, managed to swallow an 8-inch section of a dog toy handle while shielding the toy from a competitive mate. In the process, Jasper and his unusual radiograph made the New York veterinary clinic the winner of the 11th annual "They Ate What?" radiograph contest.
This year's contest was sponsored by IDEXX Laboratories Inc. Dr. Clark received $500 and a year's subscription to Web PACS, a Picture Archiving Communications System valued at $2,400. Clark gave the $500 prize to the owners to help pay off the cost of surgery, a total of $1,400.
This year, the Veterinary Practice News editorial team and a select number of veterinarians judged the entries. The judges included:
Dr. Evan Antin, Thousand Oaks, Calif., veterinarian and People magazine's "Sexiest Beast Charmer;"
Dr. Marty Becker, Sandpoint, Idaho, veterinarian and "In the Middle" columnist;
Dr. Patty Khuly, Miami veterinarian and "Off Leash" columnist; Dr. Mary Beth Leininger, assistant vice president of veterinary relations at The Hartville Pet Insurance Group and former president of American Veterinary Medical Association;
Dr. Dennis M. McCurnin, Louisiana State University professor of surgery emeritus and LSU hospital director emeritus;
Dr. Narda Robinson, president and CEO of CureCora and "Evidence-based Medicine" columnist;
Dr. Alice Villalobos, director of Pawspice and Animal Oncology Consultation Service and occasional Veterinary Practice News columnist;
Dr. Phil Zeltzman, Pennsylvania veterinary surgeon and "Surgical Insights" columnist;
Ken Niedziela, Veterinary Practice News editor.
Check out the winning photo from Dr. Clark, as well as all of our honorable mentions below. And when you're finished, vote for your favorite X-ray in our Peoples' Choice contest for a chance to win $500!
Tell us your favorite X-ray with the hashtag #TheyAteWhat.
---
Winner: The 8-inch Dog Toy Handle in a Pit Bull's Tummy
Patricia K. Clark, DVM
German Flatts Veterinary Clinic, Ilion, N.Y.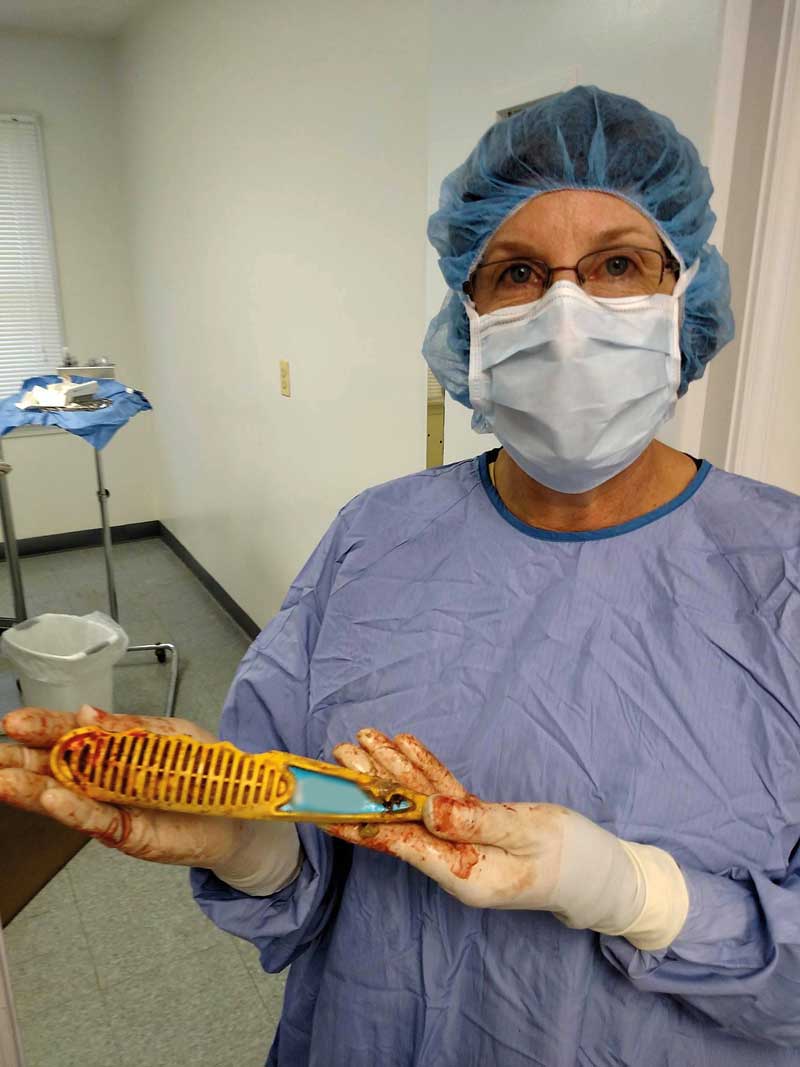 Jasper, a 5-month-old, 40-pound pit bull, was one of those short, thick, adorable pit pups wider than they are tall. He was brought to the clinic after vomiting for two days. Dr. Heather Sautter took radiographs and commented, "It can't be possible to swallow an entire corncob, can it?"
The owner, upon seeing the radiographs, identified the object as a dog toy handle. Apparently, two days prior, Jasper and another dog were sharing the couch when a scuffle occurred. Unbeknownst to the owner, Jasper had been chewing on the 2½-foot-long toy and, feeling threatened, gobbled an 8-inch portion of the handle so the other dog wouldn't get it.
Upon opening the dog, Dr. Patricia Clark found the butt end of the handle in the pylorus and the chewed midsection close to rubbing through the fundus. Mind you, this dog was only 40 pounds and only 6 inches deep in that area of the stomach. The recovery was uneventful.
Judge's comment: "This submission blew me away. How in the world could a pup of this size get that thing swallowed? Fortunate that surgery was early enough to prevent gastric perforation." (Dr. Mary Beth Leininger)
Judge's comment: "I like this case not only because I would have assumed an 8-inch plastic object impossible for a 40-pound dog to swallow, but also because it perfectly illustrates that competition doesn't always bring out the best in us." (Dr. Patty Khuly)
Judge's comment: "It is amazing that Jasper chewed off the handle and that the rough edges were just about to perforate his fundus. The timely surgery saved Jasper from a nasty peritonitis" (Dr. Alice Villalobos)
See the X-ray below: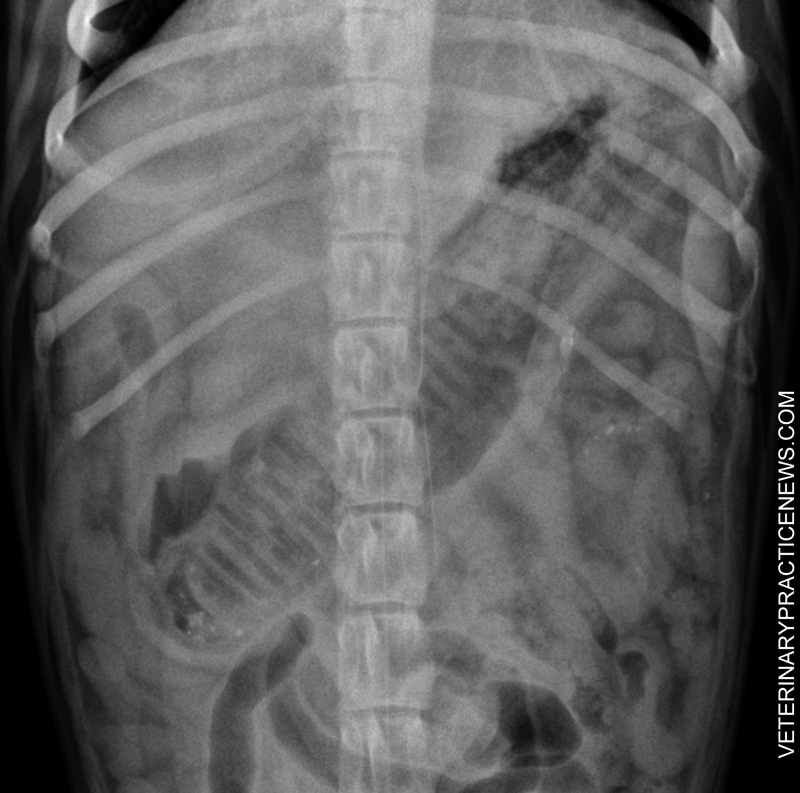 Find out more about Dr. Clark and Jasper's winning X-ray here.
---
Honorable Mentions
The Case of the Missing Paracord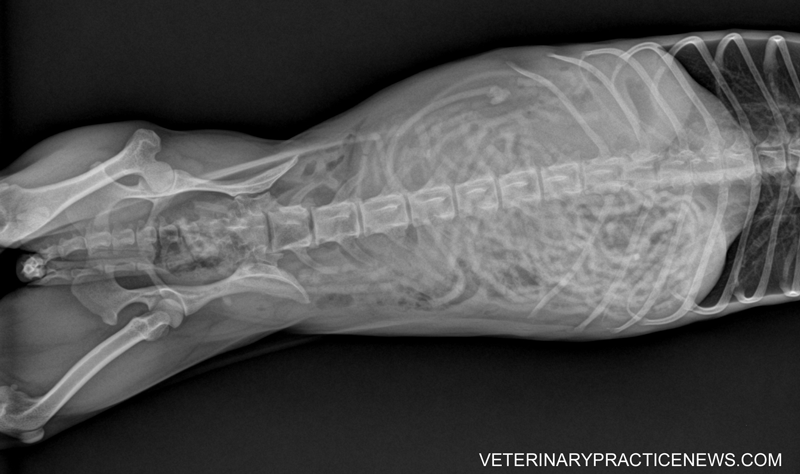 Our patient obviously had been ill quite longer than the client indicated. At first glance she appeared to be a textbook case of Cushing's disease — her ribs were showing, her skin was thin and her abdomen was severely distended.
Radiographs were taken and the dog was taken to surgery, where a large amount of paracord was removed. Paracord is a lightweight nylon cord used in parachutes, ropes and bracelets.
When the owner was told about the paracord, he said, "I have been missing that for about a year."
The dog was back to normal in a matter of days. Recovery was uneventful.
---
Not for Consumption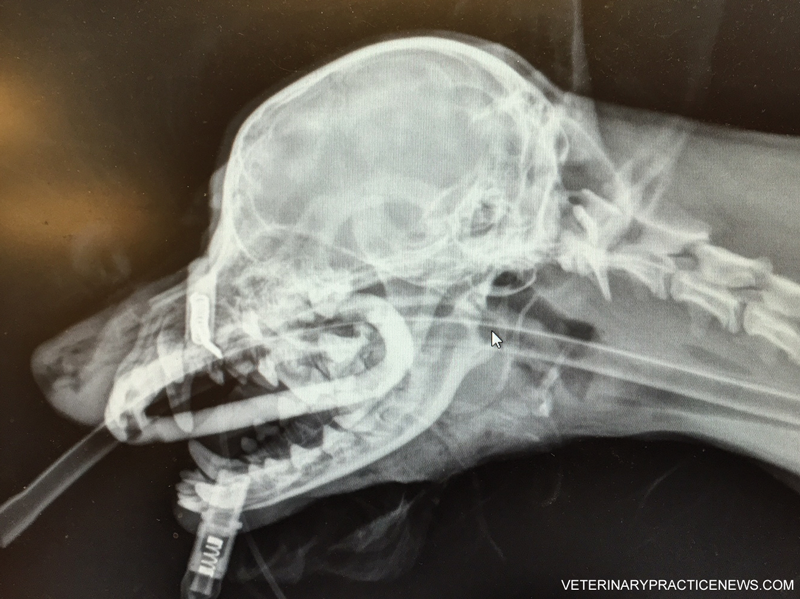 A 9-month-old Yorkshire terrier presented after a carabiner used to
keep his crate closed became impaled in his oral cavity. Upon presentation, the puppy was alert and his vital signs were stable. One end of the carabiner appeared to be embedded in the soft tissue caudal to the upper left dental arcade. Significant swelling was noted in the left periorbital region, and the globe would move when the carabiner was manipulated.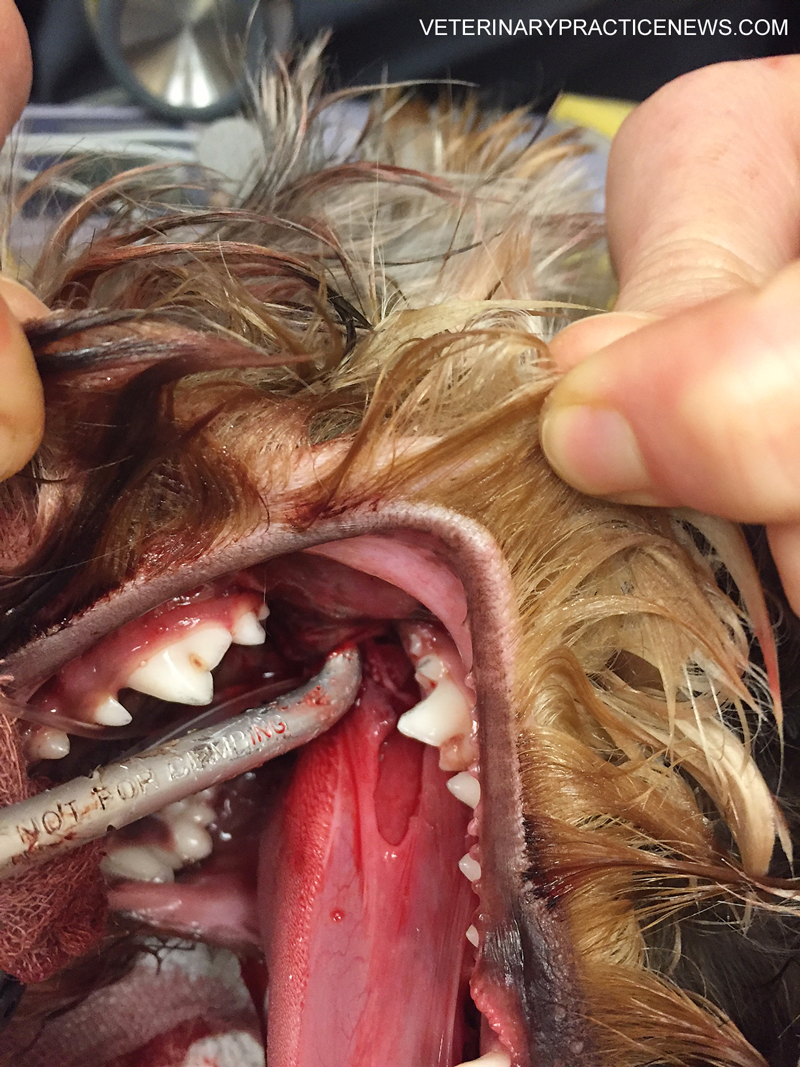 The puppy was anesthetized to allow for a more thorough physical examination. Due to concern about penetration of the object into the retrobulbar space and trauma to associated vessels and nerves, a surgeon was called in. The surgeon used gentle manipulation to remove the carabiner within 10 minutes.
The retrobulbar area did not appear affected, hemorrhage was minimal, and the cavity was lavaged and closed. The left sub- lingual area had a laceration that was addressed. A complete ophthalmic exam did not reveal any trauma to the globe itself.
The patient was discharged with antibiotics and NSAIDs, and he made a full recovery.
Judge's comment: "I am just astounded that this puppy did not have some serious permanent ocular damage. Good call to anesthetize the pup ASAP." (Dr. Mary Beth Leininger)
---
Needle in a Hay Stack (and Rabbit's Mouth)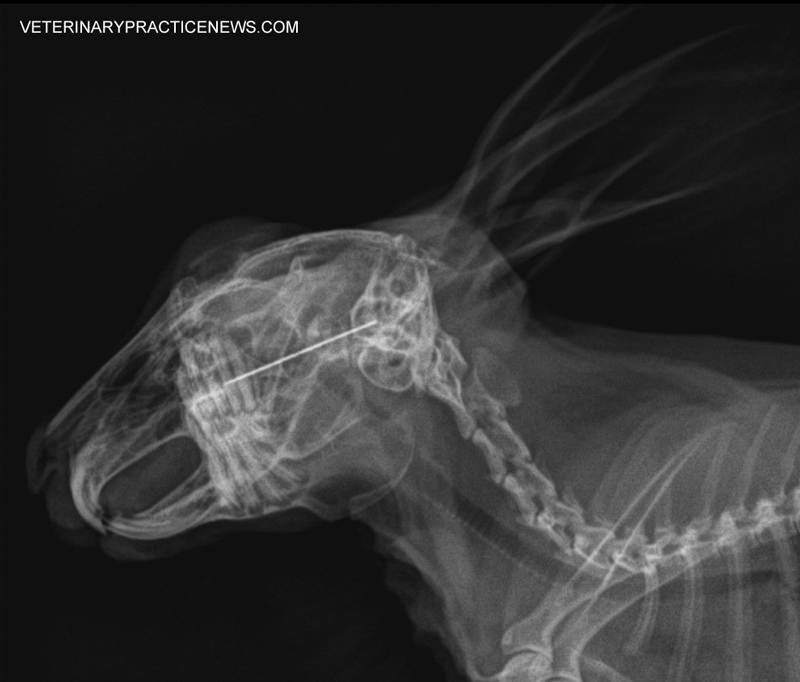 Upon examination, an 18-month-old rabbit named Winfrey was thought to have a dental abscess. It was in the right back corner of her mouth and extended to the right side of her face.
Survey X-rays showed a sewing needle. We surgically prepped the area on the side of her face, palpated the area, performed a cut-down and extracted the needle in one piece.
Her owners keep Winfrey in a finished basement, a former sewing room. Since rabbits eat hay, we think Winfrey found the "needle in a haystack."
---
Corn-in-the-Dog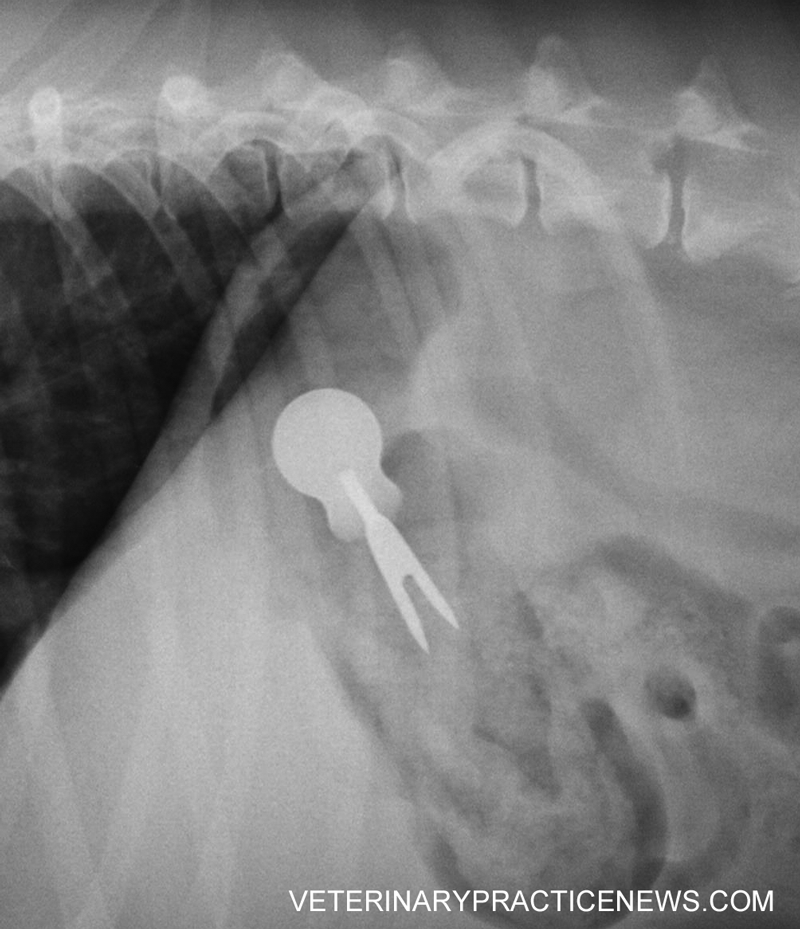 Spencer's family was having a cookout when the dog stole a corn cob and attached skewer right off grandma's plate. Before anyone could react, he swallowed the whole thing.
He was rushed in right away. An X-ray showed the corn cob and skewer, which were surgically removed. Spencer made a full recovery.
Judge's comment: "I have seen many corn cobs on X-rays and removed many, but I don't recall seeing a corn skewer on X-ray, which makes it a top choice for me." (Dr. Phil Zeltzman)
---
Coil in a Cat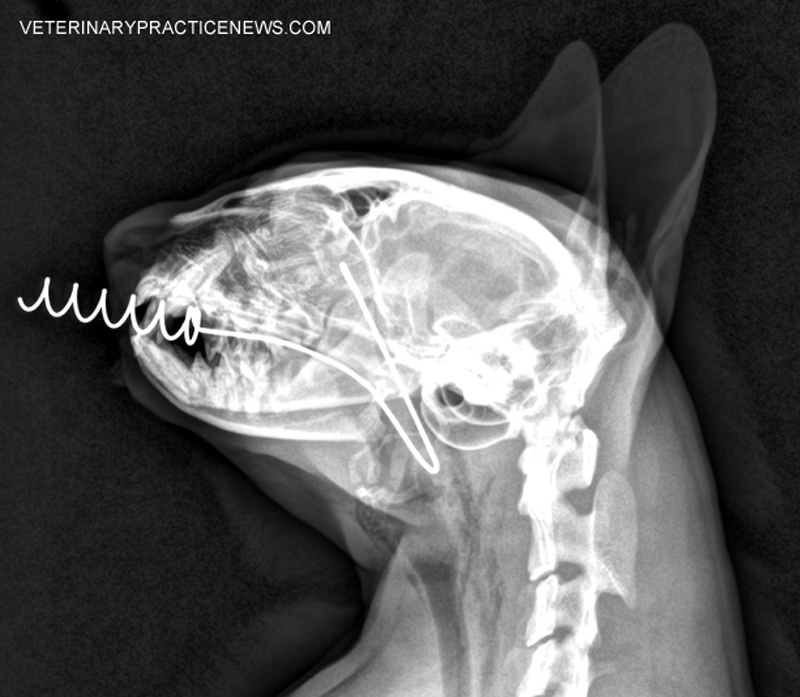 A cat woke up its owner to reveal a metal object sticking out of its mouth. We expected to see a fishhook of some kind, but upon arrival the cat had 7 inches of spirally wound metal, with a pink plastic tip on the end, protruding from its mouth.
I immediately cut the metal one inch past the mouth to decrease the weight and the object's bouncing motion. The remaining object could be seen going into the oropharynx.oropharynx.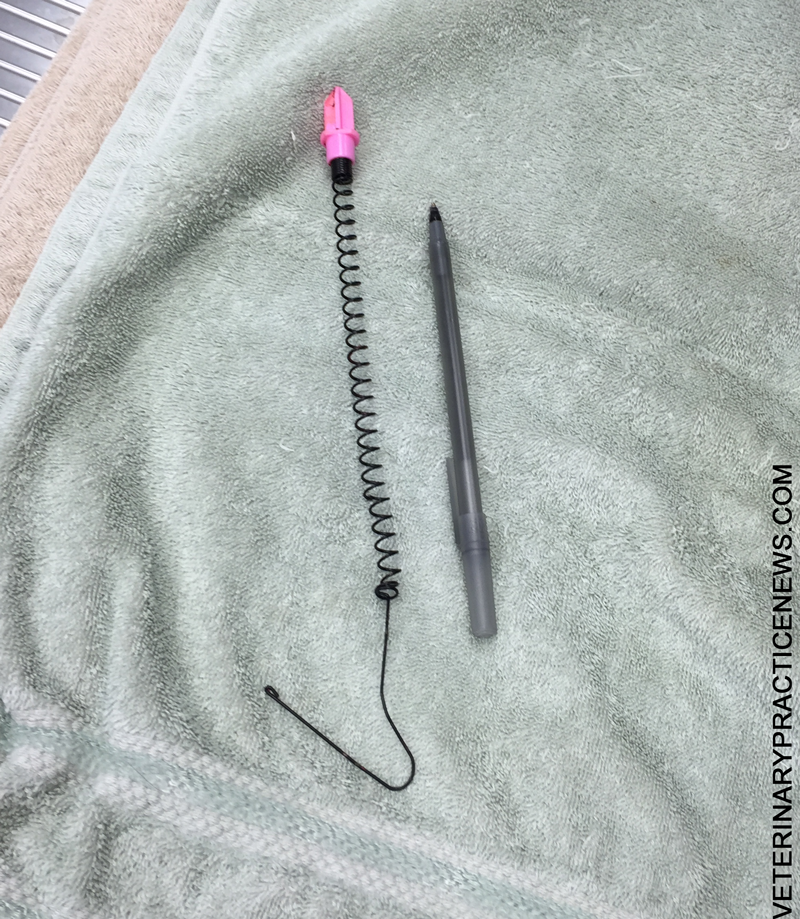 Radiographs explained why the object was firmly stuck in place. Somehow the cat got the short end over the soft palate and into the nasopharynx, and then it became lodged at the nares as the cat kept chewing.nares as the cat kept chewing.
I was unable to gently back the object out of the nasopharynx, so I made an incision into the soft palate and was able to grasp it with hemostats and then cut the wire. The longer piece was maneuvered out of the mouth, and with gentle manipulation the remaining piece was carefully slid out of the nasopharynx ventral to the soft palate and removed.
The cat recovered smoothly.
Judge's comment: "The decision to shorten the coil, get a clear picture of where the ends of the object were located and be patient in removing each portion paid off." (Dr. Mary Beth Leininger)
---
Knife in the Gut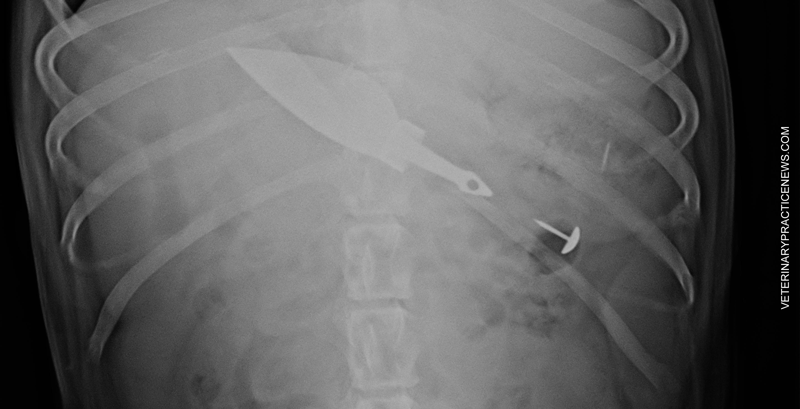 His owner thought Max had eaten a foreign object. The dog was vomiting and having soft stools. X-rays showed what looked like a knife. After seeing the X-rays, the owner knew exactly what the object was: a small cheese knife.
Surgery was performed at Cornell University Veterinary Specialists, and Max is still with us.
Judge's comment: "I know why he ate it, but I don't exactly know how." (Dr. Patty Khuly)
---
Third Times Not the Charm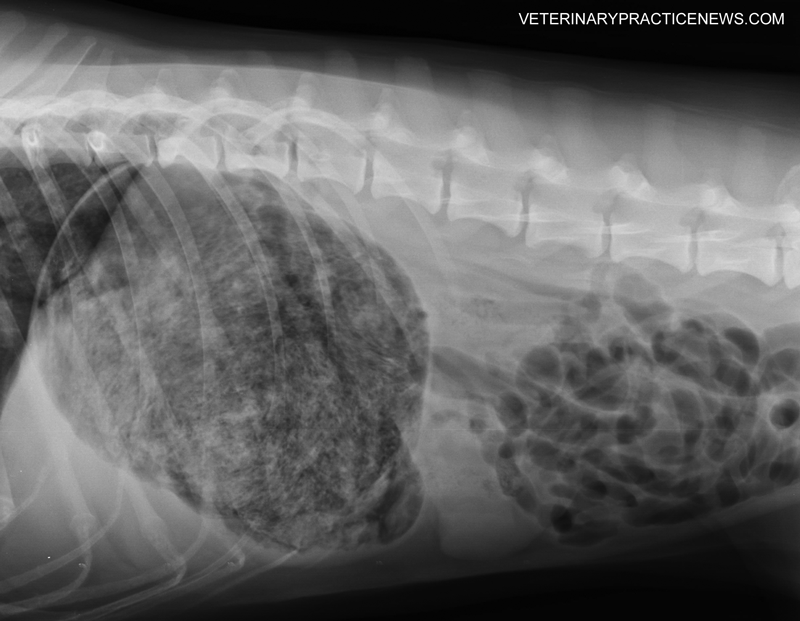 Lola, an 8-year-old Labrador retriever, was presented for vomiting bile. The owner had seen her eat grass for 30 minutes earlier in the day. The X-ray showed her stomach distended with something. During the exploratory we found she had eaten more than 2 pounds of grass.
It was her third exploratory in 20 months. Previously she vomited a chocolate bar onto a rug and then ate the rug. And she had eaten poop bags.
Lola recovered well after each surgery.
Judge's comment: "Lola was a typical Lab that would consume anything available. Not many patients win the exploratory trifecta." (Dr. Dennis M. McCurnin)
---
Where Did all the Pacifiers Go?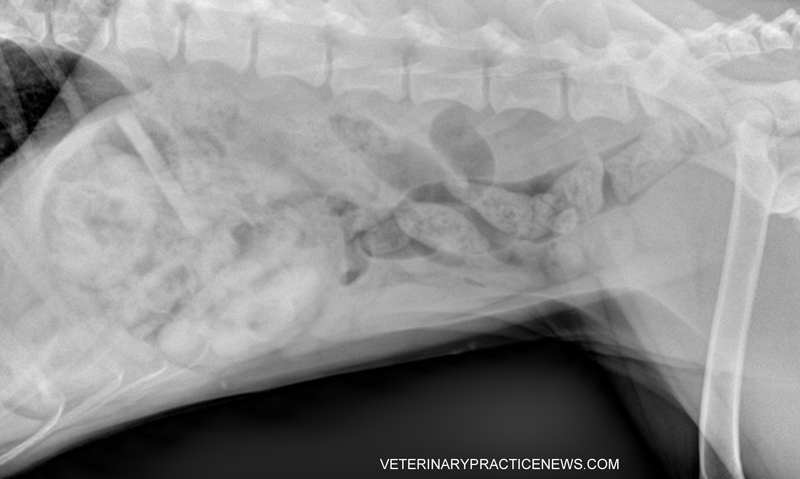 Finn, a 2 1/2-year-old Labrador retriever, likes to eat lots of different things. She wasn't her normal perky self when she presented after vomiting up a piece of a pacifier. A radiograph revealed suspicious material in her stomach and small intestines. A further history of her gustatory adventures included possibly eating a peach pit a few weeks earlier.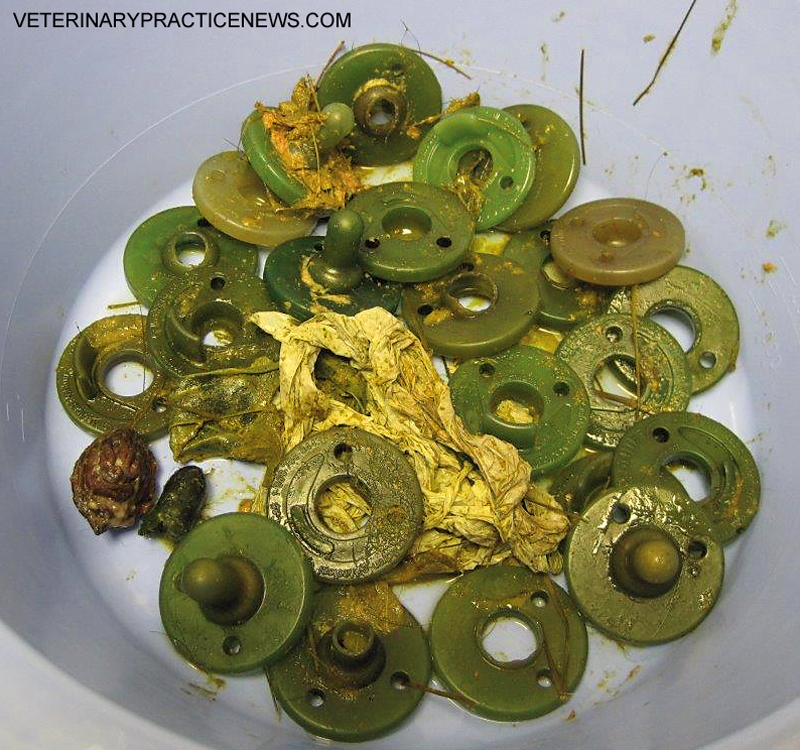 We performed abdominal exploratory surgery and recovered 23 green pacifiers (mostly intact), one peach pit, multiple pieces of white plastic and a black foam nipple.
Funnier still, there were no babies in Finn's house. She collected the pacifiers over multiple visits to a relative's house.
Finn made a beautiful recovery and is still a Lab who likes to eat.
Judge's comment: "I found this story hilarious since the dog's owner didn't even have any children." (Dr. Evan Antin)
Judge's comment: "You could not make this story up! Consuming 23 baby pacifiers is interesting in itself but much more interesting when you find out there is no baby living in Finn's house. What did the mother think was happening to all those pacifiers?" (Dr. Dennis M. McCurnin)
---
Not a Frog in this Dog's Throat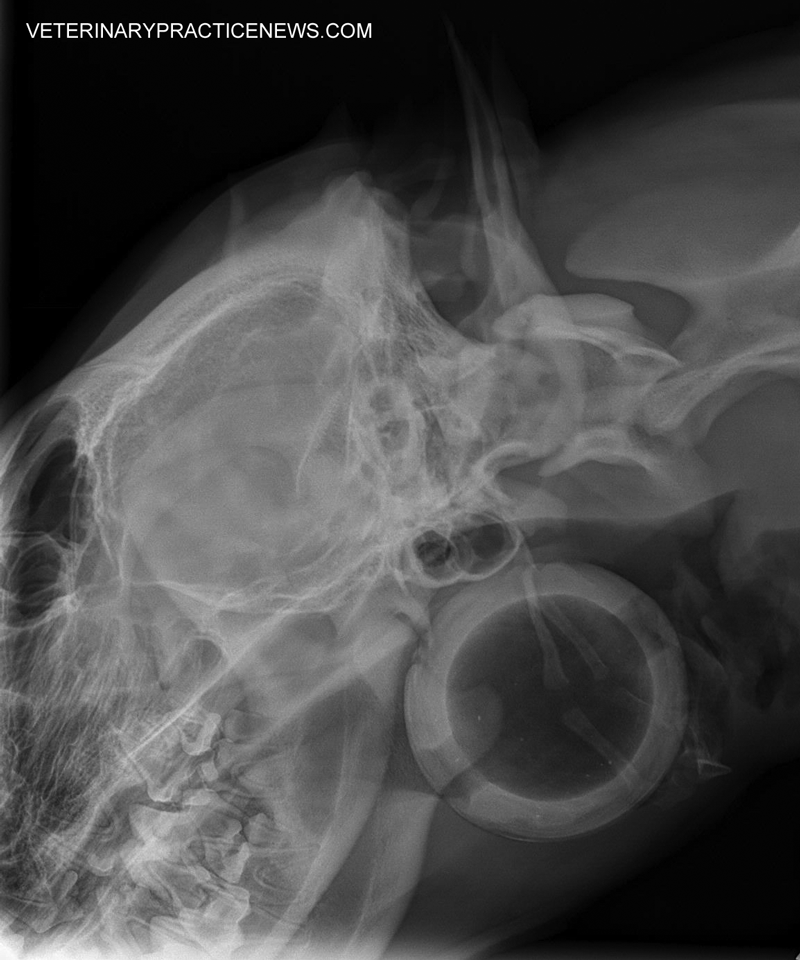 A young German shepherd arrived at our emergency clinic on a sunny Saturday morning. Casey and his owners loved playing with an almost foot-long ball toy, even after the rope deteriorated and fell out of the ball.
On this particular morning, Casey ran deep after a particularly long throw, but he failed to return with the ball. While searching for the lost toy, the owners noticed Casey's labored breathing.
Upon examination, the ball was found in the throat. The hole in the ball was positioned perfectly to allow for extraction. Casey and his owners now play with a larger ball.
Judge's comment: "I found this to be a crazy-looking rad. Props to the vet who extracted it given that it occupied just about the entire pharynx." (Dr. Evan Antin)
---
Want Some Coffee With Your Cream?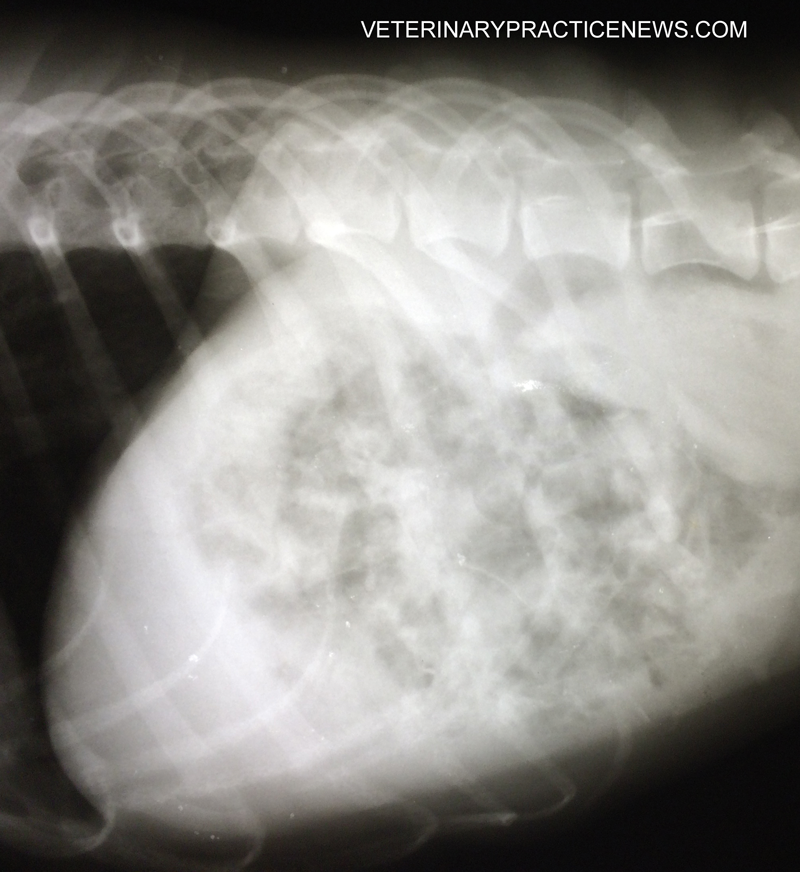 Riley, a young boxer, presented for a one-week history of not eating. Abdominal radiographs showed a full stomach. An exploratory laparotomy revealed 75 small coffee creamer cups in the stomach.
Surgery was a success, and Riley recovered uneventfully. It turns out she had found a bag of coffee creamer cups on top of the owner's dryer.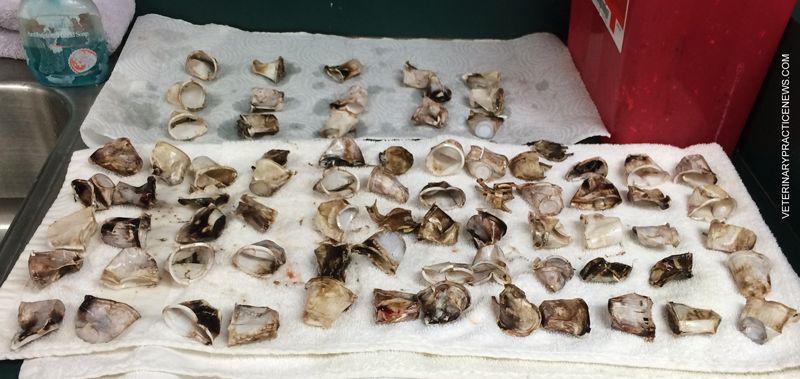 Judge's comment: "With the popularity of individual brewing systems, I bet we will see more and more such X-rays. This is therefore a great reminder to warn owners that they should put the capsules away, whether new or used." (Dr. Phil Zeltzman)
Judge's comment: "The X-ray was certainly indicative of a foreign body in the stomach but was not as dramatic as how well the 75 coffee creamers were dis- played on the towel post-op." (Dr. Alice Villalobos)
Judge's comment: "Boxers and Labs seem to be more guilty of gluttonous consumption than others. In this case, Riley should have ordered coffee with his cream." (Dr. Dennis M. McCurnin)
---
Never Chew on Needles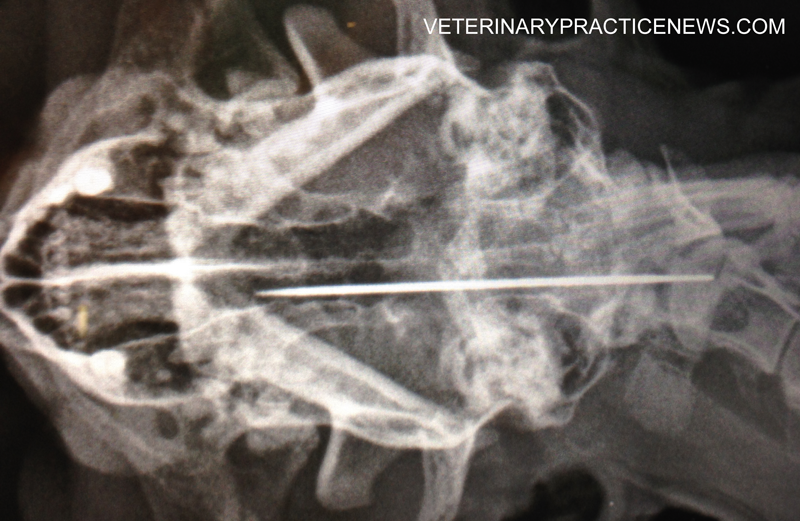 Isabelle, an 8-year-old female Maine coon cat, presented for general lethargy and a sore on her chin. The owner noted that Isabelle had not been eating. On presentation she was quiet, alert and responsive, and her vital signs were within normal limits. No abnormalities were noted on palpation.
The oral exam revealed a section of visible needle puncturing the soft palette and extending into the trachea. Radiographs revealed the sewing needle within the oropharyngeal region and the point within the soft palate.
Since Isabelle was very cooperative, her mouth was stabilized and the needle was grasped with a hemostat. The needle was backed out of the soft palette about a half-centimeter when it dislodged and was removed. As it emerged from the mouth, the needle was found to have 20 centimeters of thread attached.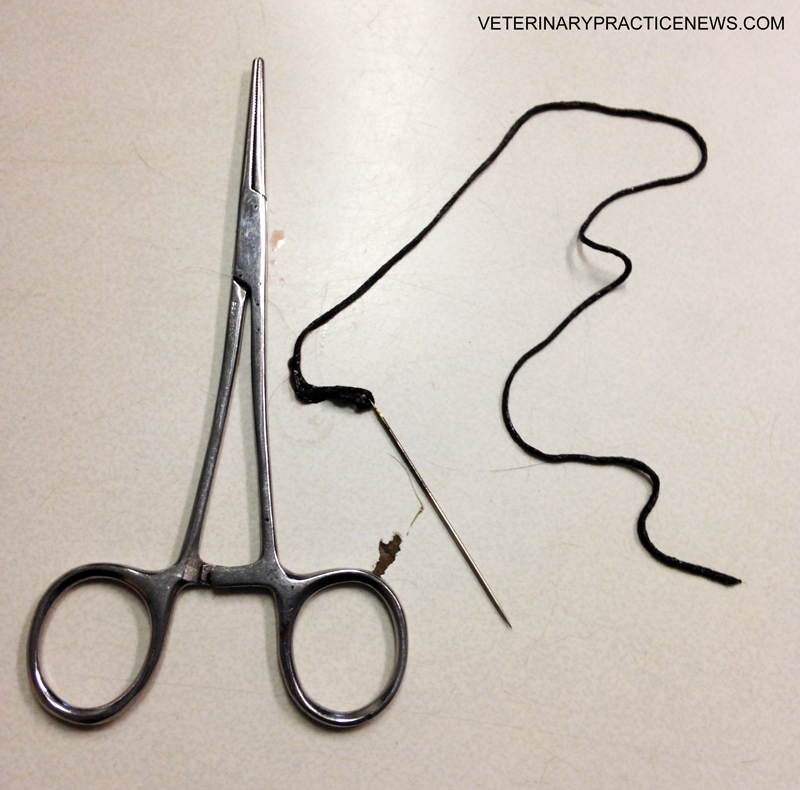 Isabelle never moved during the removal process. The sore on her chin presumably was from her trying to remove the needle herself. The sore resolved a few days later with topical antibiotic ointment.
The owner's sewing room now has a closed door.
Judge's comment: "Amazing that this was removed without anesthetizing the patient." (Dr. Mary Beth Leininger)
---
Needle in the Throat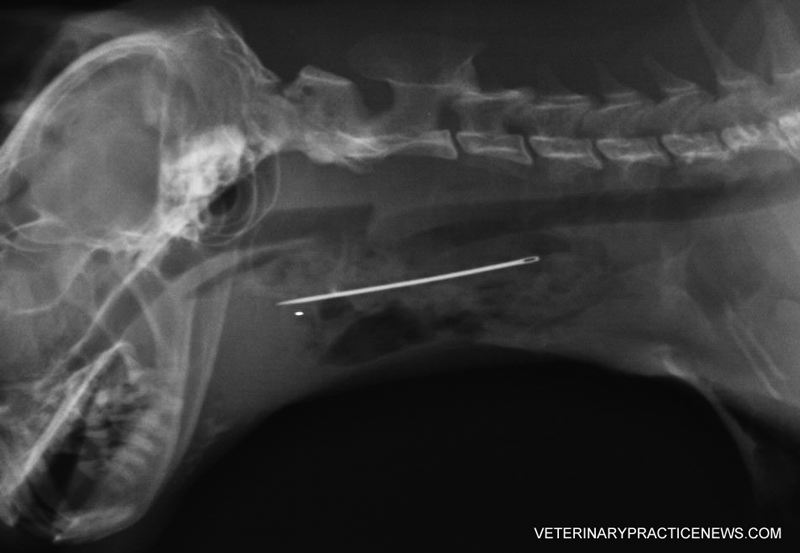 Diva, a 2-year-old female calico feline, presented with swelling in the neck and submandibular area and an elevated temperature of 104. A feline leukemia virus and FIV test was negative.
Diva was anesthetized so the abscess could be drained and cleaned. Very little purulent material was removed upon drainage, so we took radio- graphs. The X-rays revealed that Diva had swallowed a large sewing needle, which caused the infection and localized tissue swelling.
The sewing needle was removed, and Diva was placed on antibiotics and made a full recovery. Diva's owner has no idea where the darn sewing needle came from.
Judge's comment: "This one is a classic, but the size and location of the needle lead to the 'wow!' effect." (Dr. Phil Zeltzman)
---
Mussel Problems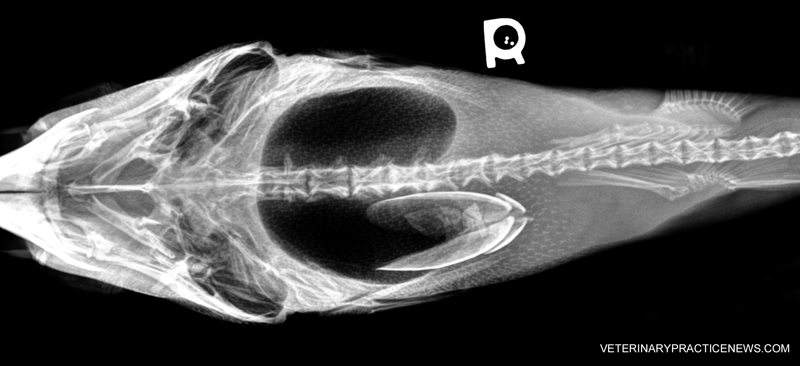 Teef was my personal 30-inch-long Mbu puffer fish. He swallowed an entire mussel—they eat shellfish and crustaceans—but it caused him to become ill. I surgically removed the mussel. He recovered well after surgery but passed away about a week later.
Judge's comment: "This case illustrates that ingestion of unhealthful foreign objects is not just the domain of domesticated species." (Dr. Narda Robinson)
Judge's comment: "This X-ray was a delightful surprise. It shows the amazing diversity that veterinarians see in practice. The fact that this African fish had surgery and the mussel was removed successfully was also intriguing. It is sad that this big puffer only lived one week post-op." (Dr. Alice Villalobos)
---
Measuring the Intestine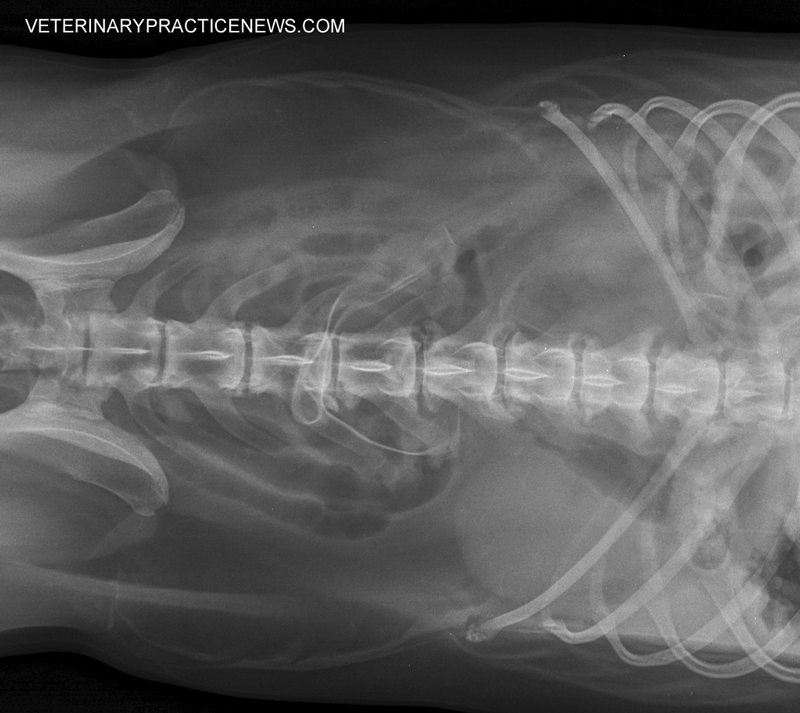 A 48-pound, 9-year-old spayed mixed-breed dog was presented with intermittent vomiting over the past week and a history of occasionally getting into the trash.
A physical examination was unremarkable, but a radiograph revealed an unknown linear object in the small intestine.
The owners elected exploratory surgery. A 35-inch segment of a 60-inch plastic tape measure was removed, and no other fragments were found. The dog recovered well.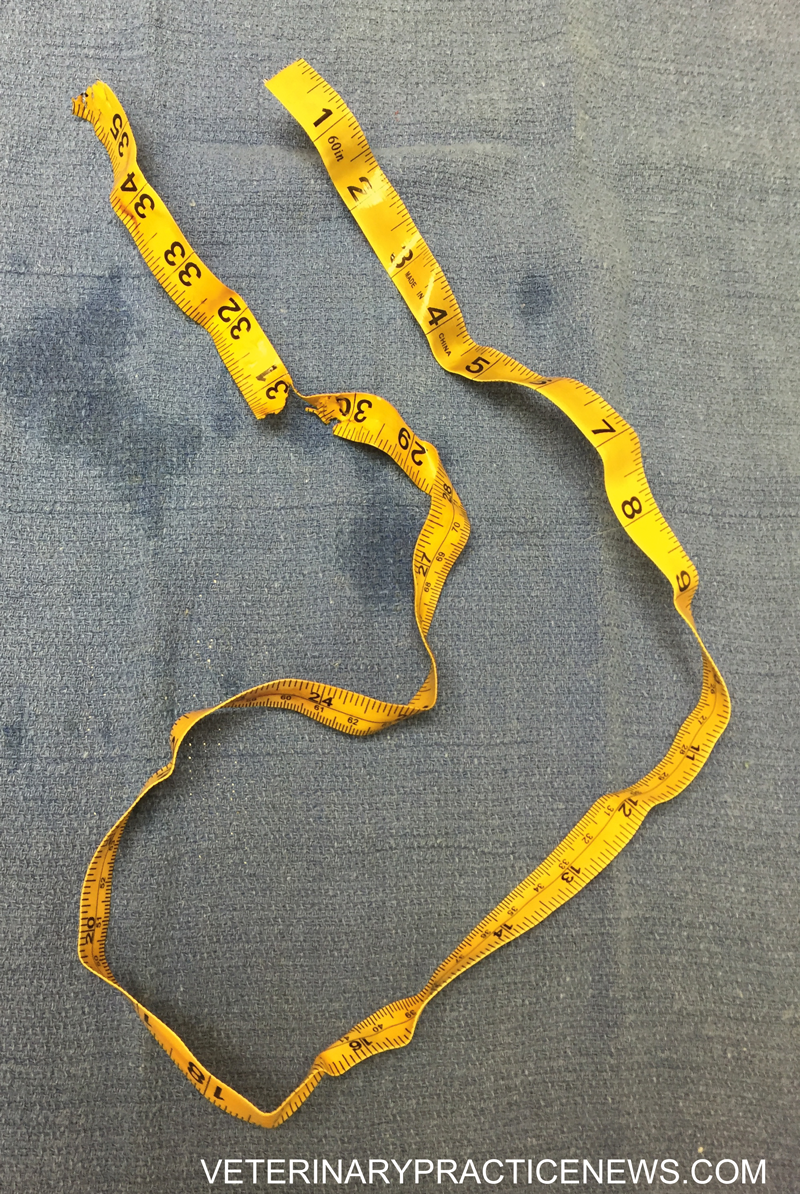 Judge's comment: "I have seen and removed countless and very varied linear foreign bodies, but never a tape measure!" (Dr. Phil Zeltzman)
---
Rock Gut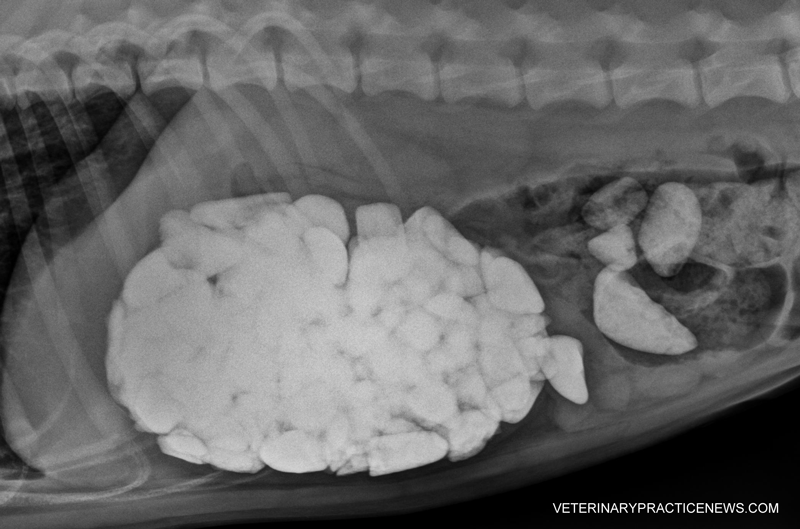 Juno, a 10-month-old Bernese mountain dog, presented for anxiety, vomiting and soft stools over several months. We put her on a hydrolyzed protein diet and probiotic. It must have made an immediate difference.
That night she ate at least 150 landscaping stones. She presented to Southern California Veterinary Specialty Hospital, where radiographs were taken. The next morning she presented to me for a recheck.
The rocks were moving well through her gastrointestinal tract. We added high-fiber food to the hydrolyzed protein diet to keep things moving. We took follow-up rads each day except Sunday, and by Monday morning all the stones had passed.
The owner removed all stones from the yard, so this will never happen again.
Judge's comment: "Plenty of dogs eat stones. Lots of them. Still, I have to admire the stones on this veterinarian for patiently waiting for this many to move out on their own. I'm pretty sure I would have been too scared to let him try to pass all those jagged-looking rocks." (Dr. Patty Khuly)
Judge's comment: "This X-ray is dramatic. In a big dog like this one, the stones must have been a huge and heavy burden on the mucosal lining of the stomach." (Dr. Alice Villalobos)
Judge's comment: "This dog must have been born to be a landscape architect as his abdominal radiograph demonstrates how well a stomach can be outlined with 150 decorative landscape rocks!" (Dr. Dennis M. McCurnin)
---
Guess That Object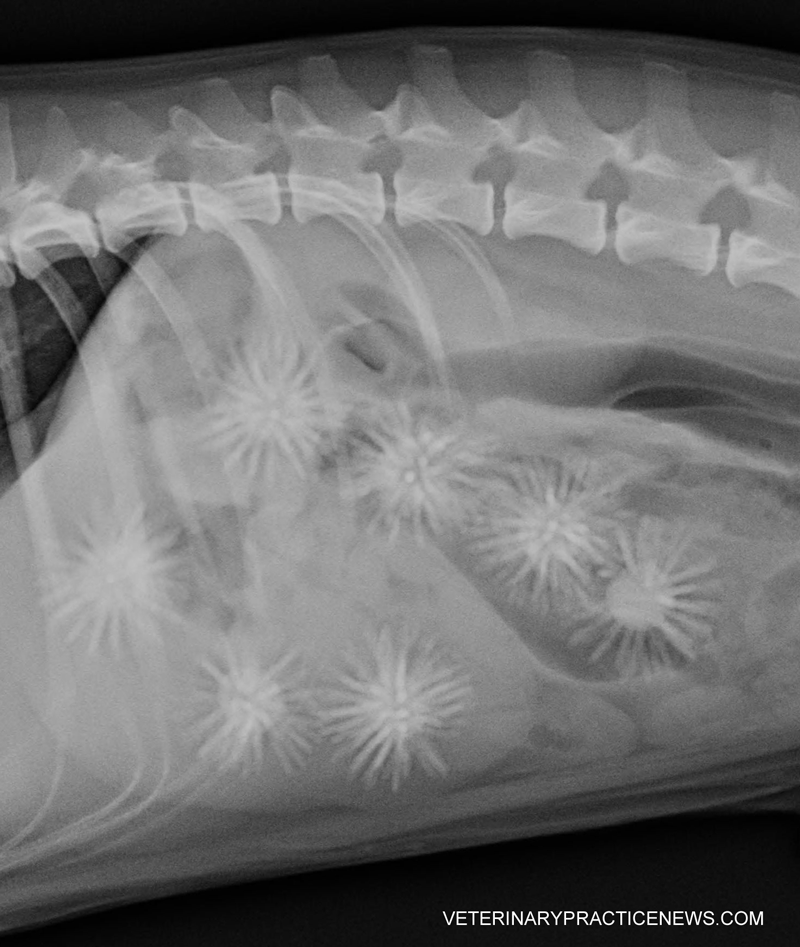 A 4-year-old male Shih Tzu named Bernard presented for severe vomiting, lethargy and no appetite. Abdominal X-rays showed seven round, spiked foreign objects in the stomach and intestines. The client was advised to choose surgery, and a laparotomy was performed two days later.
By the time surgery was performed, all the objects had moved into the intestines. Enterotomies were performed to remove all the objects, which appeared to be spindled 1-inch balls designed as cat toys.
Bernard recovered very well. The client was very grateful that we saved Bernard's life.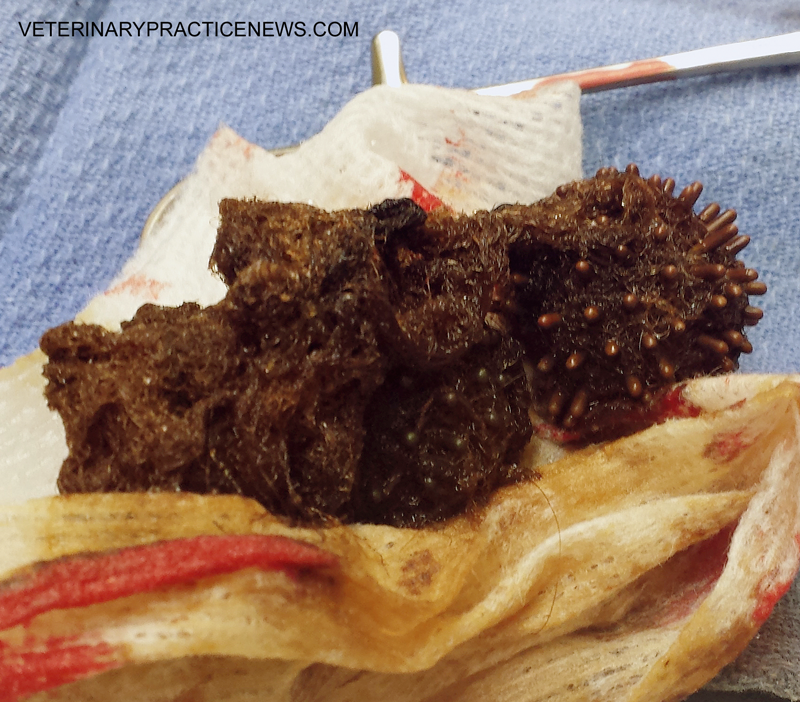 Judge's comment: "The radiograph is especially pretty. I have never seen anything like it." (Dr. Phil Zeltzman)
Judge's comment: "I love to go to art fairs, Saturday markets and galleries to admire art. The spacing and play of the spiky cat toys are just, dare I say, a work of art!" (Dr. Marty Becker)
Judge's comment: "It's such a neat looking radiograph. It looked like the dog ate a family of sea urchins." (Dr. Evan Antin)
---
The Case of the Missing Collar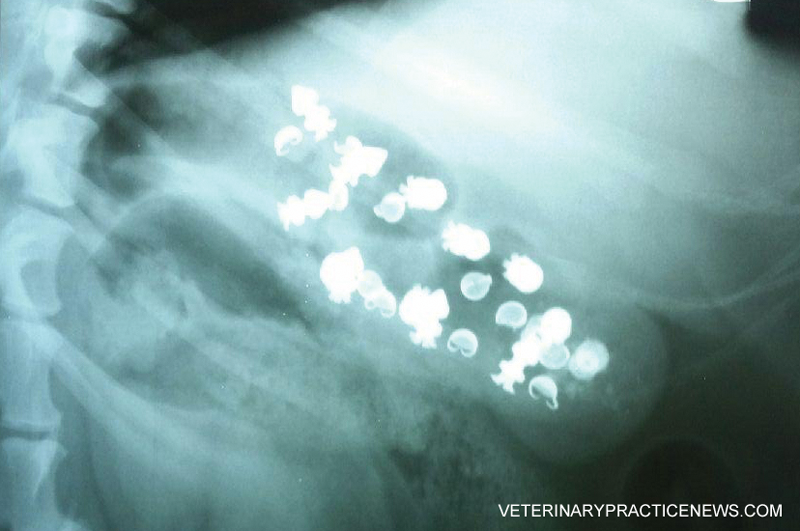 Savannah, a 10-year-old bloodhound, presented with a history of possibly ingesting foreign bodies. Her owner had noticed that a spiked leather collar was missing from on top of the clothes dryer. After searching the house, the owner discovered the remains of the 2 1/2-inch-wide, 26-inch-long leather collar: just a single buckle.
Hauled in to the clinic, Savannah was alert and active and showed no sign of intestinal distress. A physical exam found an irregular mass palpable in her abdomen. I elected to radiograph Savannah. The spikes on the missing collar were clearly visible in the abdominal films and appeared to be contained in the stomach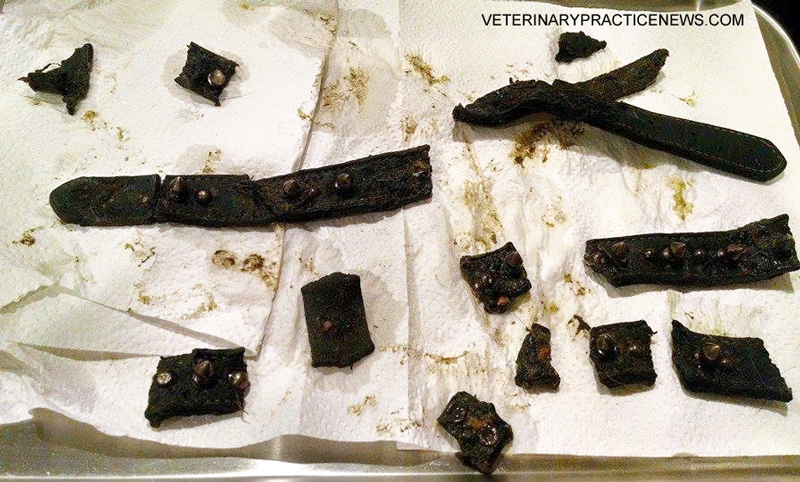 Treatment options, such as exploratory surgery or an endoscopy referral, were discussed with the owner, who chose the less invasive option. After six hours of fishing, every last bit of the spiked leather collar was removed via endoscopy by Dr. Brad Green at Olympia Veterinary Specialists.
Savannah's recovery was uneventful.
---
The One Place You Don't Want to a Needle to Be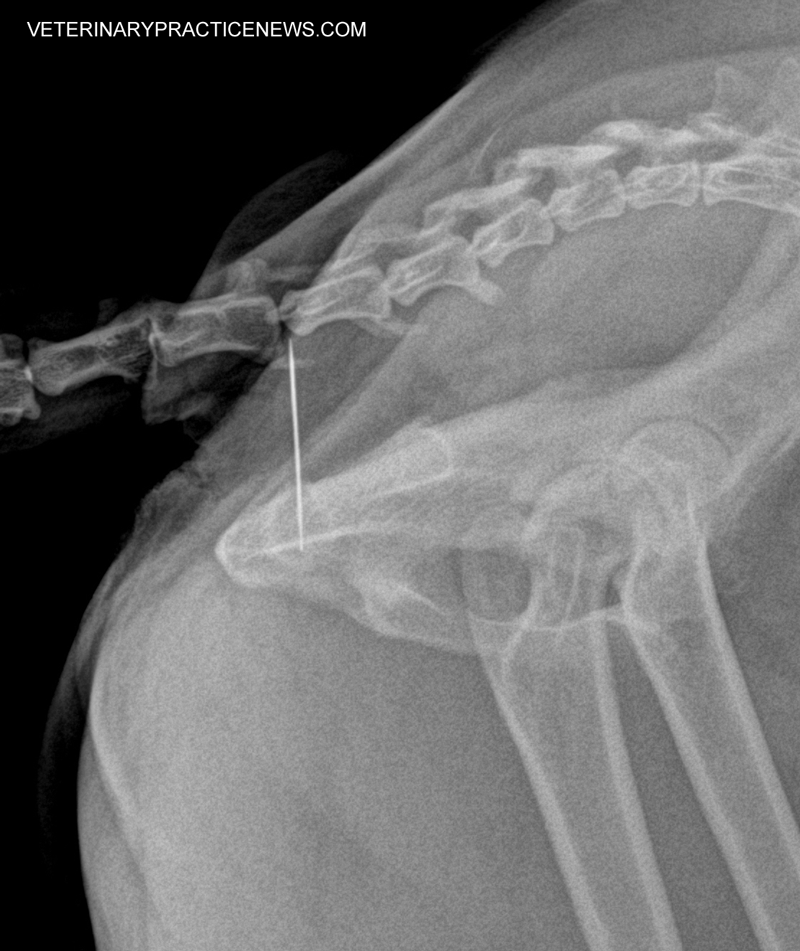 Dooney, a 7-year-old black Labrador retriever, was straining to defecate, and strings were seen emerging from his anus.
He was brought to the clinic, where VD and lateral abdominal X-rays were taken and revealed a needle and thread that he had swallowed. Dooney was anesthetized, and the veterinarian performed a rectal exam.
The veterinarian could feel the needle inside Dooney and used the thread as a guide to move the needle back through the rectal wall, making removal easy through the anus.
Dooney was back to normal within a couple of days.
Judge's comment: "Amazing that the needle almost made it. Reminds me of a similar foreign-body case I had involving a steak-bone spicule that was simply caught sideways at the dog's anus; sedation and gentle manipulation and it was good to go." (Dr. Evan Antin)
---
Rubber Duckies in the Tummy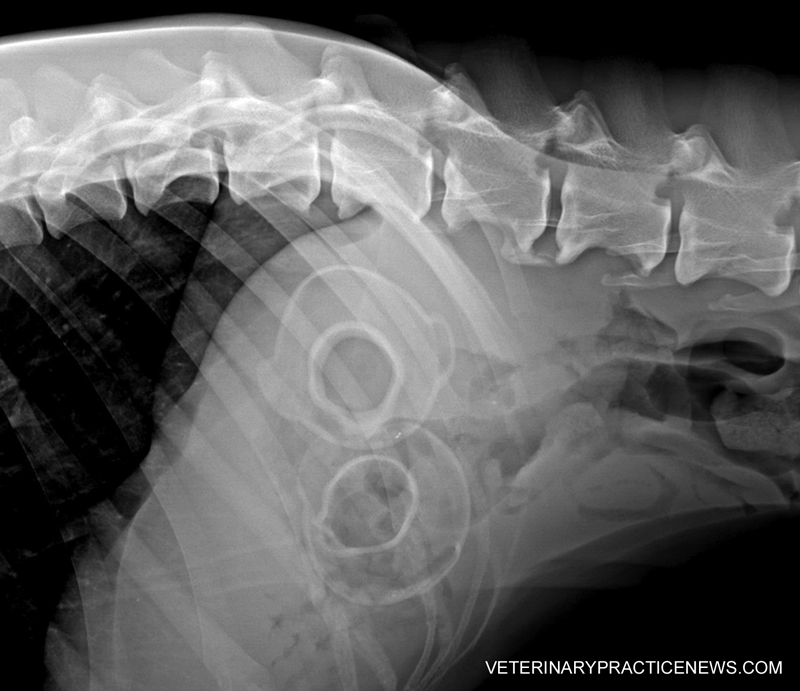 A 9-year-old female boxer was presented for examination because the owner was concerned about her weight loss and not eating well.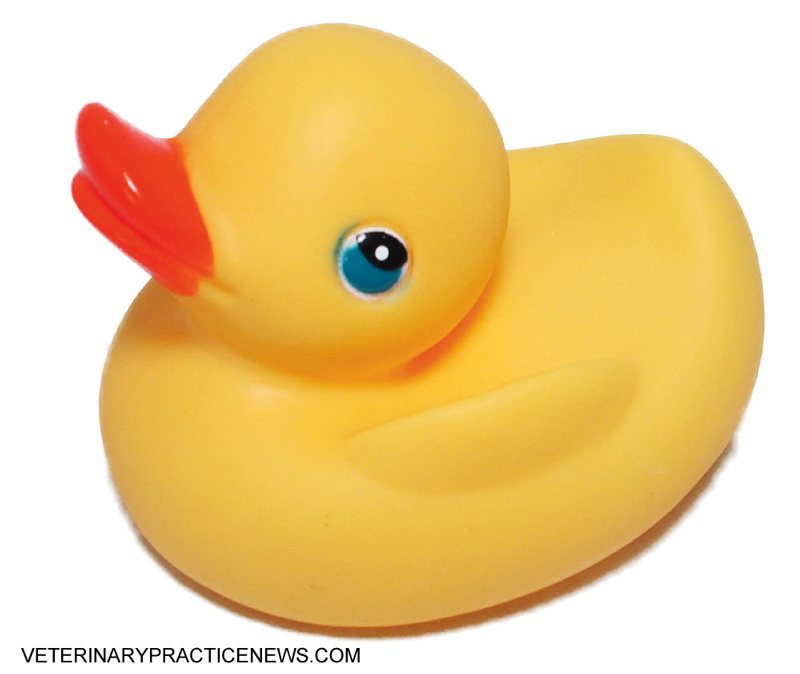 Radiographs revealed a large object in the stomach. The patient was admitted and the surgeon removed not one but two rubber yellow ducks. Because the plastic showed no chew marks, the patient apparently had swallowed them whole.
At the time of discharge the owner acknowledged that a child in the home was missing two bath toys.
---
That's Not a Tumor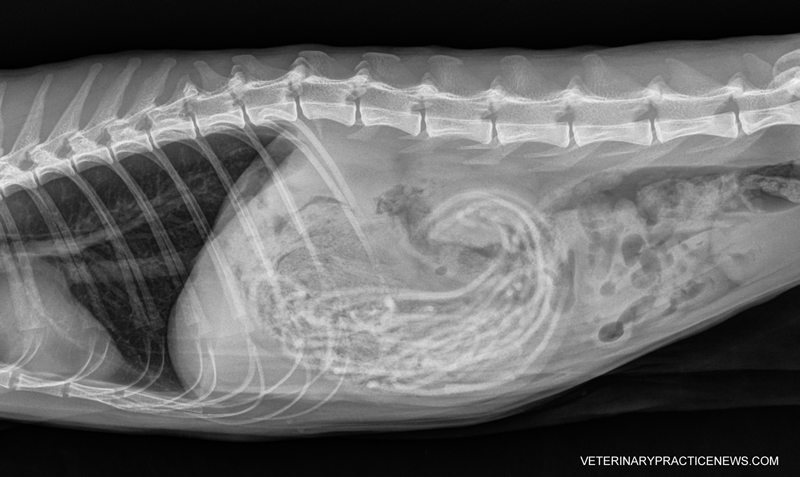 Smiley, a 4-year-old male Maine Coon cat, presented for a second opinion on his "abdominal tumor." The owner had been told that Smiley eventually would succumb to cancer and that she needed to take him home and make him comfortable.
We took radiographs and immediately identified multiple foreign bodies in Smiley's stomach. He was taken to surgery, where we removed 19 headbands, multiple tampon wrappers, plastic decoration string and hairballs.
Several months later, the owner reported that Smiley had gained at least 5 pounds and "smiles" every day.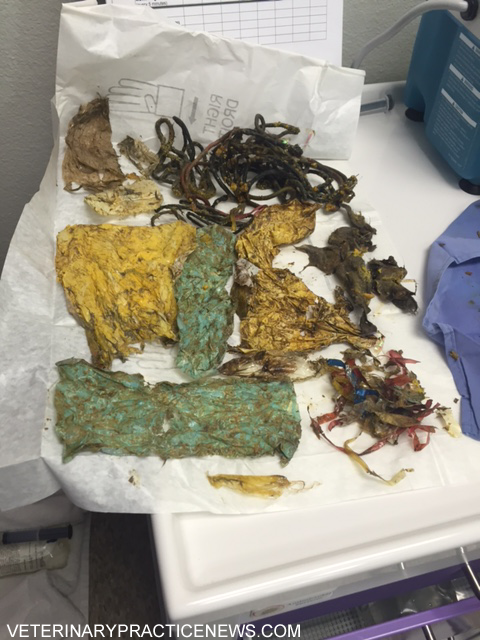 Judge's comment: "I know that cats are not small dogs, but this cat is challenging that notion." (Dr. Narda Robinson)
Judge's comment: "This radiograph points out why I recommend pet owners get second opinions and how our profession can hide misdiagnoses that can result in death. If the cat owner hadn't taken the cat to another veterinarian, the cat could have died from what the first vet misdiagnosed as a tumor." (Dr. Marty Becker)
Judge's comment: "This case caught my attention through the history and the fact it was a cat. Cats usually do not eat many foreign objects, but this one acted like a Lab or boxer. I also liked the fact he beat 'cancer' and is still smiling." (Dr. Dennis M. McCurnin)
---
Beads in the Belly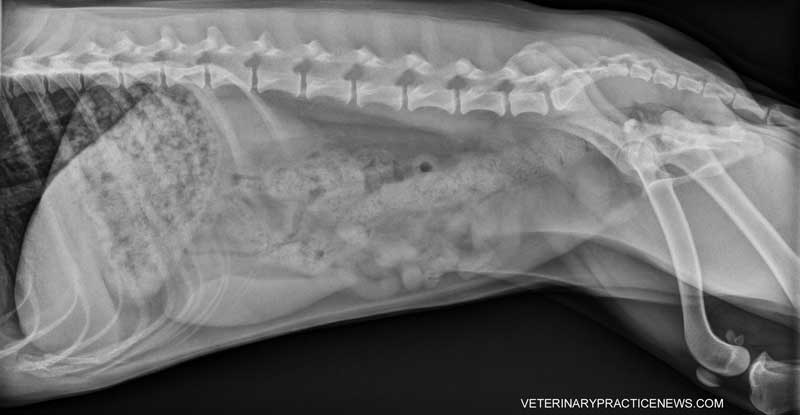 Ellie's owner was experimenting with floral arrangements and using expanding floral beads, which start as small, hard balls about the size of tapioca and grow to the size of marbles when exposed to water. She left a bag of the beads on the kitchen table for a few minutes and returned to see a ripped plastic bag and beads scattered across the floor.
She knew Ellie, a 2-year-old Chihuahua mix, had gotten into the bag, but she couldn't tell how many beads were eaten. When Ellie arrived at DoveLewis, the team induced vomiting and then took X-rays. The results appeared vague.
Because water beads are clear, seeing how many remained inside Ellie was difficult.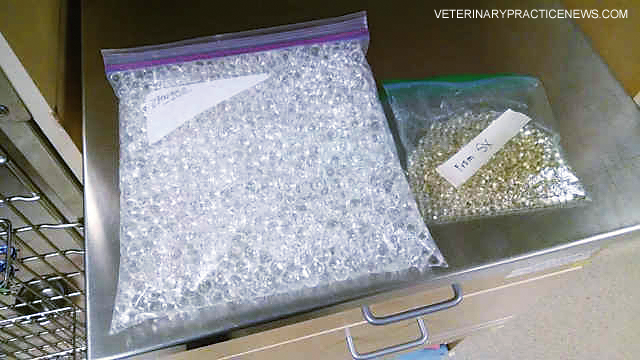 "It was very apparent that the beads were expanding and pulling moisture from Ellie," Dr. Coby Richter said. "She was becoming dehydrated quickly."
Knowing that the beads would continue to expand, the team took Ellie directly into surgery.
"After I removed several handfuls of them," Richter said, "I knew we were clearly in the hundreds."
In the end, the beads filled a gallon-sized bag and a pint-sized bag.
Ellie made a strong recovery.
Judge's comment: "Immediate surgical intervention was the saving decision." (Dr. Mary Beth Leininger)
Judge's comment: "This case was truly amazing in that the little swallower would have died quickly due to dehydration as the beads adsorbed water. The beads would have mercilessly expanded to a volume over 10 times that of her stomach. Thank goodness the Chihuahua was able to get into the surgery room immediately." (Dr. Alice Villalobos)
---
He Gobbled it Right Up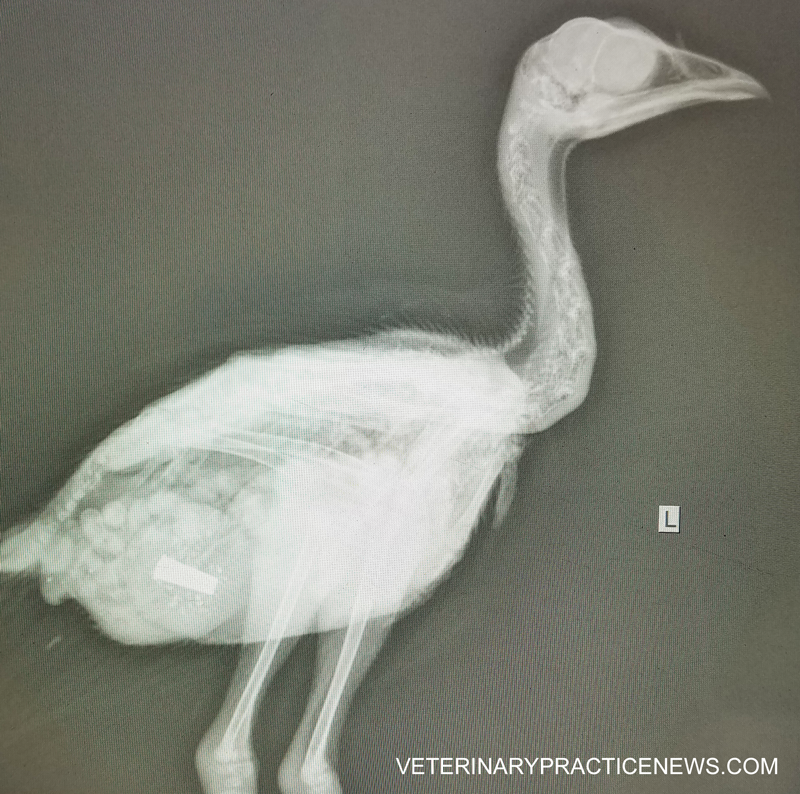 A 5-week-old turkey was brought to us after the owner saw the bird eyeing something gold and shiny. When the owner realized the object was a .22 shell casing, she tried to grab it, but the little turkey was way too fast and swallowed it.
The male turkey stood perfectly still for his X-ray, and there it was.
After about an hour of searching for the shell casing, Dr. Ryan Bear successfully removed it. He sutured up little ".22," as the owner now calls him, and the pet turkey is doing well.
Judge's comment: "Love the story and irony—turkeys are usually tagged with shotguns—and I think the name .22 is adorable for a silly little turkey gobbler." (Dr. Evan Antin)
---
$3.75 in Change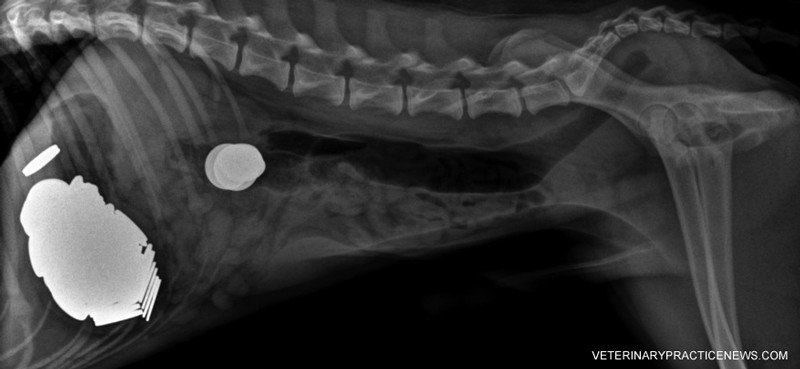 A dog owner who kept his spare change in a Planters peanut can came home to find the can on the floor, the plastic lid chewed up and change scattered on the floor.
For two days his 8-month-old Irish terrier, Dillon, was vomiting and sluggish. When the owner found a couple of coins in Dillon's stool, the dog came in for radiographs that revealed foreign objects in the abdomen.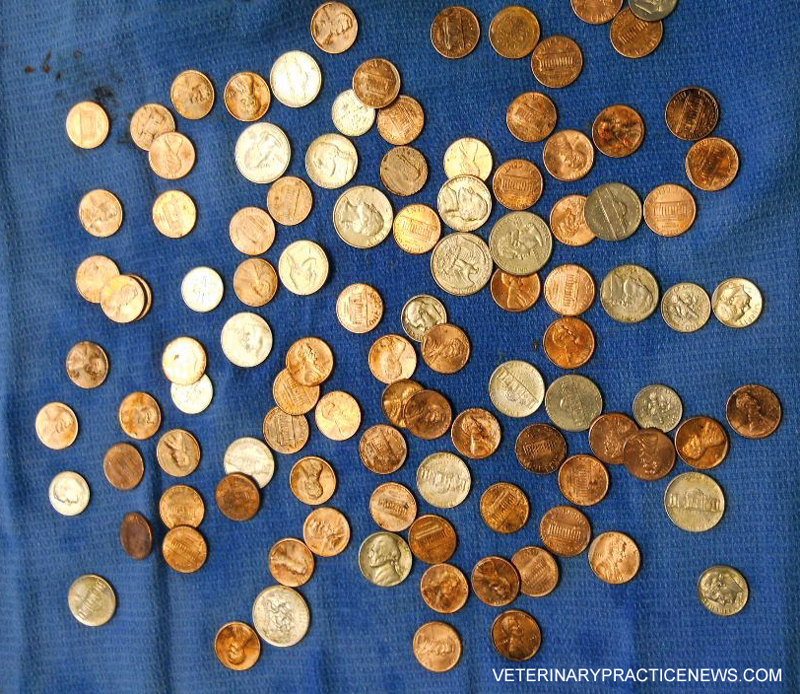 Removed by gastrostomy and enterotomy were 80 pennies, 14 nickels, 10 dimes and five quarters.
Two days later, Dillon was eating normally again.
---
Gone Fishin'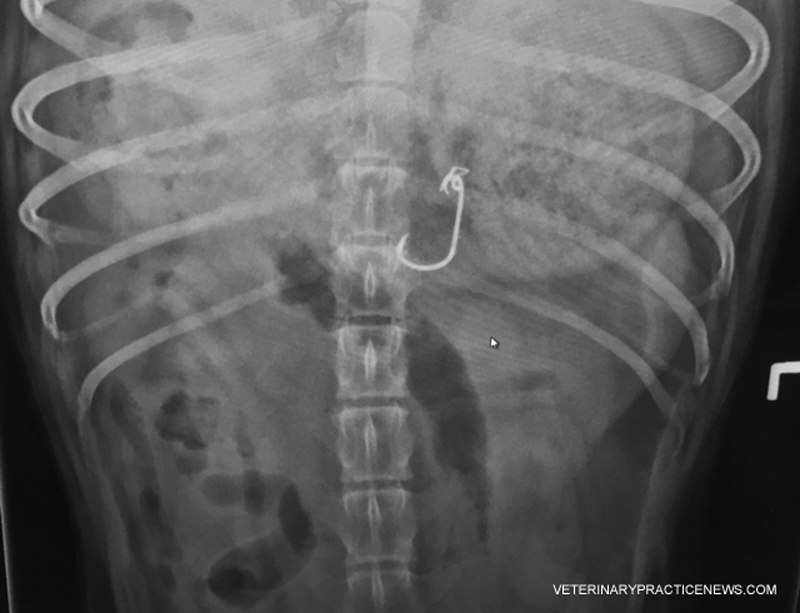 We had just moved to a lovely farm with a fishing pond and 4 acres on which the dogs could play. My daughter was too tired to dig for worms that evening, so she decided to use a hot dog as bait. She baited the hook and for some reason laid down the pole.
Fifteen-year-old Toby wasted no time snatching up the morsel of hot dog, hook and all. Luckily, several people saw it happen, so off to have a scope we went.
Toby had the good fortune of eating dinner three hours before, so he still had food in his tummy. When the internist scoped him, the 6 inches of line and weight were in the esophagus, and the hook was lying right for retrieval. Upon picking him up we saw another dog sitting in the ER who had done the same thing.
---
In One End, Out the Other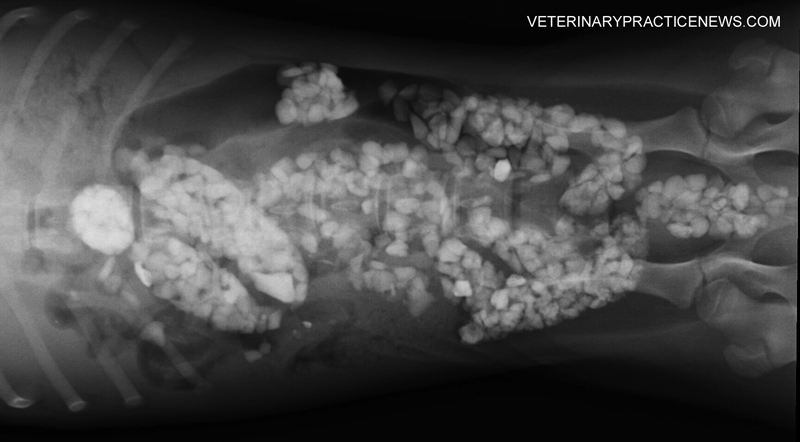 We were presented with a 15-week- old female boxer mix whose insatiable appetite led to her consuming the pea gravel lining the owner's driveway. Radiographs showed that most of her gastrointestinal tract was lined with gravel.
Because of the small size of the gravel, we thought the patient would easily pass it. After 24 hours of a bulky diet and home observation, radiographs showed that all the gravel had been evacuated.
---
Cow Problems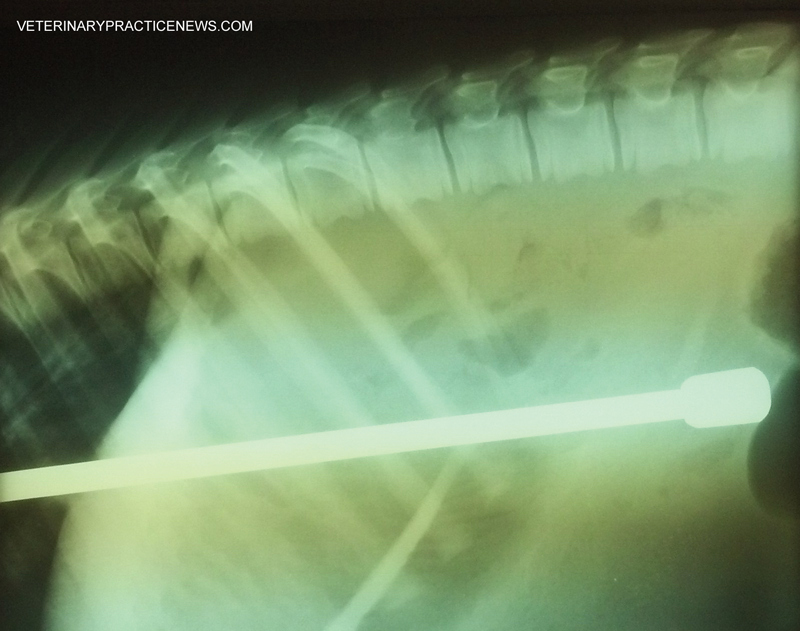 A 6-week-old female Holstein calf had developed diarrhea three days before and was administered oral fluids and electrolytes via an esophageal feeding tube by a farm employee. The connection between the metal tube and the bottle failed, leading to the calf swallowing the 16-inch-long tube. The end of the tube could be palpated in the rumen, and the other end was palpated in the esophagus.
Radiogaphs were taken to confirm the location of the esophageal tube. Fifteen milligrams of xylazine was administered to induce anesthesia. A left flank laporatomy was performed with the animal in right lateral recumbancy. The rumen was incised and the feeding tube was removed. A routine closure was performed. Anesthesia was reversed with yohimbine, and the animal recovered uneventfully.
---
Want to see more X-rays? Check out the past winners!
The annual "They Ate What?!" radiograph contest is meant to serve as an educational tool for veterinarians and pet owners. If you suspect your pet has ingested a foreign body, get it to the veterinarian right away. The longer you wait, the more damage is possible, the harder it can be to retrieve the item and the more expensive the veterinary bill is likely to be.