Suggested Veterinary Products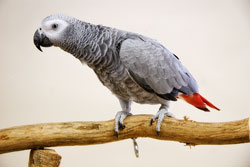 Texas A&M's Schubot Exotic Bird Health Center is developing a new diagnostic  blood  test for  proventricular  dilatation  disease (PDD), a wasting disease that affects many psittacine species.
PDD is currently diagnosed clinically or by a crop biopsy. Clinical diagnoses are not always accurate and studies indicate that crop biopsies are only 40 percent to 70 percent accurate, says Ian Tizard, BVMS, Ph.D., director of the center. And then there's post mortem, when  diagnosis comes too late, he adds.
The diagnostic test is still in the early stages.
"We need to test it on a lot more samples before we are able to offer it," he says.
PDD is an important disease to diagnose and control because it is the most significant killer of large psittacines in captivity, according to Dr. Tizard.
"It is also a major problem in some aviaries and in some of the parrot recovery programs where endangered species are dying from it," he says.
It is generally assumed that PDD is a viral disease, but that has yet to be proven, Tizard  says.
PDD is quite erratic, he says. Some birds get sick quickly and die,   while others may recover. Some birds exposed to the same thing may not even be affected.
"It's really very difficult," Tizard says. "That's part of our hesitation before we offer the diagnostic test because we need to assure ourselves that it is accurate. The last thing we want people doing is euthanizing birds on the basis of this test. We are not at that stage yet."
The center is accepting donations of terminally ill PDD birds to further their studies.
"If birds are going to be humanely euthanized because of PDD then we have an interest, especially if they are located near Texas," Tizard says.
For more information on how to donate, call 979-845-4276.