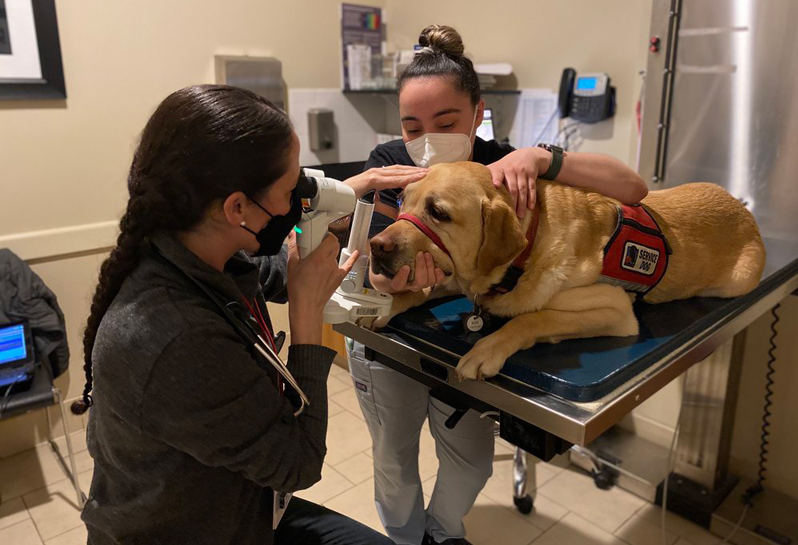 Spotting and treating early signs of ocular conditions in hardworking canines is the goal of the American College of Veterinary Ophthalmologists' (ACVO's) National Service Animal Eye Exam Event.
Slated to take place throughout the month of May, the event enlists more than 260 board-certified ACVO Diplomates across the U.S., Canada, Puerto Rico, and Hong Kong. It aims to identify any early warning signs of conditions that may lead to sight impairment in working and service dogs. Such ailments could force these highly skilled animals to be pushed into early retirement.
"During our annual National Service Animal Eye Exam Event, other ophthalmologists and I have found eye problems that, left untreated, could shorten the service life of these valuable animals," says the event's creator, Bill Miller, DVM, DACVO.
"Vision is so important for the normal function of service and therapy dogs," adds participant Nancy Bromberg, VMD, MS, DACVO. "The handlers of the animals are always so thankful for the services we offer, and, in return, I feel good knowing I've given back to my community."
The event, which is sponsored by Epicur Pharma, will be held in more than 170 cities.
"ACVO Diplomates have volunteered their time and resources to provide free exams to all types of service and working animals, in hopes of catching potential health concerns earlier," says ACVO executive director, Stacee Daniel. "The event has provided free examinations to approximately 76,000 service and working animals since it was founded in 2008, and we're proud to be back at full capacity this year."
To qualify for a free eye exam, animals must be active service, working, or therapy animals with written proof of formal training (and/or active registration for therapy only).
Registration will be open Apr. 1 to 30. For more, click here.