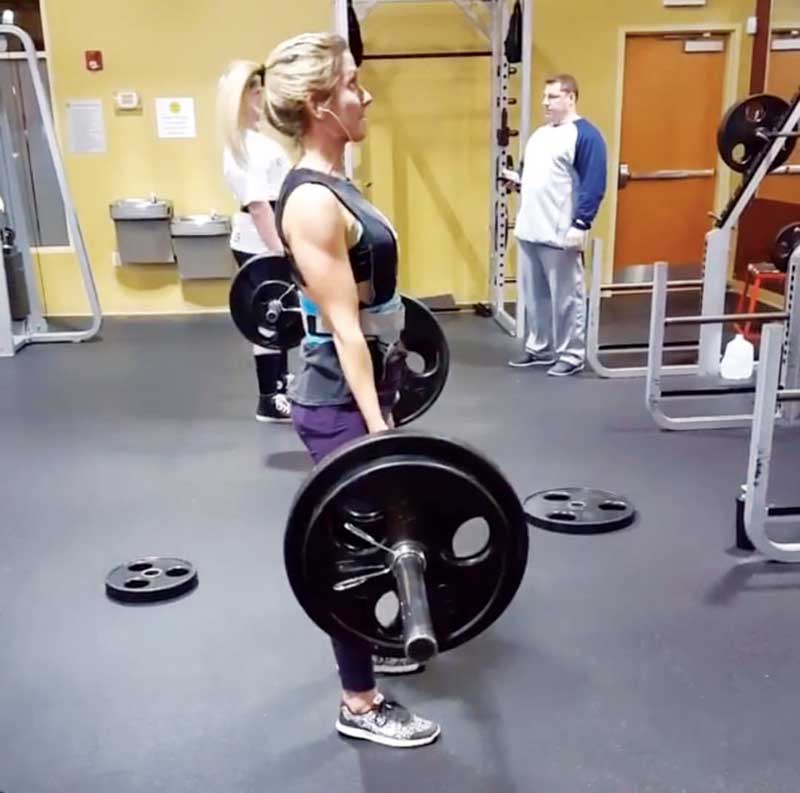 Veterinary technicians are dedicated professionals that possess very special sets of skills. However, in honor of National Technician Week, Oct. 15-21, I wanted to highlight several technicians who have developed skills well beyond those they display daily at their small animal practices.
Veterinary technicians' work and personal lives run the gamut: some work in the pharmaceutical industry, for associations, and in the army. Others work at human hospitals, in journalism, and in startup businesses. Some are avid collectors or are obsessed with popular culture, and others have culinary skills impressive enough to compete on national television.
Here, though, I chose to focus on a few veterinary techs who enjoy more physical hobbies. One would never guess at their passions upon first meeting them—they are humble in spite of their surprising and extreme skills. Here are their fascinating stories.
Kerri
"I'm very active outside of work. I gained interest in weight training about three years ago, initially as a means to get in better shape. But the more I did it, the more I enjoyed it. Eventually, it turned into a passion. I don't see it as a chore—I looked forward to it.
"I've learned a lot along the way, not only about training and proper technique, but also about nutrition and fueling my body properly. My bones, tendons, and ligaments are stronger, which means I have fewer chances of getting injured at work.
"As an added bonus, weight lifting provides great stress relief and a positive outlet. Life as a vet tech can be mentally demanding and stressful. Weight training is a great way for me to manage that stress.
"Being a tech also is physically demanding. We are constantly lifting patients onto exam and X-ray tables. We move patients from the treatment room to surgery and throughout the hospital. We restrain giant dogs for procedures. My job has definitely become much easier.
"Funny thing is, now I can eat a lot without gaining weight. A workout is a great metabolism booster. It's crazy to think that a few years ago I couldn't even execute a single pushup."
Bobbi Jo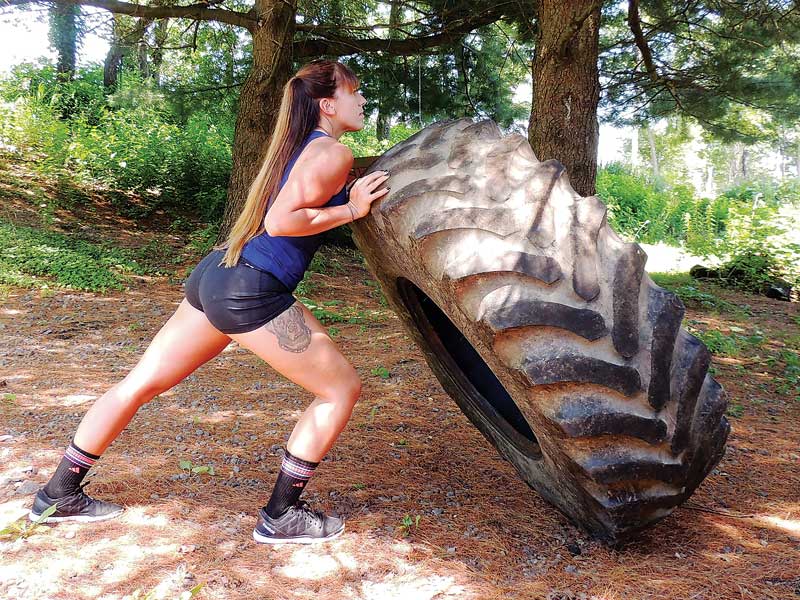 "I love weight training for the physical and mental strength it requires. After the completion of each workout, I not only feel physically stronger, but also mentally tougher.
"Some of these workouts can be grueling and some almost seem impossible until they are completed. For example, I flipped a huge tire 100 times! So clearly, this kind of challenge builds physical and mental toughness at the same time.
"It's not so much the individual movements that are difficult, it's the amount of repetitions and sets that tend to be the challenge.
"A more typical workout is 10 tire flips, 50 body weight squats, and 10 push-ups. The three exercises are repeated for 10 sets, with little to no rest between sets. It's brutal!
"Working out this way is also a stress release from my day-to-day activities as a vet tech. These are moments where I can just focus on my health and wellness, which in the end help me be the best I can be."
Kat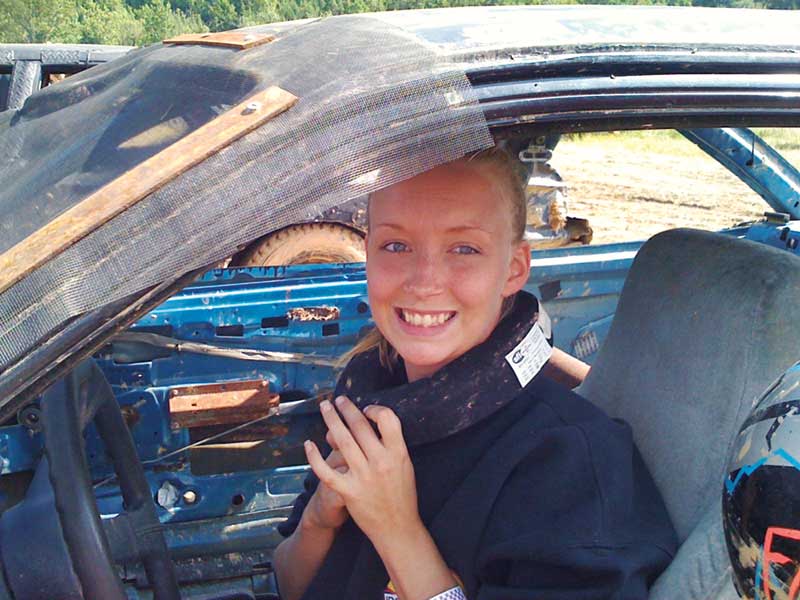 "Growing up, I was a real tomboy. I'd take jeans and boots over a dress and heels.
"I was always interested in old cars, demolition derby, truck pulls, and racing. My husband and I actually met through demolition derby.
When he offered to help me build a car, I couldn't refuse the opportunity to be one of the few girls who actually ran in the sport!
"I didn't want to be one of the girls standing around watching. I wanted to be part of the action. I got to be the driver, instead of be part of the pit crew. I love wrenching on cars, so this gave me a chance to learn more about them.
"Racing requires mechanical skills, including cutting and welding; driving skills, interestingly, mostly done backward; knowing how and where to hit other cars so that your own car lasts; and the guts required to take a hit and not be a wimp.
"It was a once-in-a-lifetime experience, and there was no way I was going to miss out.
"I pride myself in having received a trophy once for being rolled over during a derby!
"Some may think that putting all that work into a car just to smash it is a waste of time, but the time in the arena is totally worth it. The lights, sounds, and smells are exhilarating."
Miranda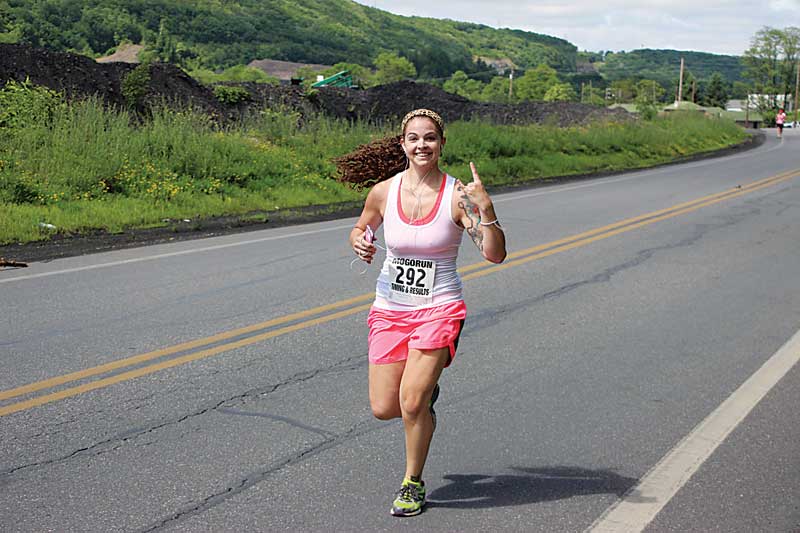 "I have completed 5K and 10K races, and half and full marathons. Most are road races; some are trail runs. I also enjoys races with hills, mud, and obstacles, such as the Spartan race and the Tough Mudder."
"Whether it is short distance, long distance, or obstacle races, you will find me taking on the challenge. It's a mental and physically challenging sport that takes time, dedication, and consistent training. There are fast and slow races, short and long runs, good and bad days. But running is always hard, and it requires perseverance.
"The first challenge is lacing up my running shoes, and then taking the first step out the door.
"Participating in races can be competitive, but it is also very inspiring. Sure, those race-time jitters kick in at the starting line, but midway through the race, I enjoy running side by side with other runners. We all know we are there to cross that finish line and push ourselves mentally and physically, even though at times, quitting crosses our minds.
"Running is quite an emotional experience, especially during long distances. Sometimes, I have to battle my mind, which wants to quit. So I need to find that strength and mental toughness to keep going.
"There's something reassuring about striving toward a goal and reaching it.
"I love the thrilling moment when I cross the finish line. Knowing all the time spent training led up to the emotional and satisfying moment. Every race medal is a physical reminder that was hard earned.
"Running is rewarding in many aspects. There is just something about the feeling of exhaustion and knowing I've done my best to reach my goal.
"If there's one thing running has taught me and helped me with over the years, it's that if you're persistent and determined to do something, and you follow through, success is within your reach."
AJ
"I started running after school because it cleared my head at a time when my family was going through very challenging times and I was afraid of the future. It was a free form of therapy.
"As I became stronger, I realized that running was exactly what I needed. It was the one thing I could control in my life, so I continued. There is a feeling of accomplishment that comes with conquering a race. It may be challenging, but when I finish a race, I feel as if there is nothing I can't accomplish. It definitely helped with my emotional and physical state.
"Physical exertion acts as a reset for my mind. Because it's illegal to harm an animal abuser, I run it off. Because I can't control my coworkers' shenanigans, I run them off. To get over the frustration that I can't adopt every stray animal, I run it off.
"Running keeps me centered. It gives me comfort when I feel like giving up. Also, there is an unmatched camaraderie during a race, among complete strangers, that you no longer see in any other facet of life. Runners help people they are competing against. It gives me hope for humanity. I believe running and obstacle races have made me a better person in both my professional and personal lives. It has shaped who I am.
"I wouldn't trade it for a million dollars. Maybe a million puppies, but not a million dollars."
Dr. Phil Zeltzman is a board-certified veterinary surgeon and author. His traveling surgery practice takes him all over Eastern Pennsylvania and Western New Jersey. You can visit his websites at DrPhilZeltzman.com and VeterinariansInParadise.com.
Technicians and doctors can earn 12 CE credits April 14 to 18 or 21, 2018, in Cabo, Mexico, while learning about anesthesia, pain management, surgery, and more. Featured speakers will include two veterinary technicians, Bob Stein, DVM, DAAPM, CCRT, and Phil Zeltzman, DVM, DACVS, CVJ, Fear Free Certified. For more, visit VeterinariansInParadise.com or email drphilzeltzman@gmail.com.