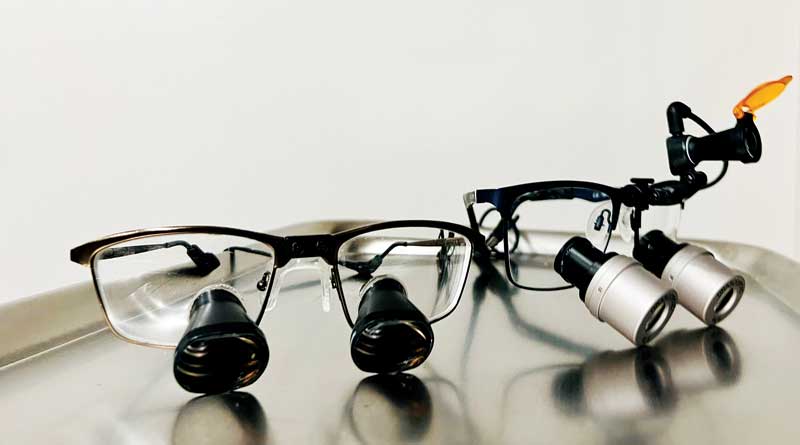 This month's column continues important considerations that will hopefully improve your working environment, enjoyment, and effectiveness when tackling challenging dentistry and oral surgery procedures.
A good surgical light is an important part of any operatory. "If you can't see it, you can't treat it!" Surgical lights can be ceiling-mounted or on a movable base. The light should be easily maneuvered to allow for visualization of all parts of the oral cavity.
Following the light
Another potential light source is a headlamp. They can be purchased for an inexpensive price (as little as $10!) and will provide increased visualization. Some of these headlamps actually contain a lens to focus the beam into an adjustable spotlight on the area of interest.
When you are performing dental procedures with frequency, you will want to invest in a light source/loupes combination in which the light source sits on top of your loupes. The beauty of this is the light is always directed exactly at the area you are looking at. The light follows your eyes. Increased visualization provided by a targeted light source mounted on the loupes is perhaps more helpful than the actual magnification that loupes provide!
The light source on the loupes often has an orange filter that can be flipped down to cover the light if there are concerns that the light emitted will prematurely cause bonding agent or composite to set prematurely. Though light-cured products, such as unfilled resin and composite, are cured with a specific blue light wavelength of 450-480-nm, white light alsp contains some of this wavelength and will cause materials to prematurely set if not filtered.
Magnifying loupes are truly a game changer when it comes to performing delicate oral surgeries. When deciding on loupes, the first decision is whether or not to get loupes that have a fixed interpupillary distance versus adjustable loupes. Loupes with a fixed interpupillary distance are called "through-the-lens" rather than "flip-up" loupes.
I recommend purchasing loupes that are through-the-lens. A company representative will travel to your practice and measure the size to fit your face perfectly. Prior to having these types of loupes, I had a pair of flip-up loupes. Flip-up loupes are nice because more than one person can use them, but they are more difficult to get accustomed to, and they can get dislodged from the proper interpupillary distance while using them. If you wear glasses, you can also get a prescription within the lenses so you can see well when not looking through the loupes.
Magnified
The next consideration is "how much magnification should I get?" I started my career using 2x magnification. This is the magnification I recommend for your first pair. This amount of magnification can serve you well throughout your career. The higher the magnification, the more difficult it is to become accustomed to the loupes. The higher the magnification, the smaller the field of view. This can be a problem in not allowing you to see the "big picture" when examining or treating the mouth.
My second pair of loupes, purchased 15 years after the first pair, had a higher 3.5x magnification. They are very helpful for seeing tiny feline premolar root tips and distinguishing roots from the adjacent bone. The higher magnification also helps me when doing cavity preparations, root canals, or composite restorations.
Magnification loupes and their dedicated light source can very helpful for general practitioners, not only for retrieving small root tips, but also for use with other aspects of general practice, such as eyelid surgery, GI surgery, and urinary surgery.
Circling back to the ergonomics of wearing loupes: they require that you maintain a certain degree of good posture for the field to be in focus.
One systematic review looked at empirical evidence within the literature of the effect of using loupes and saddle chairs on posture and reduction in musculoskeletal disorders. The authors concluded using loupes appears to relieve shoulder, arm, and hand pain. However, evidence of a beneficial effect on neck pain is scarce. Use of saddle seats and loupes appears to correct poor posture.1
Take the plunge and buy a good pair of loupes, and then make yourself wear them. Once you pass through the initial awkward accommodation phase, I think you will love them. I am so dependent on mine, I would be lost without them!
John Lewis, VMD, DAVDC, FF-AVDC OMFS, practices and teaches veterinary dentistry and oral surgery at Veterinary Dentistry Specialists and Silo Academy Education Center, both located in Chadds Ford, Pa.
References
Plessas A, Bernardes Delgado M. The role of ergonomic saddle seats and magnification loupes in the prevention of musculoskeletal disorders. A systematic review. Int J Dent Hyg. 2018 Nov;16(4):430-440.