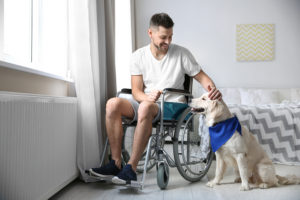 Service dogs improve the quality of life for their owners, according to a new study.
Due to an increase in demand for service dogs, researchers at Purdue University College of Veterinary Medicine determined a need for using standardized measures to look at the relationship between the human-animal bond and psychosocial outcomes among people with service dogs over a four-year period. Elanco Animal Health funded the study.
"Our goal was to apply strong science in quantifying the effects these dogs can have on well-being," says Maggie O'Haire, PhD, associate professor of human-animal interaction at Purdue University. "The research also reveals the distinctive role a service dog may have in the lives of the families of those individuals."
Of the 154 recruited participants, 97 people who used a mobility or medical service dog displayed better psychosocial health, including higher levels of social and emotional functioning, and better functioning at work and/or school in comparison to the 57 who were on a waiting list.
"Previous smaller and chiefly qualitative studies have found preliminary evidence service dogs can have psychosocial benefits among individuals with physical disabilities, but the research has been limited," said Tony Rumschlag, DVM, director, consulting veterinarians, U.S. companion animal business unit, Elanco.
"It's gratifying to help further scientific understanding about the human-animal bond. As veterinarians, in-depth knowledge about the mechanisms of that relationship will enable us to truly partner with owners on pet care."