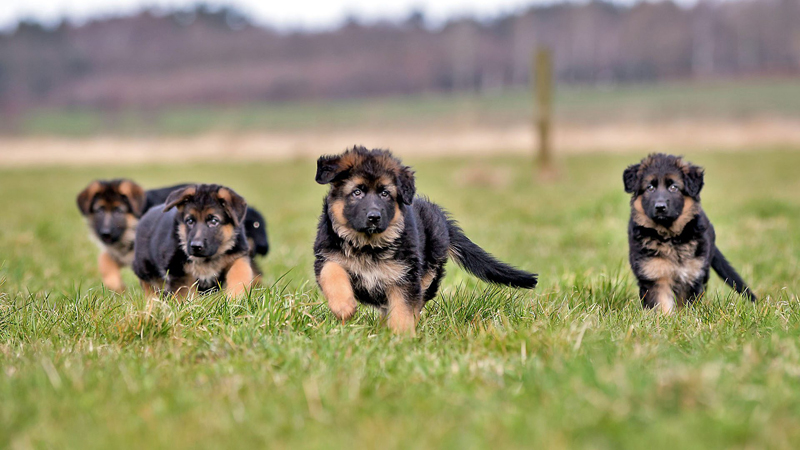 Prevalence of a severe digestion disorder often seen in German shepherds may soon be reduced, thanks to a new discovery.
Researchers at Clemson University have developed a genetic test for the breed to help in predicting congenital idiopathic megaesophagus (CIM), an inherited disorder whereby a puppy develops an enlarged esophagus that impedes its ability to swallow.
CIM is often discovered when puppies are weaned at about four weeks of age. Dogs with the condition regurgitate their food, which can cause serious complications.
"They don't have swallowing activity," says the study's coauthor, Sarah Bell, PhD, a graduate research assistant in genetics. "When the puppies swallow food, it just sits in their esophagus and doesn't trigger those sequential contractions that normally occur to help push the food into the stomach."
To consume food and water, puppies with CIM must eat and drink while sitting upright in a dog highchair. Some outgrow the condition, but many require lifelong symptomatic management with upright feedings, small liquid meals multiple times a day, gelatin cubes, and drug therapies, Clemson University reports.
"Because a dog's esophagus is horizontal instead of vertical like ours, gravity doesn't aid the transportation of food into the stomach," Dr. Bell says.
To identify the genes associated with the disorder, researchers performed a genome-wide association study, which revealed a repeating DNA sequence on canine chromosome 12 and a variant within melanin-concentrating hormone receptor 2 (MCHR2). This affects appetite, weight, and how food moves through the gastrointestinal tract, Clemson reports.
The study also found male puppies are twice as likely as females to develop the disease. Researchers believe lower estrogen levels may explain why males have a higher risk.
"What they've found in people is estrogen has the effect of relaxing the sphincter that connects the esophagus to the stomach," Bell says. "By having more estrogen, the smooth muscle there is naturally more likely to open. This increases the motility of food into the stomach."
While German shepherds have the highest incidence of CIM, other breeds (including Labrador retrievers, Great Danes, dachshunds, and miniature schnauzers) are also susceptible. It is not yet known if the same genetic variation is involved in disease development in other breeds.
The MCHR2 variant, along with the dog's sex, can predict whether a dog will develop a megaesophagus with 75 percent accuracy, the university reports. The test, says lead researcher Leigh Anne Clark, PhD, an associate professor in Clemson's department of genetics and biochemistry, can be used by German shepherd breeders and, ideally, reduce the risk that puppies in future litters will develop the disease.
"One thing I stress with any disease in any breed is don't make a problem where there isn't one," Dr. Clark says. "If you've been breeding German shepherds for 20 years and you've never bred a megaesophagus puppy, then don't use this test, but if you're a breeder and you've had megaesophagus puppies, you may benefit from the test."
The findings have been published in PLOS Genetics. For more, click here.
The research was supported, in part, by funding from the Collie Health Foundation, the American Kennel Club Canine Health Foundation, the Upright Canine Brigade, the Orthopedic Foundation for Animals, and the National Institute of General Medical Sciences of the National Institutes of Health.