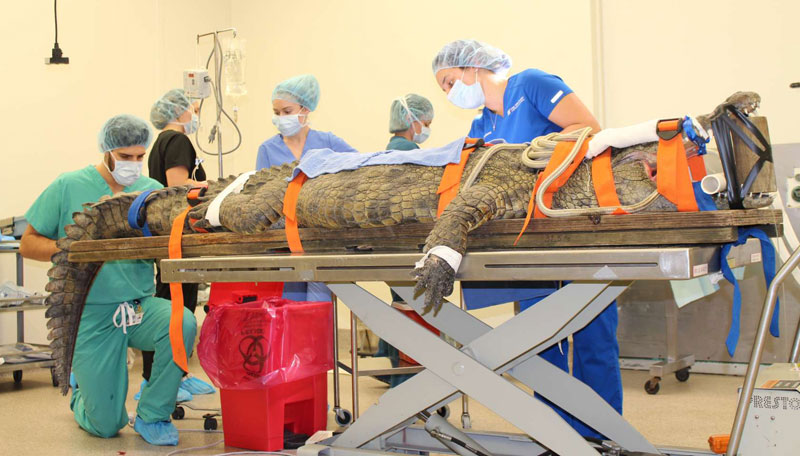 A 341-lb Nile crocodile is breathing comfortably after having a shoe removed from her stomach at the University of Florida (UF).
Anuket, a reptile resident of St. Augustine Alligator Farm Zoological Park in St. Augustine, Fla., was taken to the UF Veterinary Hospitals on Feb. 5, the university says. The sneaker reportedly fell off the foot of a zipliner at the park back in December and landed in the 10.5-foot crocodile's habitat.
Witnesses at the time observed Anuket eating the shoe, regurgitating it, then eating it again, UF says.
Initial efforts to remove the object had been unsuccessful. Indeed, during a recent visit to UF, zoological medicine resident Garrett Fraess, DVM, attempted to take it out by reaching his arm up and through the crocodile's esophagus, but was unable to do so, the university says. Anuket was admitted for surgery.
Large animal surgeon Adam Biedrzycki, BSc(Hons), BVSc(Hons), MRCVS DACVS-LA, DECVS, PhD, attempted to manipulate the shoe through an incision, then push it from the stomach to the esophagus where Dr. Fraess would, ideally, grab hold of the object and pull it out, but this method was also unsuccessful.
"Ventral mid lines in crocodiles are reported to have issues with infection, dehiscence, etc. due to slithering on the belly and laying in water," Dr. Biedrzycki tells Veterinary Practice News. "There is an approach to the intestines through a flank incision, but that is located very causal and does not provide access to the stomach."
Ultimately, Biedrzycki performed a gastrotomy, which allowed easier access to the crocodile's stomach. He was then able to remove the shoe.
"Based on a CT and ultrasound we performed, we determined an intercostal approach would be most direct to a) access the stomach, and b) pull the stomach to the incision so a gastrotomy can be performed," Biedrzycki explains. "Once the incision was made, the stomach was fairly easy to locate and exteriorize."
Following an overnight stay at the hospital, Anuket was able to return home to recuperate.
"Close of the deep layers was fairly routine," Biedrzycki says. "Some challenges occurred with the skin to get through some of the osteoderms. The incisions take a while to heal, so to remove tension from the skin surface we placed a few mattress sutures to relieve tension."
For more information, including additional photos and video, click here.