Suggested Veterinary Products
Beside compassion, perhaps the most useful implement in the toolbox of Pamela Iles, practice manager and technician at Cat Haven Veterinary Clinic in Birmingham, Ala., is a laser beam.
Cat Haven uses therapeutic lasers in a number of cases and for a variety of purposes: to treat arthritis and wounds; to help with nerve regeneration; for post-surgical pain relief; for sinusitis treatments.
The clinic also uses laser therapy for calming purposes.
Gingivitis, chronic otitis and renal disease are also on the long list of ailments that call for breaking out the therapeutic laser at Cat Haven, which purchased it last summer.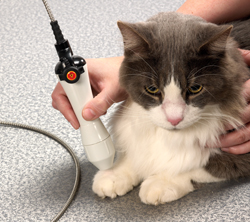 Courtesy of Litecure LLC
"We have seen remarkable results in virtually a short period of time," said Iles, who has seen a great many cats regain nerve function and benefit from increased mobility.
"The laser is improving the quality of life for many of our patients. Arthritic cats can run and jump, cats with sinusitis can breathe, cats with nerve damage can walk again. There are just never–ending possibilities."
But the bottom line is that laser therapy can improve a clinic's functionality and bring in more income as staff becomes empowered to perform procedures that can bring a clinic doctor-level income.
"This improves not only my job but also the doctor's job," Iles said. "The laser allows the clinic to run more efficiently by freeing the doctor to see and treat other patients while I am administering laser therapy."
More and more clinics are turning to laser therapy to enhance practices and the lives of their patients.
Laser therapy tops the list of services to add or expand in 2013, according to a survey released in August by Veterinary Economics. Twenty percent of participating clinics said they were planning to add or expand their laser therapy arsenal.
Utility
Bryan Stephens, director of research and development for K-LaserUSA in Franklin, Tenn., keeps tabs on the possible uses for laser therapy, which he said has "near limitless potential."
From Nose to Tails
Manufactures and distributors say therapeutic laser treatment can be prescribed for just about every area of an animal. Below are some suggestions.
* Head and Neck:
• Rhinitis
• Sinusitis
• Periodontitis/gingivitis
• Extractions
• Stomatitis
• Rodent ulcers
• Corneal ulcers
• Feline acne
• Otitis (acute and chronic)
• Hematomas (postsurgical
• Cervical IVDD (acute/chronic)
• Infectious tracheobronchitis
* Thoracic Limb:
• Bicipital bursitis
• Bicipital tendinitis
• Infra-supraspinatus tendinitis
• Acral lick granulomas
• Pododermatitis
• Arthritis
• Fractures
• Sprains/strains
• EGC
• Trauma
• Snake bites
• Bug bites (Spider)
* Thorax/Abdomen:
• IVDD (acute/chronic)
• Postsurgery
• Cystitis/FUS
• Feline asthma
• Moist pyotraumatic dermatitis (hot spots)/IBD
• Dermatomyositis
• Dog/cat bites
• Trauma
* Pelvic Limb:
• Hip dysplasia
• ACL—Nonsurgical/Partial or Post-Op
• Cauda equina syndrome
• Calcaneon tendon tear/trauma
• Arthritis
• Sprains/strains
• Fractures
• Lick granolomas
• Neuropathy
* Perineum/Tail:
• Anal saculitis
• Trauma
• Tail fractures
"We see it being used it on anything from musculoskeletal pain—pre-, post-, and non-surgical—to soft tissue—also pre-, post-, and non-surgical wounds—and even start trying it on some internal medicine cases, like cystitis, irritable bowel syndrome and feline asthma," he said.
From a clinical perspective, Stephens said laser therapy is helping by providing a therapeutic modality that is enabling treatment of conditions on which other modalities fail or aren't applicable.
Examples Stephens offered include lick granulomas; stomatitis; infected wounds; chronic pain; tissue avulsion; animals with kidney or liver issues that cannot take oral medications.
Laser therapy can also provide quicker improvement as adjunctive therapy on conditions like post-surgical incisions, arthritis and rehabilitation, Stephens added.
Time Savings
Lorraine Hutson, a veterinary technician at Haven Lake Animal Hospital in Milford, Del., began using laser therapy at her clinic in spring 2012.
"We use laser therapy for many things," Hutson said. "Mostly wound healing and pain control."
But one of the most evident benefits of laser therapy has been the time savings in the often lengthy wound healing process, she said.
"They are making a huge difference," she said. "Healing time for wounds has been cut in half when conventional treatments have been used in conjunction with laser."
Illes said her clinic is performing treatments now that in the past would take almost double the time and add to the stress of the animal being treated.
"Now, with the help of the laser, we are able to cut the time in almost half in some cases and very minimal to no stress on the animal at all," she said. "In fact most of my patients that undergo laser therapy will actually fall asleep during the treatment."
Hutson agreed that pain control is another benefit.
"Laser aids in pain control for dogs and cats with arthritis-related conditions," she said. "Especially in dogs that are unable to take NSAIDS due to other problems. They make such a difference in the patients that we keep using them for more and more things."
In fact, Haven Lake Animal Hospital uses laser therapy in any case involving any type of wound to promote faster healing, Hutson said.
The clinic has used laser therapy to address chronic ear problems to help with inflammation, which enables topical medications to get down in the ear canal better, she said.
"We have also used laser therapy on lick granulomas, eosinophilic plaques, fractures, post-surgical pain, chronic cystitis and ear hematomas," she added.
Return on Investment
One of the biggest pluses clinics are reaping from laser therapy is an improved return on investment, according to Carl Bennett, director of marketing for LiteCure LLC, also known as Companion Therapy Laser, in Newark, Del.
"Veterinarians are not only seeing excellent results clinically, but also finding that providing laser therapy generates an exceptionally high return on investment," Bennett said.
Companion Therapy Laser offers a treatment suggestions and charges outline for its veterinarian clients.
For example, the outline suggests that as part the pain management protocol for spay, neuter and declaw surgeries, a $15 to $25 per-treatment fee is typical, while for acute inflammatory and other painful conditions, $25 to $30 is suggested.
For surgery and dental procedures with greater tissue damage—laparotomy, thoracotomy, cystotomy, hernia repair, brachycephalic syndrome surgery, medical patella luxation, amputation – Companion Therapy Laser suggests increasing the total fee for pain management by $15 to $25 and adding a Class IV laser treatment for each treatment after the procedure for $43.
For chronic conditions requiring long-term maintenance treatment, such as dermatomyositis, chronic otitis media/externa, periodontal disease, feline asthma, COPD, inflammatory bowel disease, arthritis or degenerative joint disease, the company suggests an induction phase, a transition phase and a maintenance phase. Companion Therapy suggests the first two phases using Class IV laser therapy and charging $43, and the maintenance phase using a Class IV laser therapy and charging $48.
Stephens agrees that adding laser therapy to a clinic's operations brings with it the promise of a greater ROI.
From a financial standpoint, pet-owner compliance upwards of 90 percent, and even at moderate prices $10 post-op and $35 per standard pain, trauma or wound session, even in single-veterinarian practices, ROI is less than a year, according to Stephens.
"This is very difficult to achieve with any other capital equipment," Stephens said. "Furthermore, this is doctor-level income at technician cost, since in the majority of the clinics, the technicians are the ones performing the treatments."