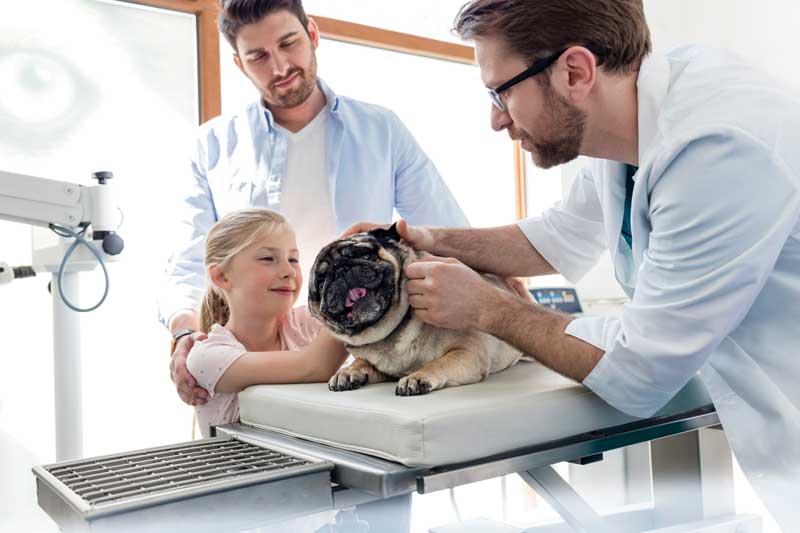 After five years rotating through various unicorn shades of hair color, I think I know a thing or two about differentiation. I come by this impulse naturally (with a little help from a bottle of hair dye, of course). But differentiation isn't necessarily an innate skill—it can be learned. In fact, if you're in business for yourself, it's something you should embrace if you're interested in maximizing your long-term success in veterinary medicine.
Cogs and pegs
These days, we have more choices than ever before. We can work in academic or public medicine settings, corporate practices, or independent entities. Differentiating yourself in the first two is undeniably helpful, but way less impactful. Let's face it… you're more of a cog. Your role is secondary to the institution's global goals. Presumably, you've been hired because you're perceived as a round peg that slides neatly into their organizational board.
If you're committed to practicing in an independent setting, however, you have way more choices. It's here that differentiation really matters. In fact, in a world where corporate practices will soon make up half the veterinary service marketplace, being different is your primary selling point. As corporate practices ramp up their game, independence itself is quickly becoming the most critical place for all our marketing efforts.
Corporate practices know this. Some, in fact, are already playing fast and loose with the term, "independent." As they snap up new practices, some are being careful to keep the clinic's original name. They play down (and sometimes hide) the fact the practice is no longer in a veterinarian's hands. Others include the term "independent" (or a variation of it) in their company's title, having grasped the idea that plenty of clients prefer not to patronize "a chain."
Millennials, in particular, dislike the Cheesecake Factory approach to veterinary medicine. They want to shop local and support their communities. They value independence. Sure, they'll make concessions to a Whole Foods or an Amazon, for example. But given entities such as Facebook are rapidly losing respect, it's getting harder—not easier—for behemoth practices to win over this generation and its successors.
It's an opportunity for those of us similarly turned off by what we view as a corporate stranglehold of our profession—we don't want to be told how to practice, which drugs and foods to push, or to have our incomes appropriated by middlemen and our professional power shift into non-veterinary hands. We still have a part to play and we need to strengthen our hand by fighting back with our unwillingness to subjugate our patients' needs to an economic self-interest originating beyond our practices' walls.
So what can an independent-minded veterinarian do to counter these larger forces? Differentiate, of course. But how? And what if you're not even a practice owner?
I've said it in this column many times over the years: Whether you're a practice owner, a free agent associate, or another allied veterinary professional, you're effectively in business for yourself. As such, we always have more than one client to appeal to: the pet owner, the community, and—for associates and other veterinary professionals—the practices that hire us, too.
As independents who work in a fee-for-service, retail environment, we veterinary professionals differ from most human medical providers with respect to marketing. We have to appeal directly to our communities to grow awareness of our existence and our offerings. In so doing, we're already positioning ourselves as distinct from our competitors.
As an American Airlines flight attendant always says as you taxi to your arrival gate, "We know you have a choice in air travel and we thank you for choosing American." Similarly, it behooves us to always keep in mind our clients also have choices. They vote by walking in our door; it's up to us to communicate why we deserve their business.
For your consideration
Veterinary professionals can distinguish themselves in many ways. For practices, the big three are:
1) a convenient location
2) practicing good medicine
3) employing smart business practices
There's only so much you can do about the first one, and the second is a work in progress we're presumably striving for every day. It's the third where most of us can make an immediate difference, if we put our minds to it.
Here's what I'd like to recommend:
Above all else, those of us who count corporate practices among our competitors must highlight our own independence. Doing so not only makes you look special, it raises the profile of all independent practices. It urges our clients to pay attention to ownership structure and elevates our status. It says: We do what's best for your pet, not what's best for a big faceless company.
So tell them you're independent. Place "shop local" stickers on your windows. Include the word "independent" in all your marketing materials. Explain why being independent means your clients get more for their money in a more family-style setting, that their pets get better care and more individualized services, and anything else you believe makes you a better choice overall because you're not beholden to a corporation.
Join a coalition of independent practices: I'm a member of the Independent Veterinary Practitioners Association (IVPA). This
still-small body of practices offers us a
sense of community, along with access to practice management education, buying groups, and other niceties that can help us become more competitive.
Display the IVPA window decal that comes with your membership. Affix it proudly to the window of your practice's entrance.
Get more active with your local veterinary medical association (VMA). Our veterinary associations are comprised primarily of individuals who have a vested interest in the local community. Everyone on the board is a practice owner or associate in an independent practice. Corporate practice employees are by no means excluded. In fact, we reach out to them constantly. But it's been my experience as a board member for over a decade that corporate practices take no interest in our local efforts. Their employees attend their own CE and are seemingly not encouraged to participate in their local associations. This means our VMAs largely remain a stronghold of independent practice thought and activity.
Look for ways in which your practice can distinguish itself as independent. You don't have to sport pink hair or face piercings to prove your independence, but you can host holiday parties, food drives for local shelters, a kitten adoption service, and other events and services the big guys won't.
Up your game on social media by show everyone your team is a family. Share photos of your employees' pets, post holiday and travel pics, and promote local animal events. Include your opinions, too. (Corporations don't like those, for the most part.)
Just be your awesome self. Be kind, be caring, be you. Because that's what being independent is really all about. I believe we can be better veterinarians and happier people who work in more loving environments when we're independent. But that's just my opinion.
Patty Khuly, VMD, MBA, owns a small animal practice in Miami and is a passionate blogger at drpattykhuly.com. Columnists' opinions do not necessarily reflect those of Veterinary Practice News.