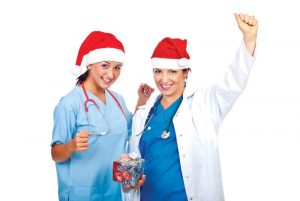 The holiday season is filled with hustle and bustle. While some might take delight in these exciting times, others may become overwhelmed. Tranquility can be found in the upcoming weeks if you know where to look for it. Decreasing your personal stress, showing gratitude, and actively seeking stress relievers for your team are just a few areas where small changes can make a big difference.
Decrease your personal stress
Be simple, be still, be quiet. Finding moments of stillness and simplicity can be challenging during November and December. Yet it can be as easy as having a cup of hot chocolate and just sitting in peace for a few minutes. Apply the KISS (keep it simple, silly) principle as often as possible. Recognize even the smallest amounts of quiet time and be grateful for them.
Free gifts are abundant. Holidays also can be financially stressful. However, gifts aren't always tangible. Think about it—a sincere hug, belly laughing with a friend, opening the door for a stranger, and other kind gestures are equally important this time of the year. Being genuine and offering heartfelt acts of kindness spread an abundance of cheer.
Creative calorie burning. Exercising comes in all shapes and sizes. When schedules become heavily laden, we may consider cutting out the exercise routine to open up some time. It's not the ideal choice, but it happens. Consider these ways to burn calories and offset the eggnog and cream cheese pie:
While cooking in the kitchen, dance to cherished holiday songs
Always take the stairs instead of the elevators or park in the farthest row away from store entrances
While standing in line to pay for purchases, do some knee bends or walk in place
After the holiday dinner, take a walk around your neighborhood with someone you want to spend quality time with, like a friend or relative
Embrace the wonder of the holidays. Recalling beloved holiday memories will surely bring a smile to your face and a song to your heart. Reminisce with family and friends. Recreate childhood events and maybe even start new traditions.
Express gratitude in what you do
Another way to help minimize the impact of the holidays is by focusing on the positive aspects. Identify what makes your job wonderful and why you enjoy working with your coworkers. One survey discovered that people who experienced gratitude for at least two weeks showed significantly increased happiness, greater satisfaction with life, and higher resilience to stress—and reported fewer headaches and illnesses. Almost all respondents reported that merely saying "Thank you" to colleagues made them feel happier and more fulfilled, but that on a given day, only 10 percent acted on that impulse.1
It costs nothing to voice your gratitude. All that is required is time and energy, and the benefits far outweigh those costs.
Thank those who don't get much overt appreciation. Don't forget to thank your boss as well (owners, veterinarians, and/or practice managers)!
Explore easy ways to express thankfulness. Maybe have a jar or a whiteboard where team members can write comments about what makes them grateful for their job or hospital. Or have each team member take turns finding a daily inspirational quote and hang them in a noticeable area.2 Consider having clients do the same in the waiting area. Clients commenting on why they come to your hospital might benefit the clinic and boost staff morale.
Support your team
You may sense—or know, based on your clinic's medical records—that there is an increase in appointments for euthanasia during the holidays. Of course pets aren't planning a sudden decline in health, but other circumstances may become a factor. Visitors may make comments about a declining pet. An owner may not want the pet to die on the actual holiday while guests are present. Plus, a new pet can be introduced during the holidays to lessen the loss of the previous one.3
This, in and of itself, is stressful. Then pile on the demands we place on ourselves outside of work during the holiday season, and we have a formula for feeling overwhelmed. Is it any wonder your team may dread the holidays?
Consider mitigating some of this stress by having this discussion with team members now. It helps to name stressors, identify stress relievers, and engage in open and encouraging conversations during team meetings.
Ask your team members what stresses them out during the holidays. Naming stressors is a therapeutic exercise. They may say things such as preparing all the meals, buying gifts, attending too many parties, or experiencing an increased number of euthanasia appointments (perceived or real). Write out their challenges and burdens either on a whiteboard or large piece of paper for all to see.
Next, allow team members to explain ways they relieve stress. By understanding each other's personal preferences, managers and team members alike can offer guidance and support in relieving stress throughout the season.
Managers (and team members) can consider giving gifts as a way of showing support. Some ideas include gift certificates to a nearby bookstore, a healthy dining experience, or a gift basket with personal spa items. After identifying stressors and relievers, more ideas will come to mind as to how to offer mutual, from-the-heart support.
The holidays can be stressful as you and your team experience additional burdens. Yet by taking steps to minimize personal tension, expressing your thankfulness and gratitude, and offering mutual support to team members, everyone's anxiety can be taken down a peg or two. In identifying positive and supportive processes, you and your team won't just survive the holidays, you'll all thrive!
References
1 Five ways to cultivate gratitude at work.
2 Veterinary Caregiver's Book of Quotes.
3 Article: 4 Ways Pet Owners Talk Themselves into Euthanasia.
Rebecca Rose, CVT, founder and president of CATALYST Veterinary Practice Consultants, has 30 years of veterinary industry experience as a veterinary practice management consultant, a practice manager at two AAHA-accredited animal hospitals, and an award-winning veterinary technician. She is a NAVTA past president (2015-2017). Contact her at getCATALYST@CATALYSTVetPC.com or visit CATALYSTVetPC.com.