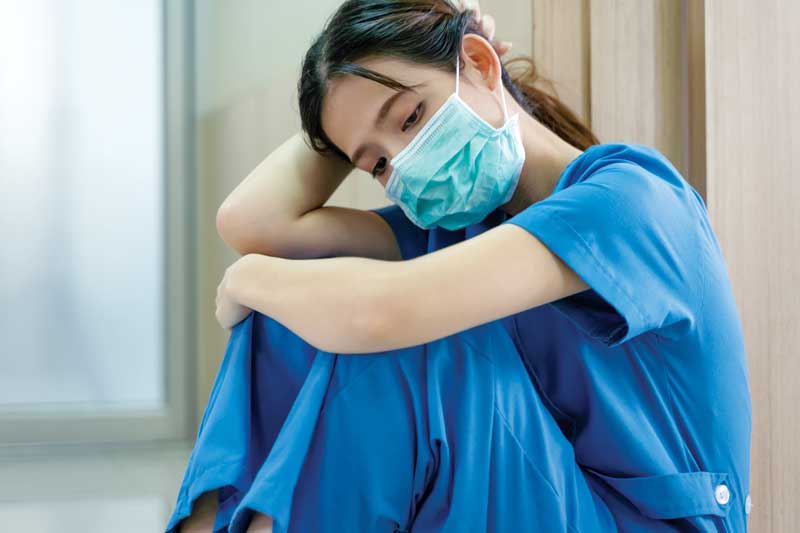 Five years ago, I received a call my mom had passed away. I was 30 years old and suddenly motherless. Later that afternoon, I was told she had died by suicide. In that moment, and in many moments thereafter, I was shattered and broken. I could not stop replaying my new reality: my mom had taken her life. I was devastated.
After my mom died, I began to notice a few things about mental illness in our country. First, there is an enormous amount of stigma, shame, denial, and judgement woven into those who suffer from this invisible disease. There is also a lack of support, understanding, and resources for those seeking help. I have witnessed it with my mom, with my loved ones, and with my veterinary colleagues. Those struggling with mental illness often do so in silence, despite the fact it is sweeping through our country at an alarming rate.
Staggering statistics
According to the National Alliance of Mental Illness, 20.6 percent of adults in the U.S. suffered from mental illness in 2019. Suicide was the second leading cause of death among Americans between the ages of 10 to 34, as well as the 10th leading cause of death overall in the U.S.1 In 2017, 39,000 American citizens of the working age (between 16 and 64) died by suicide, a 40 percent rate increase in less than two decades.2
This is a public health crisis we can no longer remain silent about. For veterinary professionals, this starts by addressing the widespread issue right here, within our own community.
There is often a direct correlation between suicide and non-fatal suicide behavior and one's occupation, and we are suffering on a large scale here in the veterinary community. Statistics show suicide among veterinary professionals ranks four times that of the general public.2 The job is draining, school debt is high, and hours are long and exhausting. Euthanasias, traumatic cases, angry clients, and low profit margins keep us up at night while wondering how to pay all the bills.
So, what do we do? How do we stop the epidemic within our industry? How do we change this pattern to stop attending our colleagues' funerals?
It is my opinion, much of the resolution lies in changing our practice culture by establishing healthy boundaries and guidelines within our career, something I have rarely (if ever) seen consistently practiced among the veterinary professional community. While we cannot unsee the trauma happening every day, or unfeel the sadness that comes with a euthanasia, we can set boundaries and implement practices allowing us to stay more balanced and healthy in our emotions and in our life.
Five steps to support our mental health
1) Learn to say "no." I was never taught that "no" is a complete sentence until well into my adulthood. I'm a natural people pleaser and a chronic worrier, so saying "no" has always induced extreme anxiety and codependent, stomach-turning thoughts of "if I say 'no,' will they be disappointed in me," or "if we can't appease this client, will they leave a negative review?"
The truth is, as long as your "no" is intentional and healthy, you are not going to lose your job or lose respect over it. You are allowed to say "no" to extra shifts, skipping lunch, and abusive clients. You are allowed to say "no" to the extra appointment at 5:30 p.m. when the doors are closing or staying late to squeeze in an extra procedure.
These are all very healthy boundaries. Creating them takes work and practice, and is a lot like strengthening a muscle. The more you do it, the more comfortable and stronger you will become. The truth is, no one will say "no" for you. Just as you advocate for the animals, you need to advocate for you.
2) Learn to say "yes." "Yes" can feel even more challenging than "no." Say "yes" to leaving on time and attending your favorite yoga class, or to starting regular therapy to work through hard traumas. Say "yes" to healthy outlets like exercising, spending time with family, and making new friends. Say "yes" to requesting a raise or finding a job that better suits you. Say "yes" to leaving work at work, to not checking emails at home, to not answering work calls after hours, and to asking for help when you need it. Saying "yes" to yourself means making yourself a priority and the moment you do this, others will, too.
3) Get creative with your career. There is a myth in veterinary medicine that you have to work within a clinic/practice environment to maintain or stay relevant in your career as a veterinarian or veterinary nurse. Let this story go, and discover all that is beyond what you have been taught. There are many specialties, mobile practices, and other administrative positions available.4 If a brick-and-mortar position is not the healthiest option for you, don't be afraid to explore other avenues.
I have created a successful career for myself by remotely managing a mobile veterinary practice and running my own veterinary nurse practice, both of which enrich and fulfill my life. I even manage less common job roles in veterinary medicine, like copywriting, campaign marketing, and social media. The options are limitless because animals and pet guardians need you in a multitude of ways. Put yourself out there, and find a spot in veterinary medicine where you are upholding your oath, but also feeding your soul.
4) Create the right culture. If you are a practice manager or in another leadership position, it is your responsibility to help create, nurture, and invite a healthy culture. Encourage staff to express what made them uncomfortable or what felt hard. Create an environment where people can safely approach each other, where resources are available, and where healthy lifestyles and boundaries are not only accepted, but celebrated.
Further, create a culture, work environment, and pay rate in which staff can also honor the needs of their families. Get clear on who your ideal client is and settle for nothing less. This means firing abusive clients. Squash culture drama. Create time management systems where increased efficiency does not always mean increased workload. I know these are big statements, but they are possible.
5) Be proactive with resources. You are busy, you're tired, and you cannot navigate this alone. Keep an open dialogue about where you are with your mental health. This is essential.
Not One More Vet and Not One More Vet Nurse are two nonprofits leading the way in creating judgement-free conversation about the mental health crisis in veterinary medicine, as well as providing strategies and community outreach for those struggling with mental health and suicidal ideation within the veterinary field.
When you are struggling, they are available and can extend multiple resources in your time of need, including available grants to use toward outstanding student loans (something that weighs heavily on veterinary students and graduates).5 Sharing these resources with your co-workers, and utilizing them for your well-being, could make all the difference.
My mom was not a veterinary professional, but sadly she is a part of the staggering statistics and public health crisis discussed here. My heart hurts every time I think of her, largely because I empathize greatly with her pain. I, myself, feel it and I see it every day in others, including in my veterinary colleagues. We simply must create a culture, and advocate in ways that leave us feeling more fulfilled and less depleted in a career that will always be hard (and also amazing). We must unapologetically act on making healthy work environments non-negotiable, as if our lives depend on it. Because they do.
FOR THOSE WHO NEED HELP
Compassion fatigue, student debt, long hours, euthanasias, and more can take their toll. Keep the following number accessible for your team in case anyone may need it:
National Suicide Prevention Lifeline: 24/7; (800) 273-8255
Claire Primo is a veterinary nurse and certified animal massage therapist residing in Lyons, Colo. She offers animal massage therapy, laser therapy, hospice and palliative care, and veterinary nurse needs through her practice, Peak Animal Wellness & Massage, while also managing a holistic veterinary house call practice, Boulder Holistic Vet. Primo specializes in senior pet care, holistic veterinary nurse care, and empowering guardians with all the appropriate tools and guidance needed for a healthy and nurturing relationship with their pets. In her spare time, she can be found in her small mountain town, playing and connecting with her husband, two-year-old son, two dogs, and cat.
References
Mental health by the numbers. NAMI. (n.d.). https://www.nami.org/mhstats.
Peterson C, Sussell A, Li J, et al. Suicide Rates by Industry and Occupation — National Violent Death Reporting System, 32 States, 2016. MMWR Morb Mortal Wkly Rep. 2020;69:57–62. DOI: http://dx.doi.org/10.15585/mmwr.mm6903a1
Stoewen DL. Suicide in veterinary medicine: let's talk about it. Can Vet J. 2015;56(1):89-92.
Primo, C. Career and entrepreneurial opportunities for veterinary nurses. VPN Plus+. 2021, March.
Not One More Vet. (2021, March 20). Home. Not One More Vet. https://nomv.org.