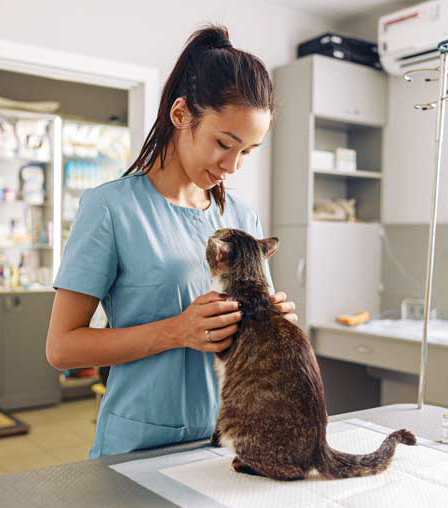 As technology evolves, a steady stream of novel diagnostics are increasingly and fundamentally changing the way we diagnose disease, which impacts how we treat both human and veterinary patients. Recently, the application of artificial intelligence, or "AI," and machine learning to veterinary medicine has allowed clinicians to predict disease prior to diagnosis.
In addition to proactively developing a personalized care plan and having the ability to treat disease before it strikes, new data show these predictive diagnostic tools can also address one of veterinary medicine's biggest challenges: bringing cats into the clinic—particularly for those proactive, annual wellness visits.
AI in veterinary medicine: A primer
AI is one of the most progressive and transformational advancements in clinical medicine of our time thanks to its ability to conduct deep analysis of data too vast for the human mind, detect patterns and trends, and learn from these discoveries. Its ability to predict future disease is especially powerful in veterinary medicine, especially when diagnoses can come too late when clinical signs are already advanced, and it is challenging to avert the often-fatal consequences of devastating diseases.
While nothing can replace the empathy, medical knowledge, clinical experience, and mission-driven culture of the veterinary team, AI and machine learning are radically improving the level of care they can provide pets.
These advanced technologies were used to develop RenalTech, which relies on more than 20 years of data, representing 700,000 vet visits from 150,000 cats and an initial application of 600,000 computing hours. It leverages this historical patient data to predict whether or not a cat will develop chronic kidney disease (CKD) within two years with published data affirming its accuracy.
No secret: Cats don't like visiting the veterinarian
Veterinarians recognize and support the value of annual wellness exams. In fact, some prefer, in an ideal world, to see their feline patients twice a year, the recommended cadence for senior or geriatric cats. Despite the promise of a comforting and warm reception, cats simply do not like visiting, and certain particularly resistant cats make it nearly impossible—or certainly distasteful—for their owners to bring them into the practice. This discouraging truth limits feline access to regular preventive care, which can be lifesaving.
In terms of preventive care access, dogs have a clear advantage. Data from the American Veterinary Medical Association (AVMA) show cats visit far less frequently than dogs. In AVMA's pet ownership survey, 79 percent of pet owners took their dogs, but only 48 percent took their cats to the veterinarian for routine or preventive care examinations in 2016. Without regular visits, cats are not receiving the care they need to stay healthy, or to predict problems possibly arising in the future. However, new data suggest a reasonable solution to this problem is through novel diagnostics encouraging cat owners to visit more often—an incremental 31 percent more!
Treat disease before it occurs
RenalTech requires six common feline health measurements taken from routine bloodwork and urinalysis—along with a cat's approximate age—to deliver a status. Based on a cat's positive or negative status, veterinarians can say with certainty if a cat has or will develop CKD within the next two years. This information is significant because data shows one in three cats will develop CKD, a highly complex disease historically difficult to diagnose.
While early intervention strategies for CKD exist (see treatment guidelines from the International Renal Interest Society), traditional detection methods find disease only after significant kidney damage has occurred. RenalTech, on the other hand, gives veterinarians the unique opportunity to predict disease before it occurs, allowing them to begin monitoring and treating CKD early, when interventions have the greatest chance for success.
"With appropriate medical management, cats with chronic kidney disease can survive for a significant amount of time with good quality of life," said Jonathan Elliott, MA, Vet MB, PhD, Cert SAC, Dip ECVPT, MRCVS, professor of veterinary clinical pharmacology at Royal Veterinary College in London. "However, the perennial issue with cats has always been getting them in the door, and for cats with CKD, diagnosing them early enough for early care strategies to make a difference. With recent developments in diagnostic tests and ways of utilizing the data we gather from routine geriatric health screens, we now have a very real opportunity to impact both access to preventive care for all cats and improve on the duration of good quality of life of cats facing and living with CKD."
Better preventive care for cats
In a one-year, retrospective review of 730,000 veterinary visits, researchers revealed regardless of a cat's positive or negative RenalTech status, use of the test compelled pet owners to proactively seek the following:
Improved preventive care for all cats—regardless of RenalTech status, all pet owners sought improved, sustained veterinary care for their cats: visits from RenalTech-negative cats increased 14 percent year-over-year while visits from RenalTech-positive cats increased 31 percent.
Early interventions to delay CKD onset and progression—pet owners with RenalTech-positive cats proactively sought proven early care strategies for CKD: 31.5 percent purchased renal therapeutic diets vs. only 4.8 percent of all other cats, and 41 percent purchased CKD-related medications vs. only 26.3 percent of all other cats.
This data affirm early warning of disease is an incredibly powerful motivator for cat owners. In this study, they responded organically and rapidly to the opportunity to treat CKD proactively. Perhaps more importantly, though, RenalTech use alone—regardless of status—compelled pet owners to seek better care for their cats.
John Faught, DVM, chief medical officer for Firehouse Animal Health Centers of Austin, Texas, said,"We have long utilized routine lab work to assess our patients' evolving function. By evaluating those trends and spot checks, we had hoped to make a difference earlier in disease or aging processes. RenalTech makes it easy to use those values to actually predict the future of our pets' health. This allows us to provide truly preventive medicine instead of reactionary."
The future for dogs
Although CKD has less of an impact on canine populations (estimates are 0.5-1.0 percent of dogs in the U.S.1), its prevalence can approach 25 percent in some groups, including breeds with a known predisposition.2,3 Also, and importantly, dogs with CKD tend to have worse prognoses and shorter survival times compared with cats.1
This discouraging reality underscores the value of predicting disease before it occurs as data show better prognosis and longer survival times are associated with higher body condition scores.4,5 An early warning of disease gives pet owners a chance to work with their veterinarian to ensure their dog is in the best possible health before facing disease.
Predictive power for healthy pets and practices
A third of are cats expected to develop CKD in their lifetimes. The gift of an early disease warning creates a welcome opportunity for pet owners to get in front of disease, working with their veterinarians to applying early care interventions when they are most effective.
Regardless of status, this technology also inspires pet owners to visit more, giving cats access to preventive care equal to dogs. As veterinary teams seek to continually improve the standards of care for pets, advanced diagnostics—particularly ones able to harness the power of AI to predict disease before it occurs—give them a valuable new tool to not only elevate patient care, but also support the long-term health of their practices. In this sense, data affirming the value of diagnostics to practice health is yet another first for veterinary medicine.
Jennifer Ogeer, DVM, MSc, MBA, MA, is the vice president medical science and innovation at Antech Diagnostics. She is a graduate of Canada's Ontario Veterinary College at the University of Guelph. She was an associate professor at Texas A&M University and the Western College of Veterinary Medicine in emergency medicine and critical care prior to joining Antech Diagnostics. She can be reached at Jennifer.Ogeer@antechmail.com.
References
Bartges JW. Chronic Kidney Disease in Dogs and Cats. Veterinary Clinic of North America: Small Animal Practice 2012;42(4):669-92
Littman MP. Genetic basis for urinary tract diseases. In: Elliott J, Grauer GF and Westropp JL (eds). BSAVA Manual of canine and feline nephrology and urology. 3rd ed, BSAVA 2017: 172-184.
O'Neill DG, Elliott J, Church DB, et al. Chronic kidney disease in dogs in U.K. veterinary practices: Prevalence, risk factors, and survival. J Vet Intern Med 2013; 27: 814-21.
Parker VJ, Freeman LM. Association between body condition and survival in dogs with acquired chronic kidney disease. J Vet Intern Med 2011;25(6):1306-11.
Rudinsky AJ, Harjes LM, Byron J, et al. Factors associated with survival in dogs with chronic kidney disease. J Vet Intern Med 2018;32(6):1977-82