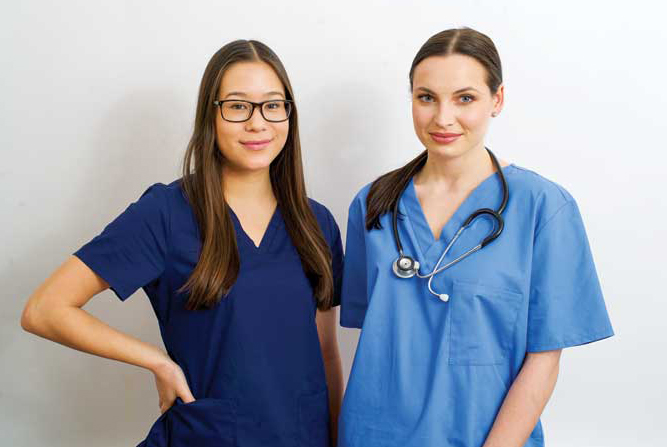 In an industry notorious for stress, isolation, and pressure, more and more veterinarians are proving the best way to cope, grow, and thrive is by connecting with peers. Whether these are formal sessions, professional forums, or informal one-on-one communication, such as an email or phone call, the results are palpable. There is a ripple effect: veterinarians who turn to one another become stronger, healthier practitioners, and often broaden their circles to support others.
Niche experience
We are a social species—not just DVMs,, but humans in general. We are wired for connection, and the pandemic drove this home. When we believe no one understands our struggles, we feel disconnected and alone, and this is especially true for veterinarians.
By any measure, we are a group of compassionate, hard-working, perfectionists charged with the complexities of care for pets and their people. Dealing with the responsibility of life and death, along with the pressure of working in or running a practice, can be isolating. Increasingly, that isolation can be catastrophic and even life-ending.
Understanding the many ways we struggle and strive in the veterinary industry can be confusing to those not in the profession. This is where peer-to-peer support comes in. Here are just five areas where veterinarians can benefit from leveraging the power of peer-to-peer support:
1) Complicated medical case? Ask another vet
If you're feeling overwhelmed by a particularly challenging case, do not keep the panic and confusion in your head. Instead, reach out to another vet.Best of all, have a peer you trust on speed dial. Do the same for them. You will feel good about whatever decision you made in the clinic knowing you had the help of another experienced professional—in real time.
2) Find someone who really understands
Veterinarians devote their lives to helping animals heal, live, and thrive. When the inevitable, unthinkable happens and you lose a patient, you carry the loss with you like a weight.
You have to take the lead in informing and comforting the pet parents, and everyone in the practice. You have to move to your next case and keep the practice running. You do not have time to process what happened, and, chances are, you will eventually head home feeling grief and like a failure.
Two things can happen at this point: you keep the loss inside you and it gets heavier and heavier, or you can reach out to the only other person who understands what you are going through: another veterinarian. Having a close network of peers you can tap when the unspeakable happens is the best way to share your feelings against an objective and compassionate sounding board.
3) Don't fly solo when navigating change
Change and the challenges it brings can be confusing and confounding, so putting your options in front of other veterinarians who can relate to your situation helps. What if your GP hospital just got a new medical director who thinks drop-offs should be worked on in between appointments? Maybe you saw an unstable diabetic, an unvaccinated puppy for hematochezia, and a possible GI foreign body.
You had a hard time focusing on your appointments and did not know how to confront your new medical director. The best resources to help are those who have been in the same positions before. Build your own small network of peers who can give and take advice, both in the moment and on an ongoing basis. These circles of support can start small, yet spiral out and last for years.
4) Make work/life balance non-negotiable
We all know balance in this profession can be tough, but it is possible, and others have found it! The key is tapping into those individuals so you can find it, too. If you do not feel like you know any veterinarians who are realizing this, make a commitment to do it together.
Connect with one or more peers—who could be scattered across the country—make plans to create your own life balance. Even more important than making the plan is keeping each other accountable.
5) Destigmatize asking for help
As veterinarians, we tend to think we cannot afford to be weak or ask for help because we are the experts and caregivers. Unfortunately, this thinking leads tens of thousands of veterinarians a year down a path of depression and defeat.
In too many cases, veterinarians who are struggling do not think they can come forward because of the stigma associated with mental illness. Sometimes, there is only one person who can change this thinking and that is another veterinarian who knows exactly what others are going through. It may be hard to ask for help, but it is easier when you are asking someone who knows why you are asking.
Veterinary peer-to-peer support can be invaluable to keep people from feeling alone in their struggle. While we might feel people outside of the profession do not understand our challenges, we should know and trust there are many colleagues in our industry who know exactly what we are going through. Reach out for peer-to-peer support. Chances are you will help yourself and you will help others. It is impossible to be in veterinary medicine alone, so let's vet together.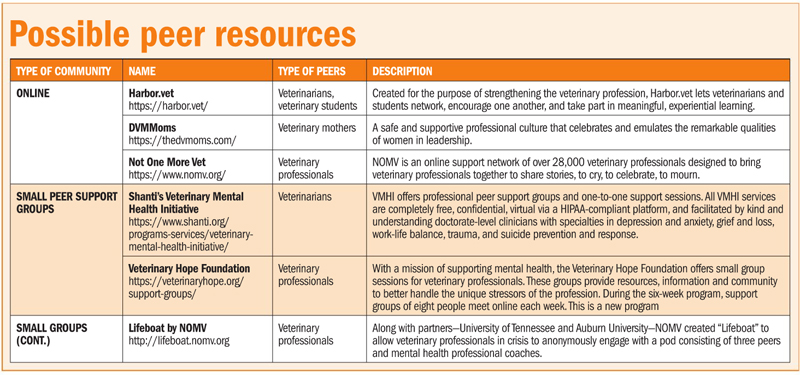 Heather Loenser, DVM, recently joined Suveto as the vice president of professional development, culture, and well-being for Harbor.vet by Suveto. A graduate of Iowa State, she spent nearly 10 years as an emergency veterinarian and most recently served as the chief medical officer at AAHA.