Suggested Veterinary Products
Veterinary Practice News editor Marilyn Iturri created the "They Ate WHAT?!" contest in 2006 to showcase the humorous situations veterinarians and pet owners can face as well as the clinical advances available through digital radiography. The 2014 contest was sponsored by Trupanion, a pet insurance company in Seattle, Wash.
This year the first place winner, a frog that had eaten 30 rocks from inside his cage, was submitted by Shawn Messonnier, DVM of Paws & Claws Animal Hospital in Plano, Texas. Tim Gossman, DVM, of Gulf Breeze Animal Hospital took home the second place prize with his entry of a German shorthaired pointer that had swallowed a shish kabob skewer. The submission by DoveLewis Emergency Animal Hospital of a Great Dane who had eaten 43.5 socks was not only the third place winner, but also took the internet by storm.
The competition was a hit with readers from the start. Some trends have been apparent from the first year.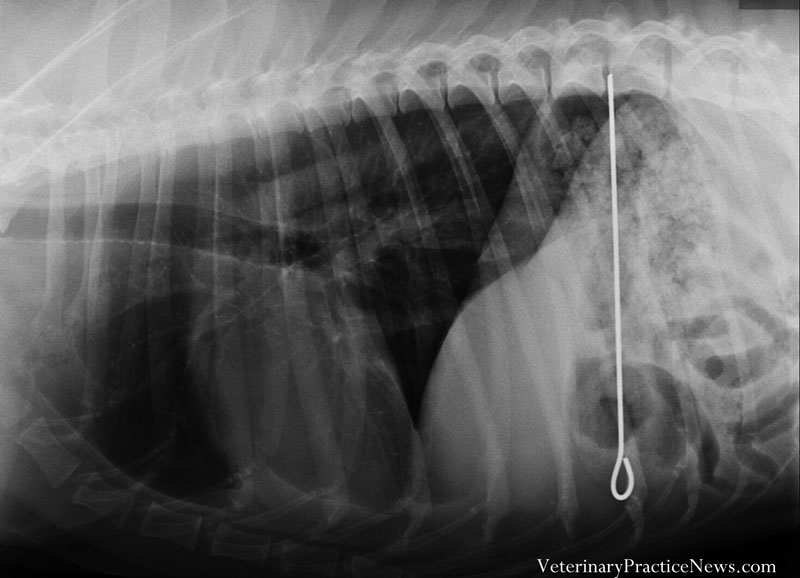 Veterinarypracticenews.com
A dog who ate a shish kabob skewer took home the second place prize from Trupanion.
"This year's entries featured some of our old standards, such as cats eating hair ties and hair bands, threaded sewing needles and other shiny objects," Iturri said. "Dogs often seem to eat golf balls, small rubber balls, rubber ducks and clothing items, plus a variety of metal objects not meant for consumption."
What stood out this year was what the animals had eaten this year and how much, according to Iturri. "One dog had swallowed five duckies and one of our top three winners ate 43.5 socks," she said. "That broke our socks-eaten record. And a pug ate a package of sewing needles, which previously we saw only cats do."
Unlike previous years, the items eaten by pets weren't as expensive as previous years. "One thing we didn't see this year was radiographs of expensive diamond rings in dogs," Iturri said. "One year, two were entered, both reportedly worth $15,000. Another year, a cockatiel had swallowed an engagement ring."
Despite the light-hearted nature of the contest, Iturri said, the message to pet owners is serious.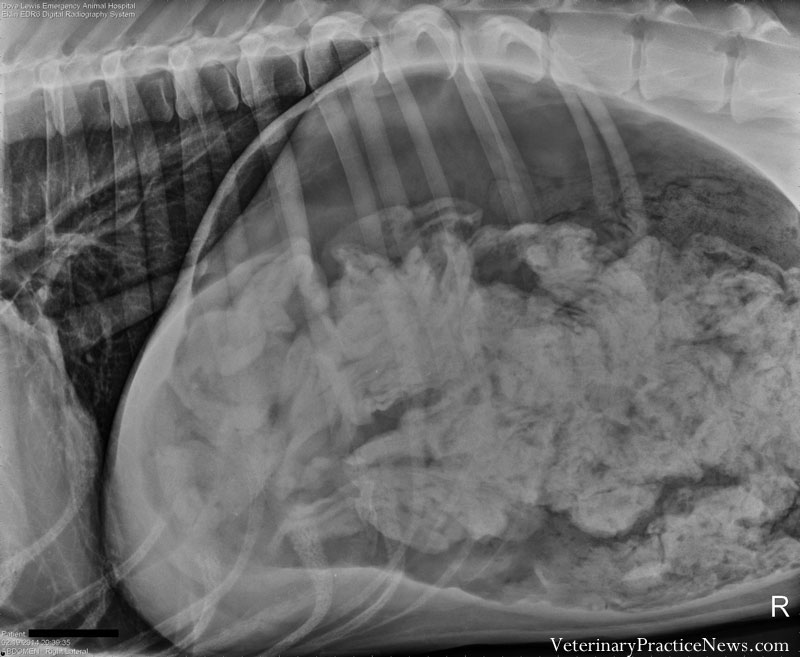 Veterinarypracticenews.com
The third-place winner was a Great Dane who ate 43 1/2 socks.
"Don't trust your pet not to eat something she shouldn't," she said. "And if you think she ingested a foreign body, get her to your veterinarian right away. The longer you wait, the more damage is possible and it can be harder to retrieve the item."
Trupanion of Seattle sponsored this year's contest. T.J. Houk, the pet insurer's director of business intelligence, says its data suggest that as a foreign object passes through the animal's body, costs to treat it increase – with more pain for the pet and possibly a worse outcome.
Houk said the average cost of a claim for an object caught in the esophagus is about $800, which increases to a little more than $1,000 when the object moves into the stomach and to more than $1,700 when it reaches the intestines.
If it remains untreated, Houk said, the intestine can rupture and pets can get septic abdomen and peritonitis, which can cost $5,000 or more.
Callouts for next year's contest begins April 2015.
See all of the 2014 They Ate WHAT?! contest winners.
Check out last year's They Ate WHAT?! contest results.
Want more? We've got the 2012 They Ate WHAT?! results as well as the 2011 They Ate WHAT?! results.