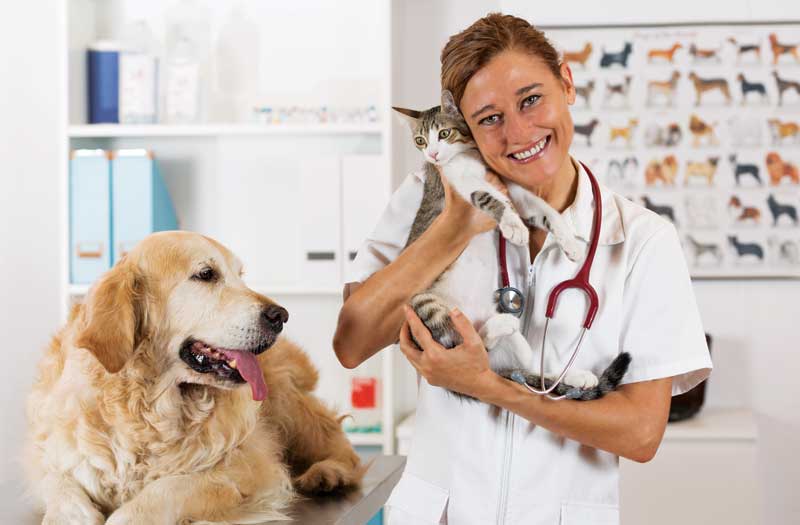 Are you working "in" or "on" your practice? Like most veterinarians, you rush from one exam to the next, feeling like a firefighter rather than a doctor by day's end. Because you were trained to be a veterinarian, you work "in" the practice, focusing on patients and fires. Owners rarely work "on" the business to create growth opportunities. Dedicating time to building your business will let you raise revenue for the extra dental unit you need or set aside money for the long overdue renovation of your lobby and exam rooms.
Block one day a month in your schedule to work "on" your business. Tell employees you cannot be interrupted (except for life-saving emergencies). Even better, work from home. Run sales reports in your practice-management software to determine your top revenue categories and where you should grow the business. As the practice owner, you set the hospital's vision and medical protocols. Engage your manager to help implement programs that will raise revenue. Here are three proven business builders:
1) Create a win-back program for overdue pets. A dog owner spends $700 annually on preventive care, while a cat owner invests $600.1 Have receptionists call clients daily about overdue pets. Every morning, the receptionist team leader should run an overdue reminder report for patients that are three weeks overdue for checkups. Divide the list every morning among receptionists, with each just calling a handful of clients. Here's what they should say and why.
Lead clients with overdue pets to schedule now with a yes-or-yes choice. Say, "This is <Name> calling for the doctors at <Your Veterinary Hospital>. <Pet name> is now overdue for his preventive exam, vaccines, diagnostic testing, and preventatives. We're worried about his health. When is a convenient time for you to come in for an appointment this week? The doctor can see you at 3 p.m. Thursday or 9 a.m. Friday. Which do you prefer?"
Let me break down the power words in this script:
"For the doctors" brings credibility and authority to the call, showing veterinarians are genuinely concerned about the pet's health.
"We're worried about his health" is a call to action because the pet could now be exposed to parasites and diseases due to lapsed care.
"When" followed by two appointment choices is stronger than the yes-or-no option of, "Do you want to schedule?"
You also could use text and email campaigns, but you will need a link in either option to your online scheduling tool. The goal of contacting clients about overdue pets is to get them to book appointments. Clients will need to talk to you or use online scheduling.
Revenue result: If you get one overdue pet booked each day on Monday through Saturday, you could potentially generate $218,400 annually in preventive income ($700 per patient times six days a week times 52 weeks).
2) Start early-detection screens. Laboratory services are a huge profit center, representing 14 percent of gross revenue.2 Markups are often 2.5 to three times the price paid to the outside lab.
Multiple studies confirm the benefits of running diagnostics in the absence of clinical signs.3,4,5 An IDEXX Laboratories study of 5,016 hospitals with 268,817 exams and preventive screens (Chem 22 with IDEXX SDMA and CBC) found results that required follow-up care in one in seven adult pets, one in five seniors, and two in five geriatrics.2
Doctors should set protocols for which tests ought to be performed based on pets' life stage. Veterinary nurses will lead this initiative. Use age analogy charts to teach clients about the importance of early-detection screening. Say, "Just like people, your dog's health will change as he ages. Let's see how old your dog is in human years." Download a dog chart at bit.ly/1zRoiwF and a cat comparison at bit.ly/1LcqE2k.
Use benefit statements to gain acceptance. Avoid wiggle words of "wellness test" and employ action words of "early-detection screen." Explain, "Your eight-year-old golden retriever is 55 in human years. Because pets age faster than people, changes may happen quickly. Our senior early-detection screen will identify changes in advance. Think of this screen as an internal physical exam that lets us see inside to check the health of organs. Our senior early-detection screen is the most comprehensive and affordable. This includes your dog's annual heartworm/tick screen, intestinal parasite screen, thyroid function, and urinalysis to determine hydration and kidney function.
I will collect blood and urine samples now, and you will have results during today's exam/tomorrow."
Explain the price of the test up front. A complete blood count with 16 to 24 chemistries and a T4 averages $152.25, according to the American Animal Hospital Association (AAHA) Veterinary Fee Reference.6 Urinalysis with urine protein-to-creatinine ratio averages $94.49. Set a bundled price for all tests. Say, "Our senior early-detection screen is $___. Shall I collect your dog's blood and urine samples, or do you want to speak with the doctor?" Guide the pet owner to a yes answer by avoiding a yes-or-no choice.
Revenue result: In a two-doctor practice that sees 3,600 patients, you could generate $355,306 annually if you achieve 40 percent compliance for early-detection screens (1,440 patients times $246.74 for blood work and urinalysis). Test results may lead to more income from follow-up treatments, medications, and therapeutic diets.
3) Follow up on declined dental procedures. Dentistry represents 5.1 percent of hospital revenue, yet it's the most common diagnosis among pets.2,7 When clients don't book pets' treatments on the day of diagnosis, don't wait until the next checkup to revisit the issue. The dental disease will worsen, and the cost of care will escalate. Create Grade 1 to 4 "dental-needed codes" in your software. If clients don't book at checkout, the receptionist will enter the code at checkout. This code has two purposes:
It prints the medical advice on today's invoice, stating "Your pet was diagnosed with Grade 2 dental disease today. Please schedule treatment. We will follow up with a courtesy reminder call in one week."
It prompts you to call next week. Don't wait 30, 60, or 90 days when the discussion will no longer be fresh in the client's mind.
Have receptionists call clients with Grade 1 and 2 codes, while doctors call about patients with dental Grade 3 and 4 codes, which reflect more serious and advanced disease. When the receptionist calls as a courtesy reminder, say, "Dr. <Name> asked me to call you about scheduling <Pet's name> dental procedure so we can treat his infection and slow the progression of his dental disease. We can schedule <Pet's name> dental treatment for Friday or Monday. Which do you prefer?" Using the doctor's name brings authority and credibility to the call. Lead the client to book with a yes-or-yes approach.
Revenue result: The average dental case totals $516, according the AAHA's Veterinary Fee Reference.8 Let's say callback efforts among receptionists and veterinarians generate four more dental procedures each week. You would grow dental income $107,328 annually ($516 times four procedures per week times 52 weeks).
Stop fighting fires and ignite the potential of your practice. Look at what should happen next year and three years from now. Seek feedback from clients on what to improve. Track the competition (area hospitals and online pharmacies) to see what you need to change. Invest "think time" in your practice's future.
Wendy S. Myers, CVJ, has been training veterinary teams for more than 20 years as owner of Communication Solutions for Veterinarians in Castle Pines, Colo. She helps health-care teams improve telephone and communication skills that result in getting more pets the medical care they need. Myers shares her expertise through conferences, online courses, and monthly CE credit webinars. She is a certified veterinary journalist and author of five books. You may reach her at wmyers@csvets.com or www.csvets.com.
References
1 Preventive care services from AAHA's Veterinary Fee Reference, 10th ed., 2018. AAHA Press: 39, 158, 120, 142, 175, 62, 61, 62, 63, 41, 120, 142, 175, 152, 64, 65, 61.
2 Financial and Productivity Pulsepoints, 9th ed., 2017. AAHA Press.
3 Willems A, Paepe D, Marynissen S, et al. Results of screening of apparently healthy senior and geriatric dogs. J Vet Intern Med. 2017;31(1):81–92.
4 Dell'Osa D, Jaensch S. Prevalence of clinicopathological changes in healthy middle-aged dogs and cats presenting to veterinary practices for routine procedures. Aust Vet J. 2016;94(9):317–323.
5 Data on file at IDEXX Laboratories, Inc. Westbrook, Maine.
6 AAHA Veterinary Fee Reference, 10th edition, AAHA Press 2018:143, 158, 175.
7 2018 Banfield State of Pet Health Report. Available at: bit.ly/2tUIzaD. Accessed Sept. 13, 2019.
8 AAHA Veterinary Fee Reference, 10th ed., AAHA Press, 2018;99.