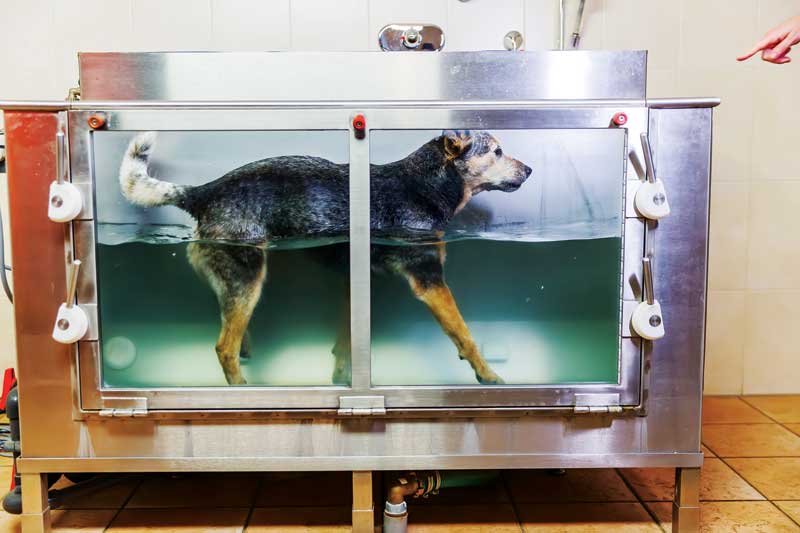 There is no doubt rehabilitative care is becoming more popular and more of an expectation from clients. This being the case, the question becomes how should a veterinary practice begin? When it comes to choosing to offer rehabilitative services in your practice, a little research and some conversations up front can help your decision-making.
There are several factors to consider when shopping for reliable, revenue-generating equipment. Cost is always a component, but it should never be the major factor in the final decision. It is really easy to get into a situation of saving a couple thousand dollars up front for cheaper, less reliable equipment. However, this can ultimately cost double or more later when the equipment starts to have issues or goes down completely.
With rehabilitative equipment, it is important to make some decisions before exploring specific machines and pricing. Here are three key considerations.
1) How will it integrate into your practice?
It starts with design. Without a layout and accurate pricing, good decision-making gets very difficult. Work with a trusted design team from your equipment supplier to provide CAD files of designs. This will not only save on third-party architect fees, but it will also save a lot of potential long-term issues by just having an architect perform the design. Most architects do not understand workflows, sounds, or smells in a veterinary practice.
Work with designers who specialize in veterinary hospitals. They are masters at making the best use of any space and have the specs for each piece of equipment. With rehabilitative equipment, it is easy to work in a therapy laser. But a hydrotherapy treadmill—one of the hottest pieces of equipment for rehab—will need a dedicated room with drains, plumbing, and electrical; all these things are tied to the overall cost.
2) Consider the competitive landscape
An audit of the practices in your community is always a good idea, especially when making large equipment purchases. For example, a recently opened practice in a busy veterinary market is Paradise Point Animal Hospital in Phoenix. Desiree Garthe, DVM, knew she wanted to offer rehabilitative care to accent the acupuncture she offers, as well as provide more options for clients who have followed her for years. She did not like the idea of having to tell a client, "I am sorry. There is nothing more we can do."
Between acupuncture, laser therapy, and hydrotherapy, she is able to offer more options than anyone else in her community. Her practice is designed to showcase the hydrotherapy treadmill for those who are just driving by.
3) Consider how it can begin to pay for itself immediately
For veterinary practices, having rehabilitative equipment indicates they are focused on aftercare. For some, they feel they cannot put rehabilitative equipment into their budget right now. But rehab equipment is such a vital, integral part of revenue generation for the clinic it is quickly becoming a must. It all comes down to return on investment (ROI). If the ROI makes sense, then it definitely makes sense overall.
For example, say you are looking at $60,000 for a rehabilitative treadmill by the time everything is installed, and you decide to finance it over five years. Your payment is going to be $X per month. How many patients are you going to have to cycle through on a weekly or monthly basis to meet or exceed your payment?
Every region has different price ranges for rehabilitative sessions. In the case of Paradise Point Animal Hospital, Dr. Garthe put together a package of hydrotherapy and laser sessions rather than individual sessions. She can also get really creative with marketing campaigns. If she sells a package, she is certain the clients come back. She will keep them on plan with the treatment program, and the animal is going to get the best benefit.
The other big factor in terms of ROI is to ensure training is included with the purchase. You want to install and use the equipment from day one so it can start paying for itself immediately. Ensure your purchase includes training and ongoing support.
More pets have been adopted than ever. Clients want as many happy years as they can get with their pets. Rehabilitative equipment can help make it happen.
Adam Fritz has worked at Patterson Veterinary for the past nine years helping veterinarians select the right equipment for their practice to ensure a strong return on their investment.