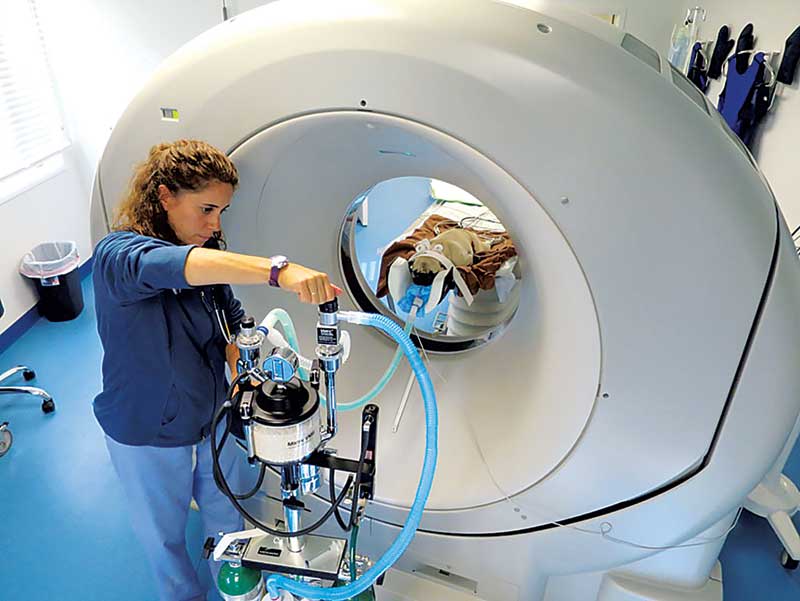 As veterinarians continue to adapt to COVID-driven procedures and slowly refill their schedules, they can't afford to lose sight of the indicator of a healthy practice—the bottom line.
Nearly every veterinary practice has been financially impacted by the pandemic and the resulting economic recession in some way. While many owners may choose to stay focused on the present and wait for the situation to settle, forward-thinking veterinarians will see this time as an opportunity to position their business for prosperity. Making a large investment now can seem risky to some, but others recognize that if done strategically, it can deliver both immediate and long-term returns, even in a challenging economy.
An investment in capital equipment can help create more operational efficiencies and lower maintenance costs, while enabling you and your staff to conduct more onsite procedures and provide better care. While you don't need to refurbish your entire office, it's important to understand what improvements can truly make an impact on your business to maximize your return on investment. Here are three reasons to make the case.
1) Gain more productivity
Take inventory of the equipment in your practice and evaluate each piece for factors such as age, maintenance frequency and costs, reliability, ease of use, and productivity. Some of these will be quantitative, while others will be anecdotal. Yet, together they can help you see the full picture of what you're either gaining or losing by introducing new equipment to your practice.
Older equipment can run slowly, costing you valuable time and risking inefficiency; if it's down, it costs you money to fix and creates hassle in having to reschedule appointments. Technological advancements help make equipment work faster and smarter, so you can tend to more patients and boost your staff's productivity. You may find you can save money and time by investing in new equipment, rather than maintaining old technology.
2) Uncover new revenue streams
Do you often send animals to other specialists or veterinary clinics to have diagnostics done that you don't offer currently at your own practice? Take note of what services you commonly redirect to other professionals and determine if it would be beneficial to integrate them into your practice, and if new or specialized tools might help.
With the right equipment, you and your staff can conduct more services, procedures, and tests onsite, alleviating stress on pet owners and enabling you to earn more revenue. You'll also be able to treat animals more efficiently and quickly without having to wait on reports from other practices. Even nonmedical equipment or systems that enable new services—such as a bathing station, for example—can add to your bottom line.
Once you identify the gaps in service you have, examine the data. With the new equipment, how much can you charge for the service it provides and how often will you use it? Determining this information creates a clearer picture of how quickly you can potentially recoup the cost of the initial investment.
3) Build your client base
In today's environment, clients' stress levels are at an all-time high, especially if they are prevented from entering the exam room with their pets. They can gain peace of mind knowing their veterinarian is providing the best care through modern equipment that will keep their pets comfortable and safe. What's more, state-of-the-art equipment can enable you to provide procedures and tests that others in your area don't. In addition, you will be able to offer more services so clients don't need to juggle multiple appointments and make unnecessary travel.
To make your dollars go farther, be sure to market the improvements you make. This is especially important now, since clients likely aren't entering your clinic. Consider low-cost tools, such as email and social media, to highlight what you're doing to make the practice better. Pet owners only want the best, safest care for their animals, and word of mouth is one of the most effective ways to gain new clients.
Financial considerations
Once you've identified how a capital equipment investment can help your clinic or hospital, there are a few more steps to consider before making a purchase.
First, there's potentially more to the cost than the price tag alone. Be sure you understand the maintenance frequency and expense, average lifespan, time required to train staff and implement within your practice.
Next, prioritize investments that can enhance your practice through increased efficiency, improved safety, additional animal appointments, and the ability to perform new procedures and/or diagnostics in-house. Most equipment won't be profitable from day one, but you may find that what seems like a major initial investment will pay off sooner than you expect.
Lastly, consider your financing options. Purchasing it outright with cash on hand or through a lender comes with key advantages. When working with a lender, look for a true financial partner that best fits your needs and has experience working with veterinary professionals. Your lender should also offer customized loan solutions with affordable monthly payments that don't require personal collateral or have an impact on your credit score.
Above all, a capital equipment investment has to make financial sense for your practice. Do your research, look closely at the numbers, and make the best decision for your patients and your bottom line. Pets will always need care, and even in a difficult economy, strategic investments in capital equipment can help your practice modernize, offer more services, and attract new patients, while helping you earn more income.
Chris Panebianco is chief marketing officer for Bankers Healthcare Group (BHG), a provider of financial solutions for veterinarians. He is responsible for marketing initiatives to support BHG's commercial working capital loans, personal financing, commercial and personal credit cards, Small Business Administration (SBA) loans, and collection management. Panebianco has more than 11 years' experience in financing.