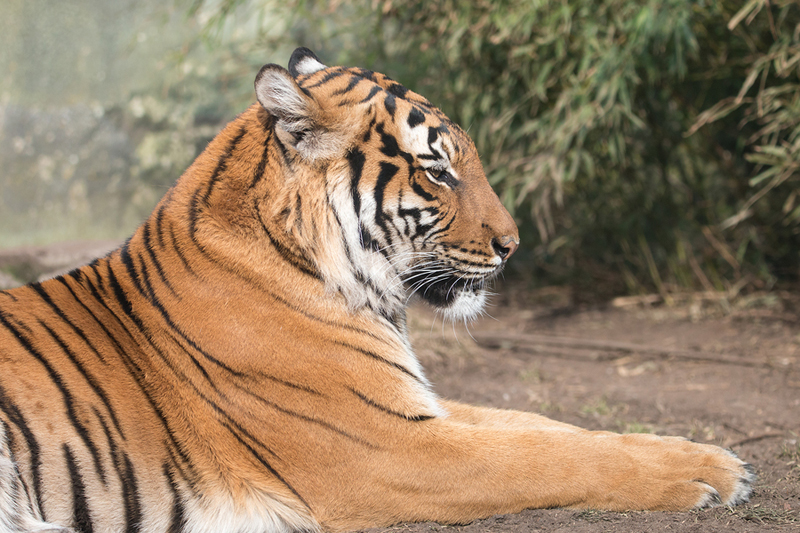 This story has been updated.
The presence of SARS-CoV-2, the virus that causes COVID-19, has been confirmed in a tiger at New York's Bronx Zoo.
This is according to the United States Department of Agriculture (USDA) National Veterinary Services Laboratories (NVSL), which adds the large cat is one of several lions and tigers at the facility to display clinical signs of respiratory illness.
It is believed the animal, a female Malayan tiger named Nadia, contracted the illness from a zoo employee who was actively shedding the virus, the department says.
"The zoo has been closed to the public since mid-March, and the first tiger began showing signs of sickness on March 27," USDA said in a statement.
Since testing positive, the Wildlife Conservation Society's (WCS's) Bronx Zoo reports an improvement in Nadia's condition, along with the other large cats that exhibited similar symptoms.
"Nadia and the other cats are behaving normally, eating well, and their coughing is greatly reduced," WCS said in a statement. "We anticipate continued improvement in the coming days.
"We have been contacted by zoos from across the country and around the world that are thankful we reported on Nadia's condition, and are adjusting operating protocols with felids during this pandemic as we have."
The news out of the Bronx Zoo has spurred several others, including Jacksonville Zoo and Gardens in Florida, the Philadelphia Zoo, and the Cincinnati Zoo & Botanical Garden, to re-evaluate their protocols.
"We are taking great care of the animals," said Cincinnati spokeswoman, Michelle Curley, reports Cincinnati Enquirer. "Our 65 full-time keepers and our veterinarians are on site every day, in rotating teams, to make sure they are well cared for and health.
"All accredited zoos have protocols in place to prevent transfer of zoonotic diseases. Out of an abundance of caution, we are proactively stepping up distancing and safety measures in animal areas and throughout the zoo."
On the heels of the zoo's announcement, the American Veterinary Medical Association (AVMA) reaffirmed its recommendation that, out of "an abundance of caution," those infected with COVID-19 should restrict contact with animals, just as they would humans, until more is known about the virus.
"When possible, have another member of your household or business take care of feeding and otherwise caring for any animals," AVMA said in a statement. "If you have a service animal or you must care for your animals, including pets, wear a cloth face mask; don't share food, kiss, or hug them; and wash your hands before and after any contact with them.
"There have been no reports of pets or livestock becoming ill with COVID-19 in the U.S., and only four reported cases in the world of dogs and cats testing positive for the virus. At this point in time, there is no evidence that domestic animals, including pets and livestock, can spread COVID-19 to people."
For more, click here.