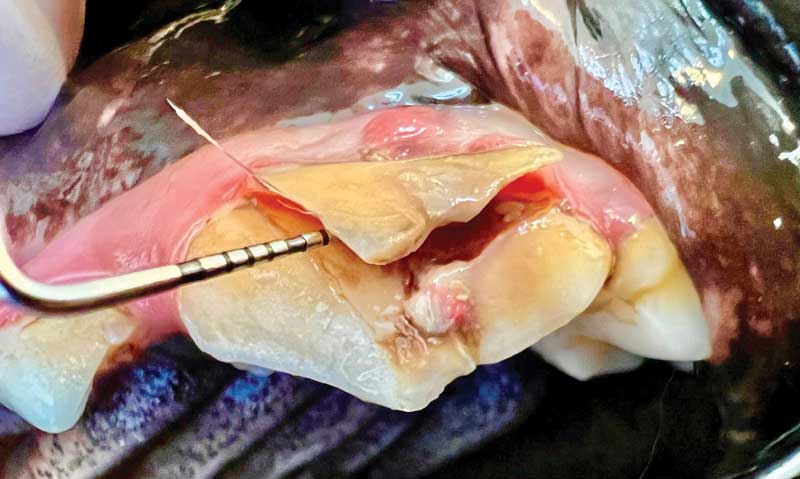 Last month, this column discussed manifestations of self-trauma to the teeth of veterinary patients, including abrasion, attrition, pulpitis, and pulp necrosis, mainly caused by chewing on the wrong things. This month, we will address uncomplicated and complicated crown fractures, crown-root fractures, and tooth avulsion.
Terminology
Dogs are much more likely to cause self-trauma to their teeth than cats. When a tooth becomes fractured but does not result in pulp exposure, this is referred to as an uncomplicated fracture. If only the crown is fractured, it is called an uncomplicated crown fracture (UCF). If the uncomplicated fracture extends subgingivally into the root structure, it is called an uncomplicated crown-root fracture (UCRF). If a tooth fracture extends deep enough into the tooth to involve the pulp chamber, it is called a complicated fracture. A complicated fracture that involves only the crown is referred to as a complicated crown fracture (CCF). If the complicated fracture extends subgingivally into the root structure, it is called a complicated crown-root fracture (CCRF, Figure 1).1
It is safe to assume every complicated fracture will develop endodontic disease. Uncomplicated fractures do not always develop endodontic disease. A recent retrospective study evaluated 111 UCFs and 500 nonfractured control maxillary fourth premolars in dogs. The frequency of radiographic evidence of endodontic disease was 24.3 percent (27/111) in the UCF population and 0 percent (0/500) in the control population (P < .0001). These results speak to the importance of radiographic assessment of uncomplicated crown fractures.2
Fractured teeth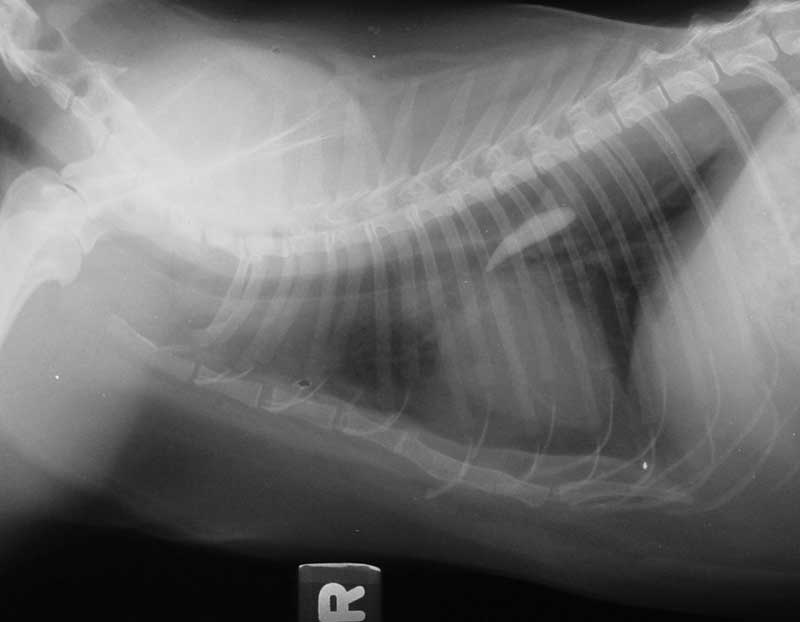 Complicated crown fractures require either endodontic treatment or extraction. Endodontic therapy of the mature tooth usually involves root canal therapy, which consists of complete pulpectomy, cleaning and shaping of the canal, obturation (filling) of the root canal and pulp chamber, and restoration of the fracture site and access sites.
When complicated crown fractures occur in immature teeth, it may require a temporary procedure to hopefully allow the tooth to mature. Once the tooth matures, root canal therapy can be performed. This temporary procedure is called "vital pulp therapy."
Vital pulp therapy is a sterile procedure: a partial pulpectomy removes diseased pulp from the coronal portion of the fracture site. Either calcium hydroxide or mineral trioxide aggregate are placed on the remaining pulp to encourage formation of a dentinal bridge between the remaining pulp and the restoration. A multi-layer restoration is placed at the prepared fracture site to prevent microleakage of fluids or bacteria into the pulp. The success rate of vital pulp therapy depends on the length of time the pulp has been exposed.3
Vital pulp therapy done in conjunction with crown reduction as a treatment of malocclusion has a nearly 100 percent success rate due to the controlled environment and the short time that the pulp is exposed.4 Mineral trioxide aggregate appears to be a better pulp dressing than calcium hydroxide. One retrospective study found the overall success rate was 137 of 149 (92 percent) for teeth treated with mineral trioxide aggregate alone and 21 of 36 (58 percent) for teeth treated with calcium hydroxide alone.5
Teeth with fractures that extend beneath the gingival margin may require exploring the subgingival area to assess the extent of the fracture, to remove any separated tooth fragments, and to smooth rough surfaces. Complicated crown-root fractures may have a worse prognosis due the potential for either endodontic or periodontal failure. For owners who want to save a functionally important tooth, periodontal surgery, in addition to endodontic treatment may be an option.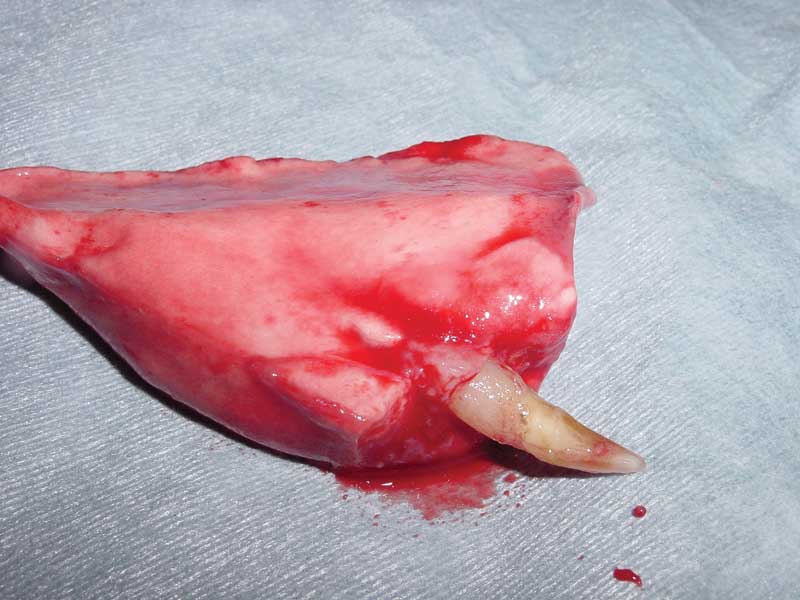 In cats, the maxillary canine tooth is a frequently traumatized tooth. Falls from a height or fights with other animals may result in cusp fractures of the maxillary canine. Very little tooth structure needs to be lost from the cusp of a cat's canine tooth for pulp exposure to occur. Root canal therapy can be performed as a treatment for fractured cat canine teeth, if there is no evidence of resorption of the tooth on dental radiographs.
There is often confusion about when to bond fractured teeth. A tooth with a complicated fracture will require endodontic treatment or extraction rather than bonding. A recent uncomplicated crown fracture may benefit from etching and bonding if there is no radiographic evidence of endodontic disease. Chronic uncomplicated fractures and abraded teeth are not in need of bonding since tertiary (reparative) dentin has likely already filled any exposed dentinal tubules.
Tooth avulsion
Occasionally, avulsion of a tooth caused by trauma occurs. Avulsion of teeth is most likely to occur when diseased teeth are traumatized. Diseased teeth should not be reimplanted, but if a healthy tooth becomes avulsed, reimplantation may be an option if acted upon quickly. Place the tooth in milk and contact your nearest veterinary dentist immediately. Occasionally, avulsed teeth lost during fights or motor vehicle trauma may accidentally be ingested or inhaled (Figure 2).
John Lewis, VMD, DAVDC, FF-OMFS practices and teaches at Veterinary Dentistry Specialists and Silo Academy Education Center, both located in Chadds Ford, Pa.
References
Goodman AE, Niemiec BA, Carmichael DT, Thilenius S, Lamb KE, Tozer E. The incidence of radiographic lesions of endodontic origin associated with uncomplicated crown fractures of the maxillary fourth premolar in canine patients. J Vet Dent. 2020;37(2):71-76. https://pubmed.ncbi.nlm.nih.gov/33063625/
Clarke DE. Vital pulp therapy for complicated crown fracture of permanent canine teeth in dogs: a three-year retrospective study. J Vet Dent. 2001 Sep;18(3):117-21. https://pubmed.ncbi.nlm.nih.gov/11968903/
Niemiec BA. Assessment of vital pulp therapy for nine complicated crown fractures and fifty-four crown reductions in dogs and cats. J Vet Dent. 2001 Sep;18(3):122-5. https://pubmed.ncbi.nlm.nih.gov/11968904/