The introduction of the latest technology into a practice can lead to diagnoses veterinarians cannot catch with other equipment. Computed tomography (CT) technology is a great example. Knowing what CT technology can do, how to forecast return on investment (ROI), and how it can improve patient health is key to deciding whether to invest in this technology.
Step-by-step approach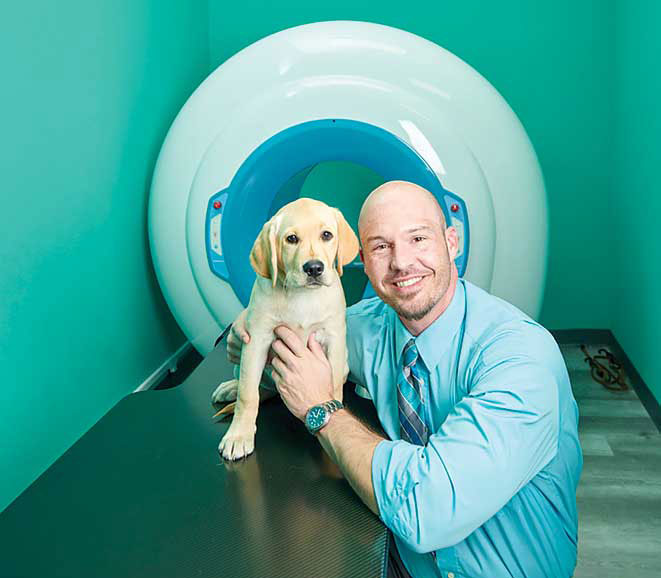 With CT, the top seven clinical applications tend to be dental, sinus cavities, otic, thoracic limbs, pulmonary, abdominal, and extradural spinal cases.
Step 1) Calculate how many of these top seven applications a practice does within one month. This will give a good starting point for how many CT scans you would do.
Step 2) Start calculating how much time is spent doing dental radiographs or sedated X-rays, or things a CT can replace.
Step 3) Think long-term. A practice may have one Intervertebral Disc Disease (IVDD) case and two thoracic limb cases in a month today. However, the longer a practice has CT technology, the more comfortable clinicians become with case selection, so practices inevitably end up doing more scans.
For example, a hospital may purchase a CT primarily for imaging the dentition or the spine, but will come to realize all recurrent otitis externa patients are great candidates for CT.
Practices adopting CT technology have discovered clients, as well as neighboring hospitals, are willing to refer imaging cases.
Once the veterinarians and staff become more comfortable using the CT scanner and knowing when to offer CT services, they often begin to receive referrals from other local veterinarians.
General practices benefit most
Typically, the flat-panel cone-beam CT technology has a better place in general practice than it does in specialty practices. This is usually an eye-opener because most general practitioners assume CT is meant for a specialty clinic. However, 90 percent of CT scans are taken in general practices, and there are many reasons for this.
First, consider the top seven clinical applications listed above. Number one among those is dentistry. Practices can increase the volume of dentals they can do because the scans are so quick. CT scanners can do full-mouth imaging in 18 seconds as opposed to dental radiographs taking 30 minutes for a big dog on a good day.
CT in a general practice will also increase diagnosis of issues such as elbow disease and pulmonary metastatic lesions. X-rays are good at picking up only about 10 percent of those, whereas CT can pick up about 80 percent. So, it really opens a practice's ability to diagnose conditions that are hard to do with current modalities like X-ray and ultrasound.
Spinal imaging can be done somewhat with X-ray, but CT gives you an in-depth view of the spinal canal. For extradural lesions, like IVDD, you can tell exactly where the cord compression occurs, as well as the direction and extent of the herniation. 
Two ways to look at ROI
When clinics start to look at training and return on investment, they can look at CT in two different ways.
When considering return on investment, a clinic can look at just the income from the scan itself. CT is a new diagnostic procedure, and clinics are going to obviously charge for this. Veterinarians can come up with a pricing structure to work for the clinic and the local demographic area.
Usually, with these general-practice CT units, because they do not have maintenance contracts, the scan costs can be significantly lower than they are at the specialty centers down the street. Clinics can charge less while still maintaining the same income as other clinics with CT units.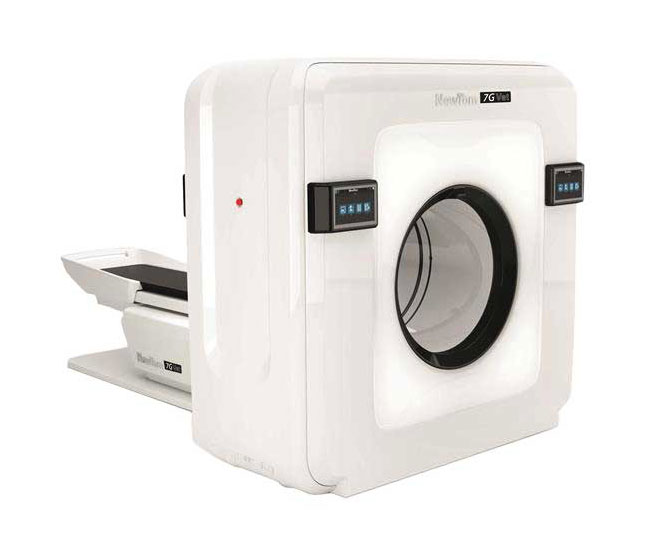 The real return on investment, though, comes on the procedures generated from the scans.
Similar to dental radiographs, you charge a set fee for the imaging—but then you also charge for the extractions or treatments needed to treat the pathology. The same applies to CT. There is a charge to image elbows or the auditory bulla, and then you can look at doing a coronoidectomy or a Total Ear Canal Aablation-Bulla Osteotomy (TECA-BO). These procedures can generate a couple thousand dollars—usually significantly more than what the initial CT exam would cost.
In these situations, general practitioners can generate revenue on surgery. Some veterinarians, though, are not trained on these more advanced procedures, such as arthroscopy, hemilaminectomiesm or advanced biopsies. Clinics should ensure those surgical procedures are part of the training package included with the purchase of the CT unit.
The fact is, once a clinic's CT system starts helping their veterinarians diagnose more pathology, they need to be trained exactly how to treat and triage those conditions either surgically or medically. Thus, training to go with the equipment is paramount.
Determining how quickly a CT scanner can pay for itself really depends on the clinic's level of engagement. For a busy, two- or three-doctor general practice adopting it for dentistry and general imaging, it is about a three-year payoff. However, if the practice is willing to learn and adopt some of the surgical applications such as TECA-BOs, arthroscopy, and hemilaminectomies, this easily goes down to less than a year.
Investing in technology can bring up questions of whether the technology will go obsolete. The fact is technology does change, but CT has been around since 1972 and the general principle is still the same: It is a 3D X-ray reconstructed by a computer. There have been many software upgrades and advancements in computing, but CT machines themselves have not changed much. These slow and steady upgrades have allowed for larger fields of view, faster acquisition times and higher resolution images but in a general sense, CT has been the same for about 40 years. 
Space requirements may surprise you
Space tends to be the biggest limitation with veterinary clinics because they are historically crammed into smaller spaces, so income per square foot is an important metric to look at when running a practice.
Typically, with some of the newer technologies like flat-panel CT, you can get away with a single room measuring between 8 to 10 ft. wide and 11 to 14 ft. long—and this is it. For some of these newer units, you do not even need a second room for the CT operator.
It really comes down to looking at the income per square foot metric. If you have a big room for dog food storage, you have to look at how much income it brings the practice versus what could be a strong income-driver in CT. You could potentially move the dog food sales online or into a shed outside and make the same margins, but clear up space for technology to drive more income.
One of the most common spaces to get nabbed for new technology is grooming. If you do not have a developed and stable grooming portion of the business, the space can be used to drive real revenue by upgrading to CT. Boarding areas and breakrooms are also common.
Make sure it is the right CT machine
For a general practice, a flat-panel or cone-beam CT scanner is recommended. Most specialty centers are probably going to look for the multi-slice units that are bigger and come with the service contracts because of their ability to image soft tissue in higher detail. If they have an internist, a cardiologist, or an oncologist, typically those doctors are going to want a multi-slice CT scanner, but for any general practice—even your single-doctor practices—flat-panel is the way to go. No matter which unit you decide on, be sure installation and training are part of the package.
Clients are expecting we can do more for their pets, and the best thing about bringing a CT scanner into the practice is compliance. There is a 70 percent chance if a client is referred to another facility, it is just not going to happen—it is going to be too expensive, or the client has to drive across town or visit a different veterinarian they are not comfortable with. If you have one in practice, clients are a lot more likely to agree to the CT scan rather than having to go somewhere else to do it.
Christopher Weaver is Patterson Veterinary's national CT specialist based in Phoenix, Ariz. Before joining Patterson, he worked as a veterinary technician at practices in Arizona and as a volunteer for the Adobe Mountain Wildlife Center.