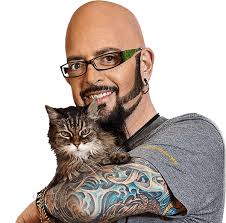 Tomlyn Veterinary Science, maker of veterinary-quality health and wellness supplements for pets, is partnering with cat expert and animal advocate, Jackson Galaxy to promote the company's Pill Masker paste for cats and dogs.
Jackson will participate in Facebook Live events, where he'll answer questions about cats while providing tips to create a harmonious home for cats and their owners. The company also will be hosting a sweepstakes for one grand-prize winner to receive a 30-minute Skype session with Jackson Galaxy to help solve their cat-related problems, along with a selection of Tomlyn cat health products.
The overall pet supplement market is approximately $580 million annually, growing 3.5 percent over 2016, as consumers turn to supplements for their pets. According to the American Veterinary Medical Association, there are more than 79 million cats and dogs in the US alone. Close to 9 million of these pets (11 percent), according to their owners, struggle with taking medications, as reported in a survey conducted by Tomlyn and a Harris Poll.