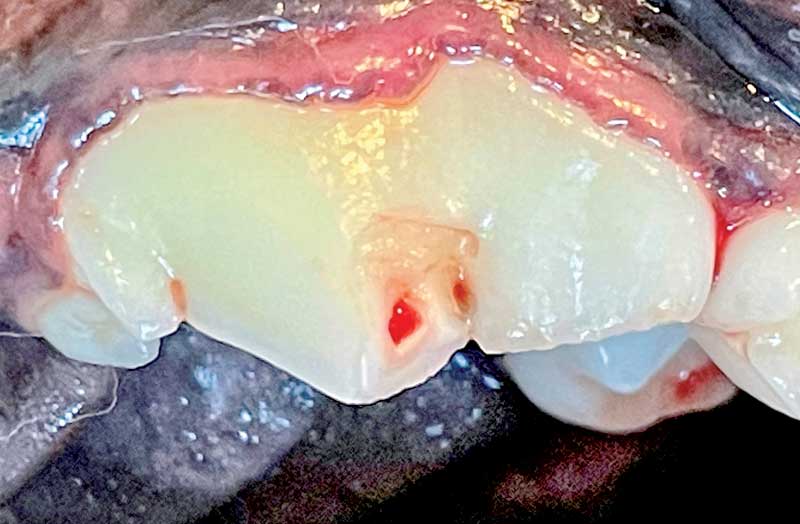 Carnassial tooth fractures are rare in cats, but extremely common in dogs. The carnassial teeth are two teeth that work together: the maxillary fourth premolar tooth and the mandibular first molar tooth. Interpreted literally, "carnassial" means "shearing of flesh."
Whereas the canine teeth in the front of the mouth prehend prey, the carnassial teeth further back in the mouth are responsible for cutting. The maxillary fourth premolars and mandibular first molars are sharp, tall teeth that occlude together to act like a pair of scissors to cut through musculature and soft tissue of prey.
Why do carnassial tooth fractures occur? When these teeth are utilized to chew on bones and other hard items, the forces generated by a dog's temporalis, masseter, and pterygoid muscles can easily cause teeth to break. A fracture often occurs on the lateral (buccal) surface of the maxillary fourth premolar (108, 208). Fractures of the mandibular first molar (309, 409) can also occur, but these are less common than fracture of 108 or 208. In my practice, the most common culprits resulting in carnassial tooth fractures are real bones, nylon bones, antlers, cow hooves, bully sticks, yak milk treats, rocks, and ice cubes.
Terminology and treatment
Let's discuss tooth fracture terminology and treatment of various types of tooth fractures.
"Uncomplicated crown fractures" refer to fractures limited to the crown not resulting in pulp exposure. Since pulp exposure is not required to result in endodontic disease of a traumatized tooth, these teeth should still be radiographed to assess for any evidence of endodontic disease.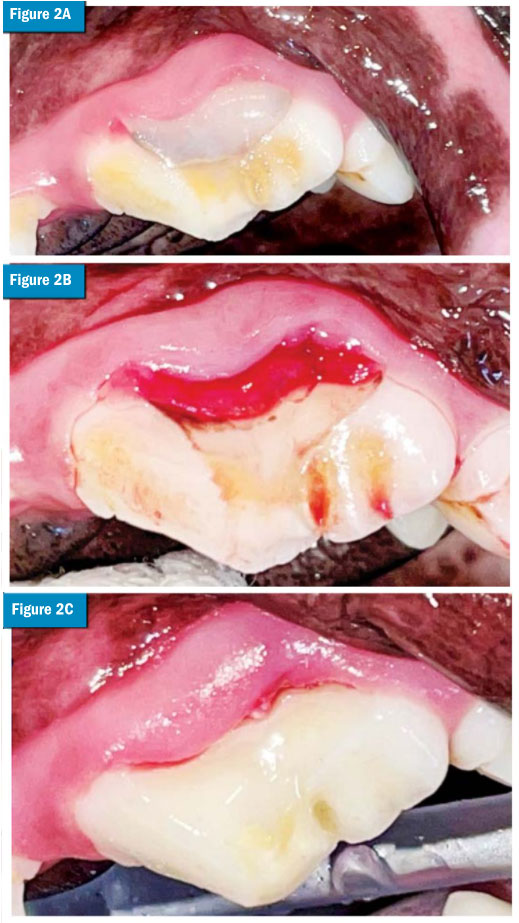 The hallmark signs of endodontic disease include periapical lucency of bone surrounding the root apices, wide canals compared to the contralateral tooth, and resorption at the apex of the root. If no evidence of endodontic disease is seen, uncomplicated fractures can be treated by odontoplasty (careful smoothing of rough edges with a water-cooled white stone bur), etching of the tooth with dental etch gel, and placement of unfilled resin on the surface of the fracture.
The most common type of carnassial tooth fracture is often referred to as a slab fracture. Slab fractures occur when the entire buccal surface of 108 or 208 shears off from the rest of the tooth. This fracture may be limited to the crown, or, more commonly, may extend beneath the gingival margin. When extending beneath the gingival margin and causing pulp exposure, it results in a "complicated crown-root fracture."
Complicated vs. uncomplicated
The term "complicated" refers to whether the pulp (the nerves and vessels within the center of the tooth) is exposed. How far a complicated crown-root fracture extends subgingivally often dictates whether the tooth can be saved with root canal therapy. The subgingival portion of a crown-root fracture of a single-rooted tooth, such as a canine tooth, is easier to fix from a periodontal attachment standpoint, by repositioning gingiva apically if needed.
A multi-rooted tooth can be more challenging to save if the fracture extends into the furcation area, since concerns of periodontal reattachment can compromise long-term success.
Tooth fractures can also fall into categories of "complicated crown fractures" (Figure 1) and "uncomplicated crown-root fractures." Complicated crown fractures are great candidates for the elegant, minimally invasive option of root canal therapy, as long as the canals are able to be cleaned and obturated (filled) appropriately to allow for a good prognosis. Uncomplicated crown-root fractures (Figure 3) may be able to be restored after raising a gingival flap to assess the extent of the subgingival fracture.
Composite restorations may not hold up to the forces generated by dogs, which may eventually necessitate placement of a prosthetic crown.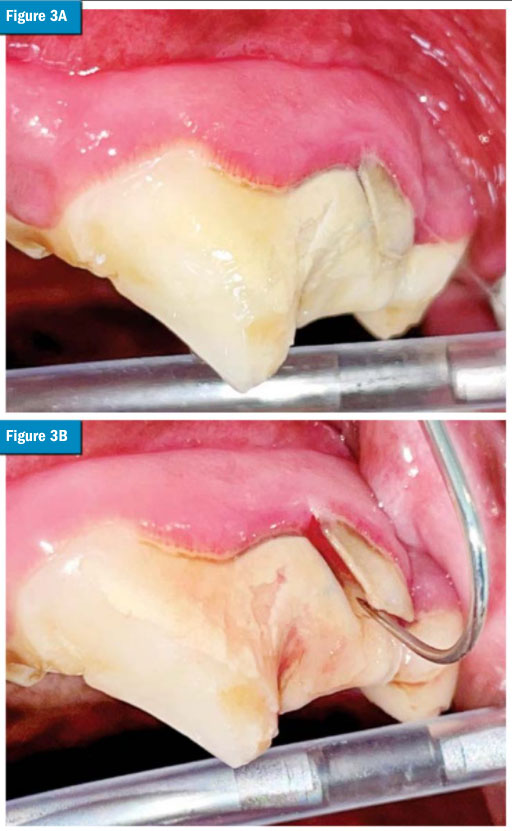 How do I educate pet owners who have owned dogs all their lives and have been feeding them bones without any apparent ill effects? Usually I am having this discussion with a pet owner who is presenting a dog with a slab fracture. We discuss the laundry list of possible culprits to not only identify the cause of the current fracture, but also make the owner aware of other items to avoid.
When you are discussing appropriate chew options in a general practice setting, it may be during a puppy visit, or it may be after an incidental finding of a tooth fracture on routine physical examination. It is important to mention dogs with tooth fractures are likely painful, but they do not often show outward signs of pain. Unless a severe infection ensues resulting in facial swelling or draining tracts, broken teeth go largely unrecognized at home.
I bet you see at least one carnassial tooth fracture in your practice every day. What is the most common chew item you have seen cause tooth fractures? Email me at info@siloacademy.com. In next month's column, we will continue to discuss tooth fractures and some recent research shedding light on this common and important problem.
John Lewis, VMD, FAVD, DAVDC, practices at Veterinary Dentistry Specialists and teaches at Silo Academy Education Center, both located in Chadds Ford, Pa.
Reference