Suggested Veterinary Products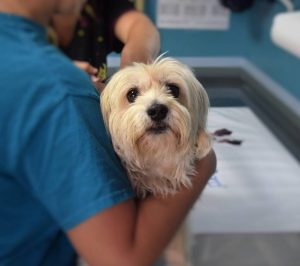 It's National Pet Cancer Awareness Month and the Texas Veterinary Medical Association (TVMA) is urging veterinarians and pet owners to practice annual wellness exams in order to address preventative diseases and detect the early stages cancer.
"Annual exams pick up cancer earlier, so we have more options available," said Andrew Novosad, DVM, DACVIM, head of the oncology service at Sugar Land Veterinary Specialists and Emergency Care in Sugar Land, Tex.
"And there are options today that weren't available five years ago, even in human medicine. It's a really exciting time in veterinary medicine because medicine is progressing so quickly."
Through routine exams, veterinarians may discover cancer by feeling for lumps and bumps or drawing blood, which is usually prompted by investigating excessive fatigue, drastic changes in appetite, or appearing pale. The earlier veterinarians proceed with diagnostic steps like X-rays or ultrasounds, the sooner they can establish treatment plans.
Urging owners to take pets in for routine examinations, educating people on the disease, and contributing to oncology research and advocacy organizations are all crucial to the fight against pet cancer, TVMA says.