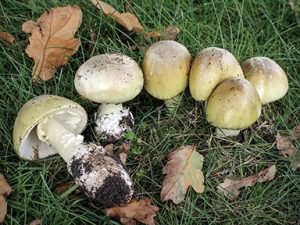 Veterinarians at the UC Davis School of Veterinary Medicine are warning pet owners to be aware of Amanita mushroom intoxication. The Amanita phalloides version, commonly known as the death cap mushroom, is extremely toxic to animals.
Found throughout Northern California and many other locations, A. phalloides can be potentially fatal to animals with ingestion of only a small amount. One of the most poisonous of all known mushrooms, its toxins cause acute liver failure and can also damage other organs such as the kidneys and the intestinal tract.
"We've had several calls from local pet owners concerned about Amanita mushrooms," said Kate Hopper, BVSc, Ph.D., DAVECC, director of the small animal clinic at the UC Davis Veterinary Medical Teaching Hospital. "They report these mushrooms growing in the Sacramento area currently, but it may grow in all areas of Northern California."
On Dec. 4, the UC Davis veterinary hospital admitted an 8-week-old male Alaskan Klee Kai puppy that ingested the mushrooms over the weekend.
"The dog's owner reported that they have hundreds of these mushrooms on their lawn in Loomis, and they think there are a lot more in the local area," said Dr. Hopper.
According to Dr. Hopper, animals that ingest this mushroom can have complete liver failure within 24 hours. If an animal does ingest the mushroom, emergency treatment to try to remove as much of the toxin is imperative.
"Every minute counts," said Dr. Hopper. "Recent research suggests that techniques such as total plasma exchange and plasma absorption (using a specialized machine to remove toxins from the blood), if performed soon after ingestion, may remove the toxin and prevent a fatal poisoning."
Unfortunately, the young puppy hospitalized at UC Davis died of liver failure, despite the veterinarians' best efforts to save him. He was being administered therapeutic plasma exchange in the veterinary hospital's hemodialysis and blood purification unit, but too much liver damage had already occurred.
"This puppy was seen to eat the mushroom a day before coming to UC Davis," Dr. Hopper said. "We believe time is everything in trying to treat this intoxication, and the best chance of our treatments working would be to start as soon as possible after ingestion."
If owners have any suspicion that an animal may have ingested a toxic mushroom, they should contact their regular veterinarian immediately or the UC Davis emergency room.