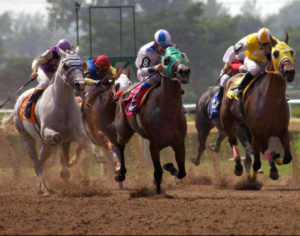 A local anesthetic with the potential for misuse in racehorses is being studied by veterinarians at the University of Florida (UF) College of Veterinary Medicine in collaboration with UF Racing Laboratory.
The study will observe bupivacaine as there are concerns the extended release form of the drug could be used unethically to mask pain or an injury in a racehorse.
"Bupivacaine has been around for a while," says Taralyn McCarrel, DVM, an equine surgeon and the grant's principal investigator. "We don't use it a lot, as most of the time we're doing very short procedures and for those, we tend to use drugs that are shorter-acting. This is true also when we're using them in a lameness examination. We only need the drugs to last a few hours in most cases."
"In this new formulation, tiny droplets of bupivacaine are wrapped in a membrane, which is the liposomal component. After injection, the liposomes start to break down, and gradually release these small pockets of drug over a long time."
The research team will start by determining the minimal effective dose to block pain in a horse's foot and to assess how long the anesthetic effect lasts. They will then begin to understand how the drug is metabolized and eliminated by the horse's body.
Dr. McCarrel will be working closely with UF Racing Laboratory director, Cynthia Cole, DVM, PhD.
The laboratory will determine the concentration of bupivacaine in blood and urine samples collected from horses participating and will correlate those concentrations with the clinical effects observed in the study.
"I'm excited because this is a new chapter for the Racing Lab and the College of Veterinary Medicine working together," says Dr. Cole. "Since the lab moved into the College of Medicine, we haven't done as much collaborative research, but we're hoping to do more."