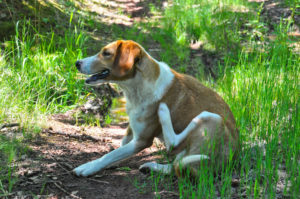 University of Minnesota (UMN) College of Veterinary Medicine is looking for candidates to enroll in an allergic skin disease study.
The clinical trial will assess the safety and efficacy of a topical gel for dogs with atopic dermatitis (AD), which is a skin condition that causes severe itching and is hard to manage. According to the researchers, many of the current treatments produce unwanted side effects or they do not fully treat the symptoms.
The study will last 14 days and will require the participants to visit UMN on day zero, seven, and 14. The dogs' owners will be required to use a topical gel on areas of their pets' skin and keep a medication diary throughout the duration. During the visits, Sheila Torres, DVM, MS, PhD, DACVD, will examine and assess the participants. Blood samples will be taken every visit and urine samples on day zero and 14.
There is no cost, and at the end of the study dog owners will be eligible for to a $200 debit card.
To participate dogs must:
• have a short hair coat;
• have red and inflamed skin, especially on their belly and/or paws;
• have a demonstrated level of itching (chewing, scratching, licking, rubbing, or rolling);
• be 12 months or older, not intended for breeding, not lactating;
• not have seasonal environmental-induced AD;
• not have cancer, mange, hypothyroidism, hyperadrenocorticism, dermatophytosis, or autoimmune skin disorders;
• not have bacterial or fungal infection; and
• not have any abnormalities in pretreatment blood counts, serum chemistry, or urinalysis.