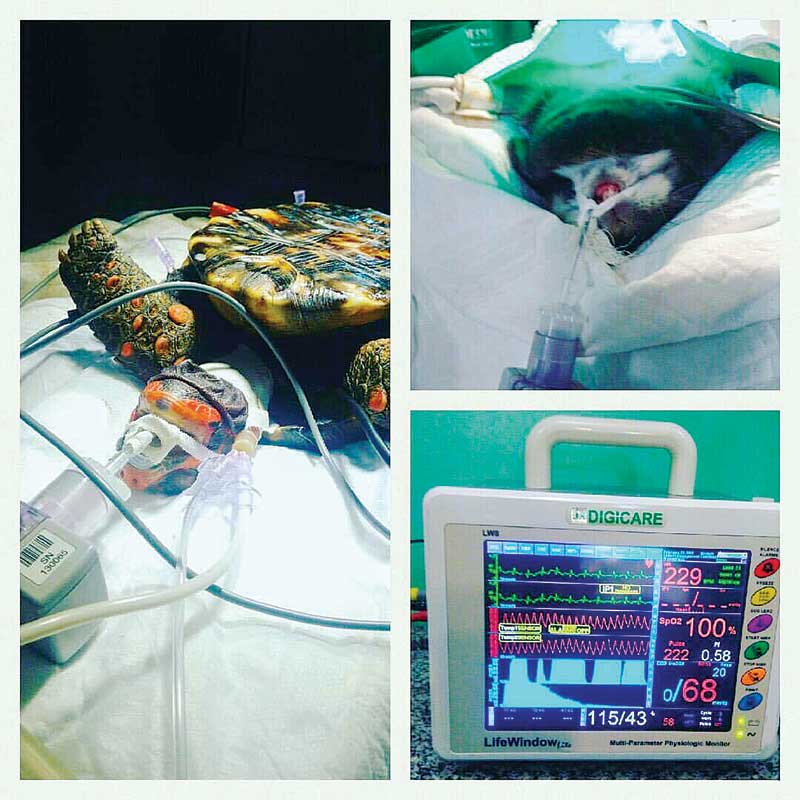 As most overworked veterinarians can attest, pet ownership has surged following the pandemic, and new patients are not limited to cats and dogs. Statistics in the most recent Pet Ownership and Demographics Sourcebook from the American Veterinary Medical Association (AVMA) show more than 13 percent of U.S. households own a specialty or exotic pet, and many veterinary sources, and veterinarians themselves, claim an uptick in new exotic patients.
These animals range from small "pocket pets," such as rabbits, guinea pigs, gerbils, birds, hamsters, amphibians, and reptiles, to big—and controversial—cats. They are increasingly being seen by veterinarians across the country, necessitating an adaptive approach to these often small and varied species.
While some veterinarians will commonly treat birds, sugar gliders, hedgehogs, and fish, others might have a patient list where frequent visitors include bearded dragons, snakes, servals, chinchillas, and tortoises. Working with exotic patients is a very widespread area in veterinary medicine, and each doctor has their own species niche.
Wild about exotics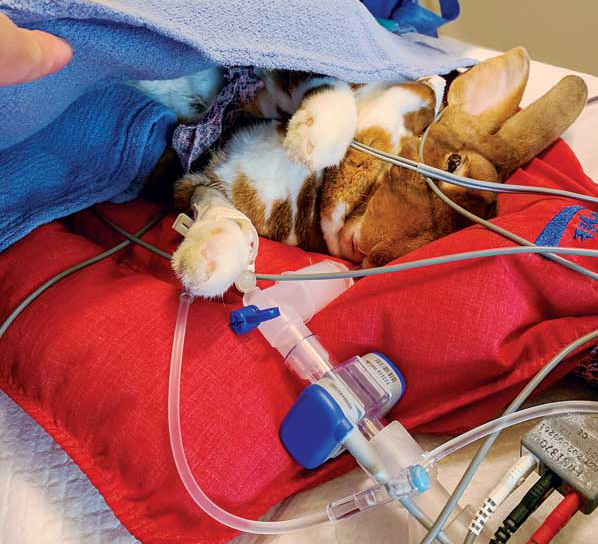 Organizations such as World Animal Protection say exotic pets are now considered a multibillion-dollar industry and some veterinary schools, such as the University of Wisconsin, have entire teaching and practice programs designed around exotic animal species. In fact, the university has the only board-certified zoological medicine specialist for exotic pets in Wisconsin, teaching and practicing at the university's UW Veterinary Care, which boasts a dedicated Special Species Health Service.
"People have always owned weird animals! I think the key now is people know there are veterinarians out there who can actually help them," says Lauren Thielen, DVM, DABVP (avian), at the Texas Avian and Exotic Hospital. Dr. Thielen treats a wide variety of exotics species—basically, anything that does not have hooves is on her patient list.
Veterinarians who specialize in the care of exotic patients often need to rely on modern equipment, such as digital multiparameter patient monitoring systems, to understand the full scope of an exotic patient's health.
"Without a monitoring system, we wouldn't even know there was a problem. Before the monitoring system, animals would die under anesthesia—and we may not have known why. Now, with having additional information from the monitor—even vital measurement trends—it allows us to make adjustments and have a more successful anesthetic outcome," says Thielen.
Unique challenges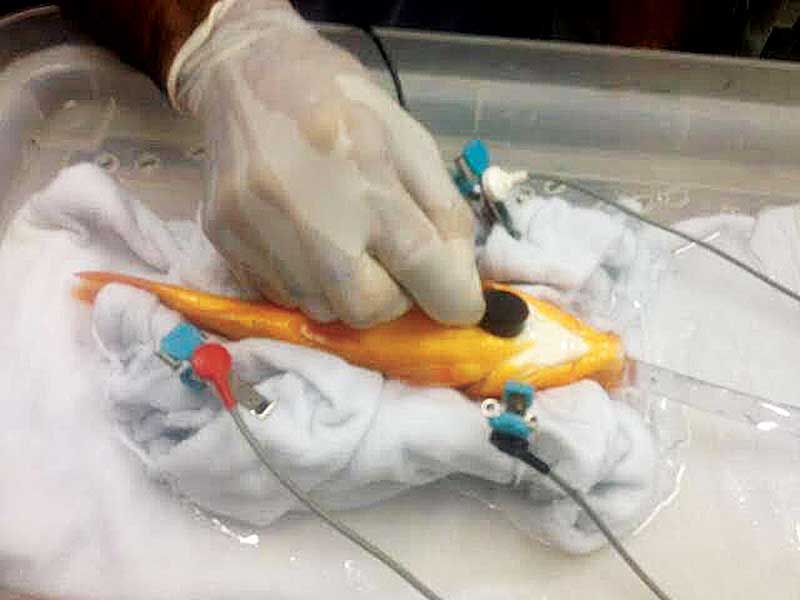 These unique patients present unique challenges—one of these being the patient's size. Sometimes an animal is so small it is impossible to get an adequate blood sample or perform certain procedures.
Blood pressure readings are limited by the size and shape of the patient and veterinarians often are unable to intubate the very petite. Indirect blood pressure is also not a good indicator in small patients, but the ability to digitally monitor trends can change the anesthetic outcome of the patient by recognizing when blood pressure is dropping, so that the care team can intervene.
"I would say one of the most challenging species to work with are guinea pigs. They are very hard to intubate due to their narrow palatial ostium and their legs are very small, so blood pressure cuffs are too large for them. Even SpO₂ monitoring—needed during challenging conditions, such as low perfusion caused by Alpha II agonists and propophol, and even motion—can be difficult because their ears are so small, tongues don't come out very far, and they are often pigmented."
"Plus, they don't seem to have the will to live when sick or with surgery. They just don't fight as much as other species. I still love them though," Thielen says.
Rabbits can be challenging, as well. Often, when monitoring arterial blood gases on rabbit patients, drastic blood pressure drops occur as soon as they are placed on a gas inhalant. However, because they are being monitored and these pressure drops can be seen immediately, intervention can be made. Monitoring changes in heart rate is essential to tapering down inhalant percentage and making sure rabbit patients are not too deep or too light. With small patients, temperature monitoring is also essential as these animals are small and lose heat fast.
"Getting exotic pet owners interested and on board with preventative medicine can sometimes be more challenging as compared to dealing with the owner of a dog or cat," says Brandy Kragness, DVM. Her clinic, Conejo Valley Veterinary Hospital in Thousand Oaks, Calif., has seen an increase in patients and treats all zoological companion animals except primates, pot-bellied pigs, or venomous reptiles.
Experts agree prospective exotic pet owners need to research the pet they are looking to purchase and types of specialized care they might require, or if they are predisposed to certain conditions. They should also look to see if there is a nearby veterinarian who can accommodate the medical needs of the exotic animal they are interested in.
Due to the unique challenges small and exotic species face, the need for specialized equipment—including digital monitoring equipment—and relevant training on the veterinarian's side is especially important.
"Without appropriate monitoring, many patients' conditions could worsen and have secondary complications, including arrest. Exemplary exotics care cannot be completed without appropriate monitoring equipment," says Dr. Kragness.
Multi-faceted solutions
Anesthesia with exotics is by far the riskiest aspect of care veterinarians deal with. With digital monitoring equipment, getting data back that allows for manipulation of anesthetic depth and intervention, has saved numerous exotic animal lives.
"The monitoring system we utilize will pick up fast heart rates and is very reliable with the information provided. Learning an exotic patient has a high ETCO₂ and having the ability to correct that, I am sure has saved lives," says Thielen. "You really need all the monitoring to do high-risk exotic animal anesthesia. Just because these animals are small, does not mean they do not require the same level of care as a bigger animal. Having a reliable and accurate monitoring system has allowed us to provide that high level of care for all species."
Despite the successes attained with monitoring, there are exceptions. When exotic species are exceptionally small, sometimes even the monitoring solution needs a workaround or backup approach.
"We started placing the doppler directly on the heart of our patients and that has made a tremendous impact. Given our typical patient's size, the ECG on our monitoring system is not always so reliable, but the doppler is 100 percent as it measures blood flow over the heart," says Thielen. "I have found that it is by far the most sensitive way to monitor heart rate, other than a stethoscope over the heart. You also need to keep in mind, a bird can go intomcardiac arrest from one beat to the other, with no bradycardia ahead of time. So, that is why very accurate monitoring is essential and why we do not rely solely on SpO₂ monitoring for heart rate."
According to Shelby Basey, a veterinary technician at Texas Avian and Exotic Hospital, a monitoring system capnograph that comprehensively measures end-tidal, inspired and real-time CO₂ waveform, works great for most exotic species, changing the way technicians breathe for the tiniest patients. However, this feature only sometimes works with reptiles. Basey is not sure if this is a reptile species implication or a deficit in monitoring, but knowing this irregularity allows for extra vigilance.
Overall, an appropriate digital monitoring system should be completely veterinary-specific and alarm limits and measurements adjustable to animal size and multiple species, including exotic animals. Measurements should include ECG, SpO₂, CO₂, NIBP, temperature, IBP, and FiO₂.
"When we use a monitoring system on our exotic patients, we focus in on SpO₂ monitoring to know when to stop O₂ supplementation post-operatively or for respiratory disease patients, EtCO₂ monitoring for intra-op and CPR patients and blood pressure monitoring to watch for shock, sepsis and status during intra-operative procedures," says Kragness.
Getting attached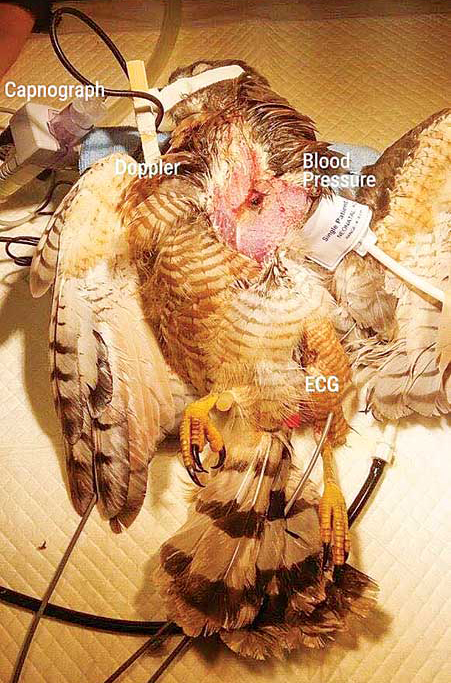 Beyond the multitude of physiological measurement differences, affixing monitoring equipment to some exotic animals can be a significant challenge. Each animal should be treated on a case-by-case basis based on its size, shape, or general biology. Creative solutions, and trial and error approaches, help veterinarians and technicians find what will work in each instance.
"The smaller the species, the more challenging," says Thielen. "The brand of monitors we use make what I call, 'kind clips' (atraumatic) that are different than the larger and sharper alligator-style clips that are often used. The 'kind clips' work for even the smallest patients. It is a bit funny to look down and see that the monitoring equipment is sometimes bigger than the patient—but it works."
Basey, who often prepares the smallest patients for procedures—including monitoring accessories—says she experiences challenges with the SpO₂. "We typically start with the probe we think works best with the patient and oftentimes will have to switch spots multiple times or try several probes during an anesthetic event. With some bird species, this is inevitable due to the dark pigment of their skin."
Basey says for "wrap" type or smaller clip-style probes on birds, she has affixed to everything from the leg and digits to ears, flank, skin of the nape and even the wing. With regular-sized clips, she has used those same locations, as well as the light-colored beak of a bird. For troubleshooting, she uses a gauze square to cover the area of the patient being used, then reattaches the probe on top of the gauze.
At Basey's clinic, needle leads are utilized with ECG for many bird species, and some small exotics such as rodents, and reptiles. For all other species, the clinic will typically use atraumatic clips with ultrasound gel sandwiched between the clips, and then add alcohol once they are attached to the patient. Basey says, "We always keep a doppler on our patients in case the ECG stops working due to various reasons such as contact issues or patient size."
Monitoring for better patient outcomes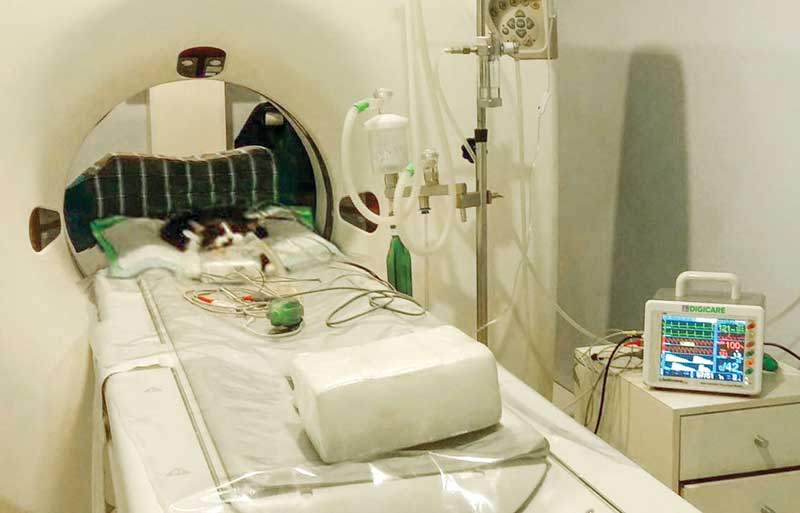 When performing surgery on exotic pets, a digital multiparameter monitoring system can be invaluable in maintaining stable patient status for the duration of the surgery. Using this technology allows for recognition of immediate need for medical intervention, individual trends of an animal's vitals and the need for quick changes in the placement of atraumatic clips or probes when contact challenges arise. Challenges can be due to anatomy, size, or species anomalies and predispositions that require troubleshooting by veterinarians and technicians.
Due to the growth of the exotics pet market, more veterinarians may consider specializing in exotics care and may choose to market themselves this way to help new exotics pet owners find help with emergencies or preventative care. They may also find support from colleagues already treating unique animals or from professional veterinary associations dedicated to advancing the understanding of exotics care such as the Association of Exotic Mammal Veterinarians.
These professionals will find the addition of a premium digital multiparameter monitoring system will be integral to the success of their practice. "Digital monitoring is necessary for the best outcomes in exotics," stresses Kragness.  
Eduardo Miranda is the president of Digicare Animal Health, a manufacturer of veterinary-specific multiparameter monitoring systems and telemetry systems designed to help veterinarians achieve better patient outcomes.