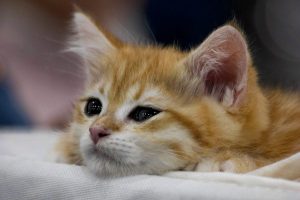 A new bill has been introduced to get the U.S. Department of Agriculture (USDA) to stop performing harmful experiments on felines.
U.S. congressmen Brian Mast and Jimmy Panetta have introduced the Kittens in Traumatic Testing Ends Now Act of 2019.
"The fact we need a piece of legislation to tell the federal government to stop killing kittens is ridiculous on its face, but what's even worse is when you hear the government is actually breeding hundreds of these cats just to intentionally feed them parasite-ridden raw meat and then kill them even though they're perfectly healthy," Mast says. "These tests are awful, abusive, and unnecessary, not to mention a serious misuse of millions of taxpayer dollars. This needs to stop now."
"This common sense, bipartisan bill will require the USDA to adhere to the same animal welfare standards the department is charged to uphold,"  Panetta says. "While I strongly support scientific research, taxpayer money and federal resources should be spent on advancing scientific research in an ethical manner, not on inflicting pain on innocent kittens in outdated experiments. I hope this bill helps us get closer to ending this cruel practice.