Suggested Veterinary Products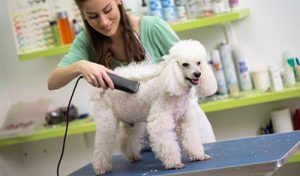 Data released by market research firm Packaged Facts shows that U.S. pet owners spent nearly $3 billion on animal grooming/spa services and products in 2017. The firm, which is partnered with the nonprofit American Pet Products Association, links the expenditure to the increasing trend of pets being considered as family members, citing that 76 percent of those surveyed said it was "important to keep their pets clean and fresh-smelling."
"Treating pets as family members has been a significant trend in the pet market for the past decade, with the vast majority of pet owners today considering their pets to be part of the family," said David Sprinkle, research director for Packaged Facts. "With more pet owners keeping their pets close by both at home and on the go, it is driving them to seek out grooming services and products that will allow them to keep their pets clean and well kept. As a result, the movement towards treating pets as family members is undoubtedly one of the overriding factors impacting sales in the grooming market, both services and products."
The data was published in a report titled "Pet Grooming, Skin & Coat, and Spa Products, and Services in the U.S., 2nd Edition." The nearly $3-billion figure, which can be broken down as $2 billion in out-of-home grooming services and more than $600 million in purchased products, reflects a compound annual growth rate of more than 5 percent for the 2013–2017 period.
Packaged Facts speculates other factors driving growth in the grooming market are similar to those currently impacting the pet market overall, including product premiumization, humanization, safety, and wellness.
For details on how to access the report, click here.