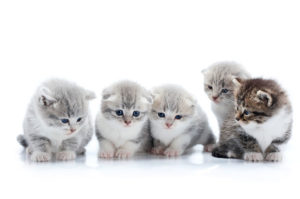 The U.S. Department of Agriculture's (USDA's) Agricultural Research Service (ARS) says it will no longer carry out parasite experiments on cats and kittens, a practice that ultimately resulted in their being euthanized.
The announcement comes weeks after U.S. congressmen Brian Mast and Jimmy Panetta introduced the Kittens in Traumatic Testing Ends Now Act of 2019. At the time, Mast said the USDA was breeding kittens for the sole purpose of feeding them raw meat laced with Toxoplasma gondii (T. gondii), a parasite considered to be a leading cause of death from foodborne illness in the U.S.
ARS says cats were used in the research because they are the only host in which T. gondii can complete its life cycle and produce oocysts. The kittens were then killed even though they were healthy. In May 2018, the USDA reviewed its procedures after hearing feedback from its customers and stakeholders. ARS maintains cats have not been infected with toxoplasmosis pathogens or euthanized since September 2018.
"Food safety research in ARS is of paramount importance for agriculture and the public we serve," said ARS administrator, Chavonda Jacobs-Young, PhD. "We are continually assessing our research and priorities and aligning our resources to the problems of highest national priority. We are excited for the next chapter of work for these scientists and this laboratory."
Currently, cats who have not been administered the T. gondii parasite are being made available for adoption to USDA employees. However, it was decided it would be a human health risk if infected cats were adopted out.