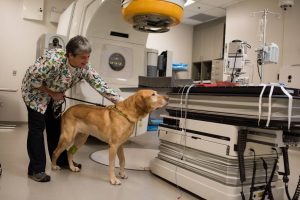 The V Foundation has announced a grant-making program to accelerate research in the field of canine comparative oncology, enabling researchers from human and veterinary medicine to explore new cancer therapies.
Over the past three years, the V Foundation has awarded more than $700,000 for canine comparative oncology through a collaboration between NC State College of Veterinary Medicine and Duke Cancer Institute.
"This program will not only provide benefits to the millions of canine and human patients each year who get cancer, it will make the challenging process of identifying new approaches to cancer prevention, diagnosis, and treatment more efficient and effective," said Michael Kastan, executive director of Duke Cancer Institute.
The V Foundation is working with cancer centers and veterinary colleges nationwide to make grants for canine comparative oncology with a goal of faster and less costly care for dogs and humans, as well as better informed research designs.
Canine tumors often share multiple characteristics with human cancers, including responses to specific therapies, making canine comparative oncology a field with promising outcomes—especially in rare and pediatric cancers.
"Because certain cancers are very common in dogs, and because a dog's life is much shorter than a human's, we have an incredible opportunity to find new treatments while helping both humans and animals," said William Eward, MD, a surgical oncologist at Duke Cancer Institute.
"For rare cancers, like sarcoma, dogs provide us with remarkable insight. For every human child with osteosarcoma, there are at least 50 dogs with osteosarcoma. These dogs share our environment and have nearly identical immune systems. In studying dogs with sarcoma, we not only learn more about this type of cancer, we also gain a chance to help 'man's best friend.'"