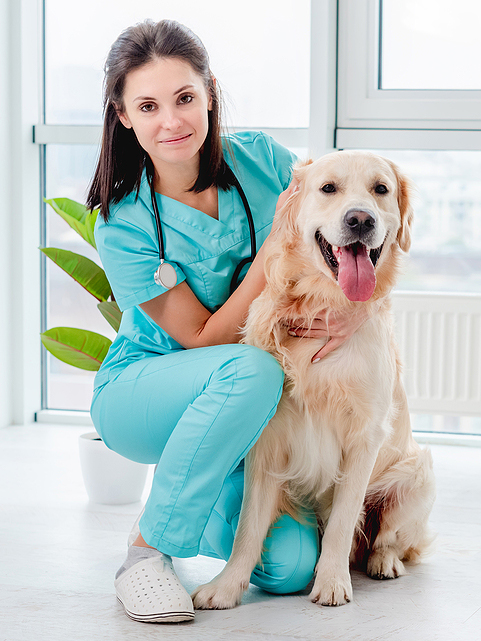 Ensuring the next generation of veterinarians are familiar with gentle and effective handling techniques is the goal of a new academic requirement at Ross University School of Veterinary Medicine (RUSVM).
The St. Kitts school is set to add Fear Free certification requirements to its DVM curriculum beginning this summer. The addition will provide students with the tools and techniques needed to prevent and alleviate fear, anxiety, and stress in patients while providing veterinary care.
"Veterinarians of my generation were taught and remember the harsh physical restraint we utilized to immobilize animals," says Fear Free founder and Veterinary Practice News columnist, Marty Becker, DVM. "It was designed to protect people with little regard for the animal's emotional well-being. Most of these animals were terrified and felt they were going to be harmed or even killed. Now, Ross University School of Veterinary Medicine students will learn Fear Free techniques, which still achieve positional compliance to take X-rays, vaccinate, place a catheter, or examine a wound, but are designed to protect the animal's emotional and physical state."
As part of the development, Fear Free companion animal and equine certifications will be implemented into the curriculum for all DVM students beginning in the summer 2022 semester, with avian certification being offered as an elective in the avian medicine program. The certification will also be required for all clinical faculty and staff.
"Ross University School of Veterinary Medicine has always strived to develop a deep understanding of veterinary science and a passion for keeping our patients' well-being front and center," says the school's dean, Sean Callanan, MVB, CertVR, MRCVS, PhD, FRCPath, DiplECVP. "Fear Free's rigorous standards and empathetic approach to animal handling and care is a natural fit for our curriculum and will help the next generation of veterinary professionals reach a deeper understanding and level of care for animals than ever before."