Suggested Veterinary Products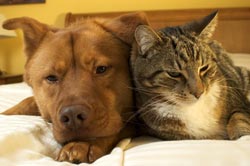 A task force of 22 veterinarians, convened by the Association of Shelter Veterinarians, has compiled medical care guidelines for spay and neuter clinics targeted to reduce pet overpopulation and euthanasia.
The guidelines are an effort to ensure a consistent level of care within these spay-neuter programs, especially since such a wide variety exists, including stationary and mobile clinics, shelter services and feral cat programs.
"We are very excited about the publication of a document describing medical care guidelines for spay-neuter programs," said Miranda Spindel, DVM, president of ASV. "Our hope is that by providing a consensus document created by a group of professionals with expertise in these areas, the guidelines for consistent, quality care in spay-neuter programs will be set."
The guidelines, which are published in the July 1 issue of the Journal of the American Veterinary Medical Association, are based on acceptable practices that all spay-neuter programs can attain, said Brenda Griffin, DVM, one of the task force members and a member of the ASV Board.
The guidelines include recommendations for preoperative care (patient transport and housing, patient selection, client communication, record keeping and medical considerations), anesthetic management (equipment, monitoring, perioperative considerations, anesthetic protocols and emergency preparedness), surgical care (operating-area environment; surgical-pack preparation; patient preparation; surgeon preparation; surgical procedures for pediatric, juvenile, and adult patients; and identification of neutered animals) and postoperative care (analgesia, recovery and release).
The guidelines will also go a long way toward increasing public confidence in spay-neuter programs, and in the end, encourage pet owners to get their pets spayed or neutered.
"These programs bring a basic level of care to animals," said Dr. Griffin, also an assistant professor at the Cornell University College of Veterinary Medicine. "The guidelines are designed to highlight the acceptable standards and set a bar for performance."
In addition, establishing these guidelines will bring more attention to the role spay-neuter programs play in controlling pet populations and as a result could lead to more funding, she said.
The task force includes:
Andrea Looney, DVM, Dipl. ACVA
Mark Bohling, DVM, Ph.D., Dipl. ACVS
Philip Bushby, DVM, Dipl. ACVS
Lisa Howe, DVM, Ph.D., Dipl. ACVS
Brenda Griffin, DVM, Dipl. ACVIM
Julie Levy, DVM, Ph.D., Dipl. ACVIM
Susan Eddlestone, DVM, Dipl. ACVIM
James Weedon, DVM, Dipl. ACVPM
Leslie Appel, DVM
Y. Karla Rigdon-Brestle, DVM
Nancy Ferguson, DVM

David Sweeney, DVM
Kathy Tyson, DVM
Adriana Voors, DVM
Sara White, DVM
Christine Wilford, DVM
Kelly Farrell, DVM
Ellen Jefferson, DVM
Michael Moyer, VMD
Sandra Newbury, DVM
Melissa Saxton, DVM
Janet Scarlett, DVM, Ph.D.
Click here for biographies.