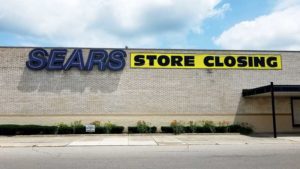 Sears, one of America's longest standing household names, recently raised the white flag and filed for bankruptcy. Started by Robert Sears in 1886, the company bearing his name clearly struggled in the past few years. The reasons are important and somewhat universal lessons to be applied. So how can veterinarians avoid mistakes that brought a 133-year-old iconic business to its knees?
Adapt or die
Sears was a pioneer in catalog sales, but slow to change with the times. More recently, it struggled to compete with Walmart and other big box stores.
Similarly, veterinary practices face competition from multiple "players," including low-cost vaccine businesses (e.g. farm stores, feed stores, human pharmacies, pet stores), spay and neuter clinics, and even local family practices. This has profoundly affected the profitability of practices that relied heavily on "yearly shots," instead of focusing on the importance of (bi)yearly physical exams.
Sadly, this philosophy made vaccines look like commodities, which means clients are likely to gravitate to the cheaper provider.
Another factor that has historically affected revenue is the development of three-year vaccines. Again, those of us who didn't stress the value and importance of a (bi)annual exam are now facing clients who feel they can come back every three years to get a vaccine booster.
Don't let the same thing happen to your practice. Pay close attention to trends—stay ahead of the curve. Educate yourself, not only on the medical aspects, but also in management, and share the knowledge with your team.
Also, elevate your clients' knowledge and experience. Millennial clients are changing veterinary medicine, so educate yourself and your team on how to better communicate with them and to understand what they find important.
We can't continue to practice in the same manner we did five, 10, or 20 years ago and expect to maintain our competitive edge. In other words, evolve or die.
Online competition

Sears also crumbled because it couldn't compete with Amazon and other online retailers. Instead, the company focused on its stores, and struggled to impress online shoppers.
Similarly, veterinary clinics now have to compete with online pharmacies and pet store websites. It's difficult for the little guy to compete on price when large groups have so much more buying power.
In addition, customers love the convenience of online shopping. In the end, practices that relied heavily on over-the-counter sales have been hurt by this "asymmetrical competition."
What does this all mean? You basically have two options:
1) Beat the big guys at their own game—or at least compete with them by providing an online pharmacy. Work with your suppliers and price match or offer promotions to incentivize clients to purchase from you. In addition, you can strive to be different by providing your clients a top-notch online experience and unbeatable education.
2) Accept the fact it's impossible to compete. Forget about online sales, and focus on providing incredible customer experience and practicing excellent medicine.
Don't dip into your reserves to pay expenses
Sears lost money for several years in a row in part because bills were paid by getting into debt and selling its assets. Even though veterinarians don't have much to sell in the way of assets, we know colleagues who borrow money to pay bills and meet payroll. If you cannot afford to pay your bills or your staff, you have a serious cash flow problem. This is usually due to one of two problems: insufficient revenue or excessive expenses—or both.
Once you start going down the slippery slope of robbing Peter to pay Paul, you rarely end up paying Peter back. This kind of financial strain can bleed practices dry, even though they fought a good fight to stay alive.
If your revenue is not enough to cover expenses and operating costs, it's time to look closer at your numbers. Get help and go over your key performance indicators (KPIs) to see where you are hemorrhaging money. Meet with a trusted and knowledgeable colleague, a consultant, or your CPA to determine how to solve the problem.
Don't let a strong month make you complacent
Even though Sears was losing money, its balance sheet looked really good. How is that possible? The answer is the company had many assets, mostly in the form of buildings.
Most veterinarians don't have that luxury. Veterinarians can have a really strong summer season, which might give them (and their team) a false sense of financial security. When times are good, money's rolling in, and the appointment book is full, you don't see a cloud on the horizon.
So you and your team might stop working on marketing strategies or encouraging referrals. When things are "crazy busy," the client experience might suffer.
Resting on your laurels while times are good can be a fast track to your downfall when the busy season eventually ends—and it always does. When kids are back in school, client flow typically slows down. If you don't continue to do the things that made you successful before the busy season, you could see a drastic downturn.
We're in the people business, not just the animal business
Sears managers were obsessed about financial reports more than the customer experience. Similarly, some in our profession believe they are in the animal business. That is only partially true—we are also in the people business.
Our responsibility as veterinary professionals is to provide the best care to our patients, and to excel at customer service to keep our clients happy. Pet owners who have a less-than-spectacular experience at your clinic—or worse, whose pets have a bad experience—are more likely to seek out a new practice that will wow them.
Patient experience is just as important. If a client doesn't like the way their animal is treated, or talked to, or handled, they might leave with nothing good to say about you to friends and family, and through all sorts of social media platforms.
We need to focus on providing the best overall experience possible. We can't have one great aspect and the other subpar, as that might be enough to drive clients into someone else's practice.
Sears' story is a sad one. Tens of thousands of employees, landlords, and investors are going to be affected by the bankruptcy. Ultimately, this company failed because its leaders were unable to evolve to face growing competition. Veterinarians can learn from this debacle and make changes in their practice to survive and thrive in the coming years.
Phil Zeltzman, DVM, DACVS, CVJ, Fear Free Certified is a board-certified veterinary surgeon and author. His traveling surgery practice takes him all over Eastern Pennsylvania and Western New Jersey. You can visit his websites at www.DrPhilZeltzman.com and www.VeterinariansInParadise.com. Kat Christman, a certified veterinary technician in Effort, Pa., contributed to this article.