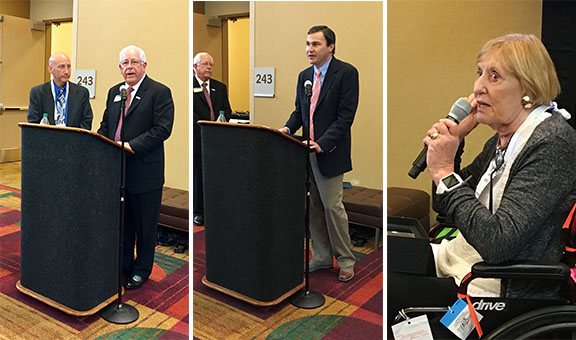 At this year's American Veterinary Medical Association (AVMA) convention in Indianapolis, 11 veterinary professionals and one lifelong feline health advocate were recognized with industry awards, given to individuals whose contributions have made a positive, lasting impression on veterinary medicine.
The recipients of the 2017 AVMA awards are:
L. Garry Adams, DVM, Ph.D., DACVP – AVMA Award
Andrew Clark, DVM, MBA – AVMA XII International Veterinary Congress Prize
Johann Coetzee, BVSc, Ph.D. – AVMA Animal Welfare Award
Patricia Ann Conrad, DVM, Ph.D. – AVMA Lifetime Excellence in Research Award
Richard DeBowes, DVM, DACVS; Kit Flowers, DVM; and Kathy Ruby, Ph.D. – AVMA President's Award
Bruce Kaplan, DVM – AVMA Meritorious Service Award
Michael Lappin, DVM, Ph.D., DACVIM – AVMA Clinical Research Award
Duncan Lascelles, BSc, BVSc, Ph.D., MRCVS, DECVS, DACVS – AVMF and Winn Feline Foundation Research Award
Joan Miller – AVMA Humane Award
Darryl Millis, DVM, DACVS, CCRP, DACVSMR – AVMA Career Achievement Award
Valerie Ragan, DVM – AVMA Public Service Award
Jody Sandler, DVM – Bustad Award
"These outstanding individuals represent the best and the brightest in veterinary medicine," said Tom Meyer, DVM, AVMA president. "From public service to private practice, research to education, and policy to advocacy, their achievements have influenced every facet of the veterinary profession. We are proud to recognize them and their valuable work, and thank them for their contributions in advancing the health and well-being of both animals and people across the globe."
The awards were presented during the AVMA Convention, held July 21-25 in Indianapolis. Visit avma.org/Awards for more details on the AVMA's Veterinary Excellence Awards program.