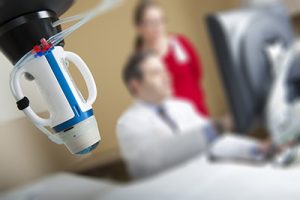 A canine cancer patient was found to be cancer free following a noninvasive focused ultrasound treatment, reports Theraclion, a company specializing in medical equipment for echotherapy. The procedure was administered as part of a veterinary study at the Virginia-Maryland College of Veterinary Medicine (VMCVM), financed by the Focused Ultrasound Foundation, which is investigating the treatment of dogs with sarcomas and mast cell tumors with Theraclion's Echopulse technology.
"These canine tumors tend to occur on the limbs and may recur if they are not entirely removed. As a result, often amputation is required," said Jeffrey Ruth, DVM, DAVBP, DACVR, clinical assistant professor of radiology at VWCVM. "It is our hope that focused ultrasound will add to current treatment options by providing a way to noninvasively ablate the mass and also trigger an anti-tumor immune response."
The study is one of several launched by the Focused Ultrasound Foundation in its veterinary program to develop focused ultrasound therapies for the treatment of companion animals.
While the technology was originally designed to treat tumors in humans, its robotic design allowed for it to be easily adapted for veterinary uses, according to Theraclion.
"As veterinary treatments are a pure out-of-pocket market, 'patient' access to innovation is sometimes much faster than for humans," said David Caumartin, CEO of Theraclion. "The trial results will be on the one hand beneficial for the veterinary patients and on the other hand provide additional proof of feasibility for cancer treatments in human applications."