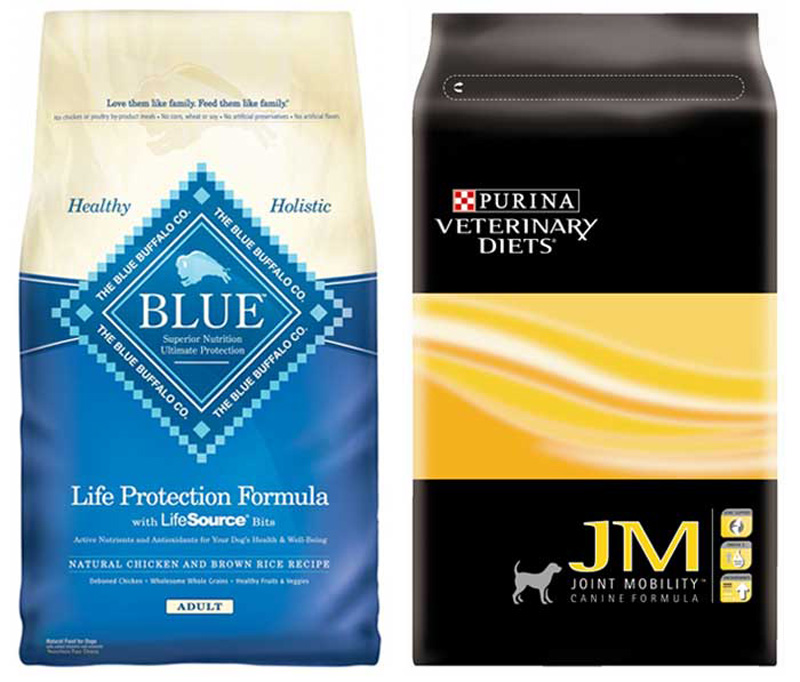 Blue Buffalo asserts that its pet foods do not use poultry byproduct meal. Nestl
é
Purina's Veterinary Diets Joint Mobility dog food contains salmon meal and poultry byproduct meal.
Follow Veterinary Practice News on Twitter at @vetpetnews.
A burning feud between two pet food manufacturers escalated further Wednesday with Blue Buffalo Co. countersuing Nestlé Purina PetCare Co. and Purina again questioning its competitor's honesty.
The dispute stems from a federal lawsuit that Purina filed May 6, claiming laboratory tests had discovered poultry byproduct meal and other undisclosed ingredients in some Blue Buffalo recipes. Blue Buffalo, based in Wilton, Conn., asserts in advertising and on packaging that its foods are all natural and do not contain poultry byproduct meal.
Blue Buffalo's lawsuit, filed in the same Missouri court, accuses Purina of defamation, unfair competition and false advertising.
"In response to Nestlé Purina's malicious attacks against us, we have initiated a lawsuit against them demanding that Nestlé Purina and the individuals working in concert with them be held accountable for their false accusations about Blue Buffalo and that their carefully orchestrated smear campaign against the Blue brand cease," company founder Bill Bishop said.
Purina slammed the new allegations.
"Blue Buffalo's lawsuit today is exactly what we expected: a distraction from the real issues in the case and an attempt to stop Purina from being honest with the public about the ingredients in Blue Buffalo's pet food," Purina reported.
Blue Buffalo's public relations campaign portrays St. Louis-based Purina as a bully pouncing on a family-run operation.
"It is the largest pet food company in the United States, with a dominant 33 percent market share, which is more than twice that of its next competitor," Blue Buffalo reported.
Blue Buffalo isn't that far behind. Peddling itself as "the fastest-growing pet food company in the United States," Blue Buffalo is the seventh largest, with revenue of more than $730 million in 2012, according to Petfood Industry magazine.
Blue Buffalo, whose lawsuit seeks unspecified damages, also took a shot at its competitor's pet food.
"Blue Buffalo understands that pet parents do not want to feed their dogs and cats ground and rendered poultry necks, feet, undeveloped eggs and intestines that many other pet food companies, including Nestlé Purina, choose to put in their foods," a news release stated. "Nor do they want to feed foods composed of corn, artificial colors or artificial preservatives.
"Instead of these undesirable ingredients, Blue Buffalo pet foods contain high-quality natural ingredients, including deboned chicken, lamb or fish as the first ingredient, wholesome whole grains, garden vegetables and antioxidant-rich fruits."
Purina expressed confidence that it would emerge victorious.
"As detailed in our lawsuit, independent test results show that Blue Buffalo is not being honest with pet owners about the ingredients in their pet food," the company stated.
"At Purina, we believe that honesty in the most important ingredient in the relationship between pet owners and their pet food company."
Previous: Nestlé Reports Growth in Pet Care Division
Want more Veterinary Practice news? Go here.