Wendy Vaala's first vaccine research and development meeting made her realize that she was well prepared to work in pharmaceuticals.
"I [thought], whoa, I have an opinion on this," recalls Vaala, VMD, Dipl. ACVIM, a senior equine technical services veterinarian for Merck Animal Health of Summit, N.J. "They would say, 'What do you think?' or 'How important is this disease?' I felt like I was raising my hand every 15 minutes with 'Let me tell you.'"
A Pennsylvania native now residing in Alma, Wis., Dr. Vaala says her nearly 25 years working in private practice and academia has made her the equine neonatology and perinatology specialist she is today. She has been with Merck since 2004.
"Coming from the northeast, I think we had more infectious diseases so we probably vaccinated more than anywhere else in the country," Vaala says, adding that diseases she saw ranged from rabies to botulism. "Maybe I was unknowingly super-prepared."
Companies are always looking to bring new things to market, Vaala says. But in order to sell the product, it must be successful. To be successful, the product needs to be developed with the right profile in mind and it needs to solve a problem, she adds.
"I think having more vets like me who come with either a lot of private practice experience or special board training can add some of the answers to those questions and help direct research," Vaala says.
For example, if a company is planning to develop a vaccine for a certain disease, the veterinarian can point out all the things the developers need to know, she says. This may include where the vaccine would be utilized and what is going on in the field—some bacteria and viruses change and mutate so maybe the vaccine would need to contain more than one strain, she notes.
This work has far-reaching effects, according to Vaala.
"[I] have a chance to go out there and find the best of what's going on in research and maybe turn that into a new vaccine or product that won't just touch hundreds of horses. It could touch tens of thousands of horses, and not just in one country but many," she says.
Early Start
Vaala knew early on that she wanted to become a veterinarian.
"I never questioned what I wanted to do," she says.
It was probably after her first pony ride that she became fixated on the horse, Vaala notes, adding that she grew up not far from the University of Pennsylvania School of Veterinary Medicine's New Bolton Center. The center provides both emergency and routine veterinary patient care for large animals.
Vaala recalls writing a report on Penn Vet's New Bolton Center as a fifth grader, complete with a tour and pictures of the facility.
As a high school senior, Vaala was required to work six weeks in a profession of her choice. Vaala chose New Bolton Center. She describes the experience as phenomenal.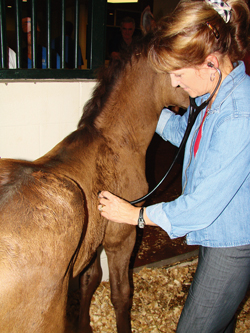 Dr. Vaala specializes in equine neonatology and perinatology.
Vaala attended Penn Vet, receiving her VMD in 1980. She went on to work at several private practices, seeing both small and large animals. After about a year, she decided to advance her training in large animal internal medicine and returned to New Bolton Center.
"I realized that as much as I loved small animals, which I have a house full of, if I didn't go back for special training in horses I never would," she says.
Vaala remained at New Bolton Center after her residency, becoming an assistant professor of medicine until 1996.
At New Bolton Center, Vaala organized the development of the neonatal intensive care unit and high-risk pregnancy programs. She also supervised the neonatology teaching program for students and visiting veterinarians.
"It became not just a treatment center but a place for students and veterinarians to come and learn," Vaala says. "It was a rewarding experience not only to feel like I helped one foal or one mare but how many other people learned something that they would then in turn go back and eventually help hundreds more. … That's what it is all about when it comes to health care. We learn slowly and then if we can disseminate that information, then a lot of other patients benefit. And that's just true of veterinary medicine and medicine in general."
In 1996, Vaala left academia and joined Mid-Atlantic Equine Medical Center in Ringoes, N.J. She joined B.W. Furlong & Associates in Oldwick, N.J., in 2002. Vaala established neonatal intensive care units and a medicine referral service at both locations.
Vaala later moved to Wisconsin, joining Merck Animal Health in 2004.
Equine Health Now and the Future
One important message Vaala would like veterinarians to get across to horse owners is that the infectious diseases for which we have vaccines are still out there. Take West Nile virus, for example, she says.
"We're having the worst year ever in people," she says, adding that there is no West Nile virus vaccine for humans.
If owners don't hear that horses in their county are coming down with West Nile virus, that's a testimony to how far we've come with vaccines, Vaala says. But if people are getting sick, that means there are a lot of West Nile-infected mosquitoes.
"Continually remind clients that sometimes a good vaccination program means you don't hear about [the particular disease]," Vaala says. "[Horse owners] think, well I haven't heard about it recently, but if you back off vaccinating, you'll start hearing about it."
Vaala is also concerned about horse travel spreading diseases.
"We always need to be on the lookout for something new simply because we ship horses all over the globe," Vaala says. "Diseases that might be foreign to the U.S. could always start showing up because a horse comes in incubating a disease. That's when we rely on the whole veterinary community and say, 'Hey, I'm seeing something I've never seen before,' and we all work together to figure out what it is."
Vaala says she plans to remain in the pharmaceutical segment for some time to come, contributing to research and developments in equine health. She admits that she misses the hands-on aspect of equine medicine, but feels she's in the right place in this moment of her life.
"My heart right now is where I am," she says.
Still, Vaala says she never would have guessed that she would be working at a pharmaceutical company. But that could be a message for a lot of veterinarians, she adds.
"We have an incredible skill set," she says. "If the passion is there, it's amazing what you can do with that skill set."