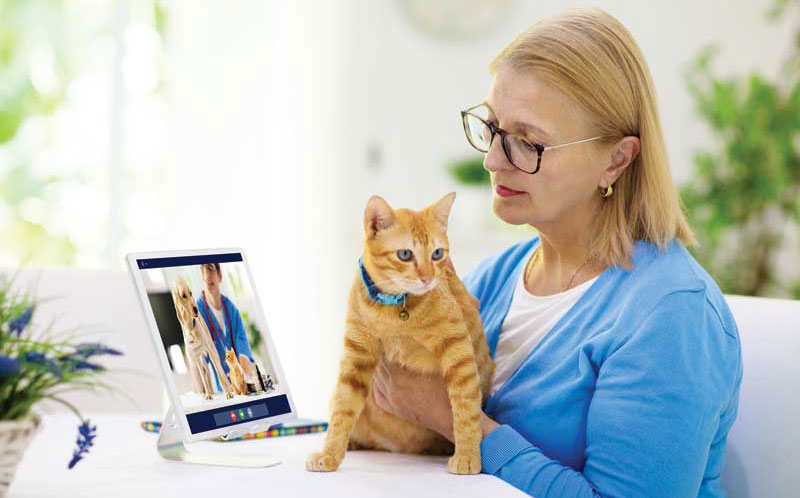 While much of the world was shut down last year due to the COVID-19 pandemic, veterinary practices remained open as essential businesses. With varying degrees of state and local lockdowns, the Centers for Disease Control and Prevention (CDC's) guidance on social distancing, and reluctant clients, veterinarians began offering telemedicine options in addition to regular in-office visits. However, not all issues could be addressed virtually on a computer or smartphone screen. And many people struggled with balancing their aversion to being out in public with the effective treatment of their beloved pets.
As a solution to this obstacle, and upon recommendation by the American Veterinary Medical Association (AVMA), veterinary curbside care evolved in the spring of 2020 as a hybrid of in-office visits and telemedicine. With a curbside care treatment model, veterinarians could physically see a patient without requiring the client to ever step foot out of the car, let alone into a waiting room.
For most clients, patients and veterinarians, this new treatment model has been a win-win-win. It also forced veterinary practices to rethink certain areas of their workflow to accommodate curbside care appointments. 
Curbside care best practices
With curbside care models in effect for nearly a year, most practices have adjusted to an effective new method of practicing veterinary medicine while maintaining social distancing guidelines. Through trial and error, they've discovered what has worked well, what hasn't, and what could be improved. Since the curbside care model has unleashed a new convenience for so many people (like grocery pickup and restaurant delivery), it may continue into the foreseeable future. Now is an ideal time to look back at the best practices that have developed through months of uncertainty and innovation.
Here are our recommendations for practices in the crucial areas of communication, workflow, and technology. (If you're just getting started with curbside care, consider taking Patterson Veterinary's free online course. Visit
www.pattersonvetuniversity.com for more information and to access downloadable guides and checklists.)
Communication
As with so much in life, communication is key. Preparing and adhering to a comprehensive communication plan for both staff and clients that details each step of curbside care must be shared early and often. For all involved, it helps to set proper expectations. For the staff specifically, it helps the team strategically work together to deliver exceptional care for
the patients and exceptional service for clients.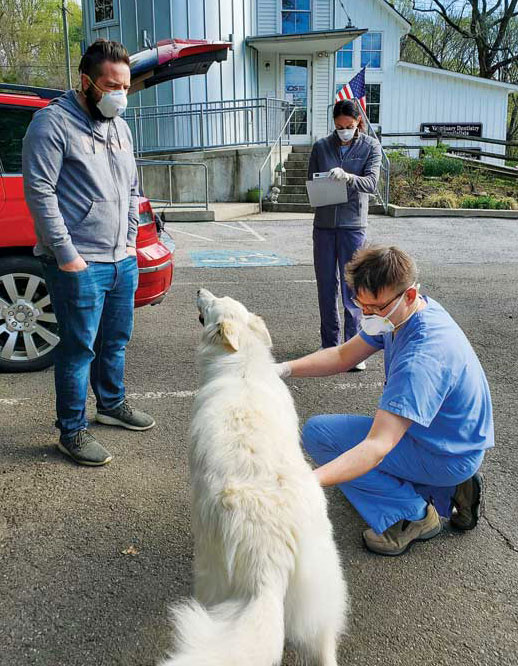 Here are specific tips for curbside care communication:
Schedule regular staff meetings to identify gaps and areas of improvement. Each staff member should provide feedback and discuss potential solutions.
Ensure the overall curbside care plan is accessible and provided to clients.
Develop comprehensive pre-visit, day-of visit, and post-visit communications with clients. Pre-visit communications should include setting up appointments, reminders of expectations, and appointment arrival steps, including where to park. Day-of visit communications should include the explanation of the process at the car, calling or texting the client to provide updates, and communication (either phone, Facetime, or web-conferencing) throughout the examination to discuss issues, treatments, authorizations, and consents. The client's availability to wait through the exam should also be clearly understood. Post-visit communications should include recommendations, prescriptions, and follow-up appointments.
Develop phone scripts and email messages to help ensure consistency in messaging through various modes of communication.
Post frequent website and social media updates regarding reminders, hours, new policies and procedures, and the steps for curbside care. Some practices have hosted Q&A sessions over Facebook Live to answer questions and alleviate concerns.
Provide clients with a checklist for the process, as well as all contact information, to emphasize the open lines of communication.
Workflow
As crucial as staff and client communication is, there is much more to the proper execution of a quality care model. Indeed, as with any plan, a steady, efficient, and productive workflow is also required.
Here are tips for creating a smooth curbside care workflow:
Color-code all curbside appointments in the appointment calendar and prepare detailed notes for staff members. It also helps to stagger appointments to ensure there is enough parking outside and enough room inside to treat patients expeditiously, while minimizing wait times.
Use checklists, process maps, and flow charts for staff and clients to help identify each step of the plan. If you've set up treatment sheets in your software, these can also be extremely helpful.
Consider parking logistics, including the possibility of adding signs or chalk numbers to certain spots, adding an area on the patient form for the car details, and setting up arrival notifications. Once the pet is dropped off, establish where the client should move the car to avoid disruption and traffic jams.
Consider separating teams into pods, or smaller groups that work together. Minimizing exposure by reducing contact with others, it also enhances the practice's workflow when the same group continuously works together.
Designate one staff member to go to the car to check patients in, transport them into the exam room, and then return patients to the car. This practice will limit exposure and provide consistency to patients and clients.
Outline the modified (or new) responsibilities for each staff member during a curbside appointment and enhance cross-training that addresses the client experience. Clearly designate staff members for arrival processing, departure processing, and client communication.
Ensure the departure process is seamless with payment, treatment plan recommendations, and scheduling follow-up visits.
Technology
Curbside care delivers treatment to patients without clients present in the room, but technology can be used to include the client in the appointment virtually. Technology not only facilitates client connection and experience, but it also improves team efficiency and effectiveness.
Consider these ways to involve your clients in curbside appointments:
Add telephone lines or pre-paid cell phones for all curbside care needs, so as not to tie up the main phone lines.
Can your practice management software and credit card processor facilitate curbside payment? If not, this may be a good time to search for other alternatives. Some practice management software platforms offer mobile apps that allow you to accept credit card payments curbside and automatically enter those transactions into your software rather than requiring double entry. That saves time and minimizes errors.
Develop a system of text-messaging for appointment reminders, arrival texts, and updates.
Use video chatting capabilities while in the exam rooms or use a web-conferencing platform to keep clients informed throughout the examination. You might consider adding a camera and screen in each exam room for easier communication with the client.
Consider how well your practice management software works (and looks) on a mobile device. Many of the cloud software platforms work well on tablets in the field, and a few have mobile apps that facilitate a patient appointment from check-in to check-out. There are also tools for the veterinary industry that allow you to educate clients remotely with illustrations and images stored in the cloud.
After much trial and error during 2020, these tips have stood the test of time. Implementing some or all of these tips will help maximize efficiency and patient care during a curbside appointment while minimizing contact and risk. After all, like grocery pickup and restaurant delivery, telemedicine—and possibly curbside care—are likely here to stay.
Dan Holland has more than 10 years of experience in the veterinary industry and currently serves as director of commercial software for Patterson Veterinary, which offers both the IntraVet and NaVetor practice management software systems.