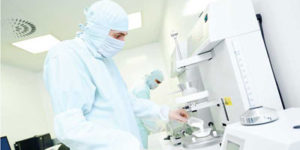 Modern compounding—often referred to as 503A—is a niche business, providing patient-specific formulations to satisfy individual needs. Because commercially available drugs are marketed almost exclusively for humans, compounding has become an essential resource for veterinary medicine. Veterinarians often depend on 503A pharmacies to provide preparations at lower concentrations and in more palatable dosage forms to optimize treatment for their patients.
However, without proper management and regulations, 503A compounding can potentially be detrimental. Presently, 503A pharmacies are not required to adhere to Current Good Manufacturing Practice (cGMP) objectives put forth by the U.S. Food and Drug Administration (FDA) to ensure pharmaceuticals achieve a specified standard of safety. The quality of products produced in a 503A facility depend on the pharmacy's voluntary conformance with cGMP, which can be substantially cost-prohibitive, requiring anywhere from $50,000 to $100,000-plus of investment for a single formulation. Testing on raw materials and finished products may be performed to an extent depending on the facility, but the data are often incomplete, testing only one or two factors while omitting others that would affect the product's overall quality. The variability of cGMP compliance from pharmacy to pharmacy paves the way for omissions in procedures that can lead to patient harm.
In addition, the veterinary pharmacy paradigm is changing. The small-scale, neighborhood compounding pharmacy many envision is being replaced by comprehensive, drug manufacturer-scale production. With it comes a promise of increased availability and faster turnaround times. Yet, the progression is not evenly distributed. Scaling up is difficult, and too much growth in too short a time can be detrimental for many businesses. A changing market forces many pharmacy owners to deal with logistic issues they never faced in the past, and the quality of the products themselves can suffer during the transition.
From a clinician's perspective, these facts leave many unanswered questions regarding the medication they receive. Would a refill be prepared with the same specifications as the original order? Potency, sterility, endotoxin, stability—have any of these parameters been tested? Have all the components been sourced responsibly? Veterinarians and other prescribers have become more aware of the disparity in compounding facilities. The negligence that led to the New England Compounding Center meningitis outbreak was a pivotal event in the history of modern compounding, thrusting into the spotlight the possible outcomes of under-regulated facilities in a tragic way. The FDA (and reputable compounding facilities) realized the importance of identifying which compounding pharmacies can perform large-scale production in a responsible manner, leading to the signing of the Drug Quality and Security Act (DSCSA) in 2013. This law amended the Food, Drug, and Cosmetic Act (FD&C), allowing for more federal oversight of compounding pharmacies.
As part of the updated FD&C, a new set of standards was defined for compounding pharmacies, called 503B. While it is voluntary to register as a 503B facility, a pharmacy with this designation is required to conform to cGMP standards. Also, unlike 503A, 503B facilities can manufacture batches that can be sold without patient-specific prescriptions. (This is known as "outsourcing.") Outsourced products can be sold to health-care facilities that can subsequently retain them for office use. This added distribution capability is permitted by the FDA due to rigorous testing and controls from beginning to end of production.
cGMP vs. United States Pharmacopoeia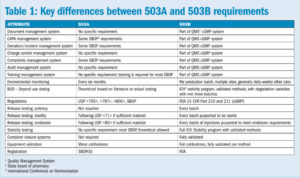 So what are examples of cGMP and how important are they in the big picture of veterinary pharmacy production? Table 1 summarizes the key differences between 503A and 503B procedures. One of the most essential foundations of cGMP is good documentation practice (GDP), which provides thorough traceability at every step of the compounding process, ranging from receipt of raw materials, validation of equipment, processing of the batch, environmental monitoring, and product testing, among other auxiliary factors of production. This robust traceability allows for transparency with the FDA and assures the product received by the practice meets the pharmacy's label claims. When ordering from a 503A pharmacy, there is no guarantee any of these practices are in place or if they are deployed correctly.
Traditional compounding pharmacies are required to operate under standards put forth by the United States Pharmacopoeia (USP), specifically USP Chapter <795> (non-sterile compounding) and USP Chapter <797> (sterile compounding). USP Chapter <800>, which deals with hazardous drug handling, is expected to be released later this year, although currently there are few USP guidelines for the manipulation of hazardous materials in a compounding setting. In addition to USP, compounding pharmacies, like all pharmacies, must conform to the laws of the state boards of pharmacy (SBOPs) to which they distribute. While these standards are useful for patient-specific compounding, they fall short compared to the pharmaceutical-level standards of cGMP. More importantly, the omissions can directly affect the overall safety and consistency of the product being prepared in ways prescribers may not be aware. A preparation ordered from a 503A pharmacy may meet the company's acceptance criteria and applicable USP and SBOP requirements, but what does that all mean?
Finished product testing
There are many differences between USP and cGMP that are discussed later in this article, but the most fundamental disparity that directly affects the final product is the amount of testing required. In a 503B facility, all batches must have potency testing performed to ensure they meet label claims. If the product is purported to be sterile, sterility testing must be performed on every batch, in addition to endotoxin testing when the sterile product is an injection. What prescribers may not be aware of is these tests are either not required or are only conditionally required in a 503A pharmacy. Potency testing is not mandatory for preparations compounded in a 503A pharmacy, and sterility and endotoxin must only be performed if a batch is 25 units or greater. This makes sense from a business perspective—these tests are expensive and cost-prohibitive, especially when the product is meant to be dispensed to only one or several patients. However, the lack of assurance the preparation being dispensed is safe and effective as prescribed is a glaring drawback to purchasing from a 503A pharmacy, with potentially serious consequences.
Stability protocols and beyond-use date validation
In addition to batch-specific release tests, product stability testing is not required for 503A. The given beyond-use date (BUD) is often theoretical, based on related literature pertaining to the active ingredient and excipients, whereas 503B preparations need rigorous stability testing to provide hard evidence of the product's stability over time. Ultimately, the beyond-use date of a compounded preparation from a 503A pharmacy does not carry the same weight as 503B. Because 503A pharmacies focus on patient-specific preparations, there are many variables existing in these low-volume orders that are unaccounted for when determining drug stability (specific flavors, low/high strengths, type of suspending/solvent vehicle used). The trade-off of having a highly specific, specialized preparation for a patient is not only the lack of stability data at the time of compounding, but also the assurance the preparation is stable weeks and months after it was made.
Preparations compounded under 503B regulations must undergo a full International Conference on Harmonization (ICH) stability program with validated methods. The procedures performed under an ICH-stability validation go beyond the scope of this article; however, some of the critical variables tested under ICH are as follows:
• Long-term and accelerated testing: The preparation is kept for a minimum of 12 months at its recommended storage condition (long-term) and for six months minimum under warmer and more humid conditions (accelerated). The drug's ability to retain its stability under these parameters determines the product's shelf life.
• Stress testing: This exposes the preparation to extreme temperatures to assess likely degradants, some of which can be potentially harmful.
• Container closure system study: This ensures a preparation is stable when contained in its final packaging. This is an often overlooked aspect of drug stability, as certain drugs may be incompatible with components in the final packaging (fentanyl binding to rubber stoppers in injection vials, for example).
These and multiple other tests specific to the dosage form tested ultimately support that the preparation received will maintain its integrity for as long as the label states.
Training management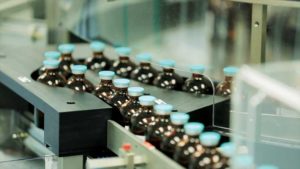 Training employees is one of the most fundamental and critical aspects of quality control to ensure both safety and consistency of the finished product. While most state boards of pharmacy require training in some form, the robustness of training is not clearly defined. Are compounding personnel instructed on every dosage form and compounding technique performed in the facility? Is training done hands-on or is it as basic as reading a printout of step-by-step instructions for a particular procedure? Is the person delegated to train following standard operating procedures or "going off script" with anecdotal techniques that may or may not affect the product's overall quality? The variability of what constitutes training causes variability in every downstream process. Even the most well-meaning compounders can practice subpar methods without proper instruction.
Training in a 503B facility is tightly regulated and controlled—trainees are instructed by a certified trainer, each task is demonstrated in detail by the trainer, and the trainee is observed multiple times prior to being authorized to compound independently. These practices assist in reducing inconsistencies between batches and ensure all technical and safety procedures are followed effectively.
Deviation, CAPA, and change-control management
Transparency is fundamental to operating under cGMP conditions. When out-of-specifications occur, deviations are appropriately documented and designated procedures are performed to ensure associated batches are quarantined. Multiple production and quality checkpoints built into the compounding process minimize the risk of affected product from ever being released from the facility.
Secondary to deviation control is the requirement for a corrective and preventative action (CAPA) management system. CAPAs are put in place to not only recognize when deviations occur, but also to implement improvements to procedures to ensure the deviation does not occur in the future. While some state boards of pharmacy require a CAPA system for 503A pharmacies, cGMP-compliant facilities require CAPAs for every applicable deviation, as well as tracking and trending to prove the CAPA implemented is having the desired result.
Lastly, changes to procedures are much more tightly regulated under cGMP. It is critical that when changes occur all relevant staff are not only informed but retrained, if applicable, to avoid deviations from occurring again. Without detailed change control documentation and a robust training procedure as described previously, there is no guarantee updated processes are communicated and executed.
Environmental monitoring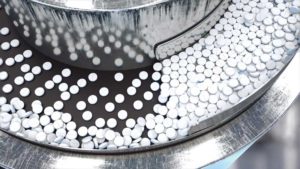 For aseptic compounding, one of the most essential practices to prevent microbial contamination is environmental monitoring (EM). EM in a 503A pharmacy must be performed a minimum of every six months. This includes surface and air microbial sampling, as well as staff training in aseptic gowning and sterile manipulation. The lack of consistent monitoring can be detrimental, as individual batches lack data supporting sterility. There are many external factors that may compromise sterility in the aseptic processing area, and without real-time monitoring, these variables would not be detected and an unsafe batch may be released to patients.
Environmental monitoring in a cGMP-compliant facility far surpasses requirements for traditional compounding. In addition to staff training, a cGMP facility must monitor critical sites in the compounding area during the production of every batch, both for air and surface microbial levels. If the established microbial limits are surpassed, the batch is quarantined and destroyed. This continuous assessment of the compounding area not only supports the safety of the product being compounded, but it allows for problems to be identified and resolved prior to multiple batches being compounded in unsafe conditions. This, combined with finished-product stability testing, ensures all products released to patients are safe for use.
Equipment validation
Regardless of what type of pharmacy, modern compounding requires many types of equipment for which precision and accuracy are essential. From the balance used to weigh out ingredients and glassware for volumetric measurement, to tablet presses and environmental monitoring devices, all equipment involved in the compounding process should be validated and calibrated as appropriate prior to use. However, equipment may not be suited for a pharmacy's specific needs—a mixer might not be powerful enough to evenly disperse ingredients in a preparation, a balance may not be able to accurately measure minute quantities. Critical pieces of equipment in a 503B facility must be fully validated for their use in processing—a mixer will be verified to evenly mix all intended preparations, a balance will be able to measure precise quantities at all desired levels.
Validation is achieved mainly through installation, operational, and performance qualifications, which verify the equipment is functioning as expected. Calibrations are performed diligently at or above manufacturer specifications, and the appropriate staff must be trained in the equipment's use prior to ever being used in production.
The 503B difference
Of course, the playing field is not equal. Traditional compounding pharmacies can certainly go above the minimum requirements for 503A processing, but the additional protocols performed are typically undefined for an outside prescriber, and they may not be consistent from preparation to preparation. A 503A pharmacy may advertise that potency testing is performed, for instance, but there is no guarantee it was done for the specific batch given to a patient. Key factors such as employee training and equipment calibration, while required for 503A processing, are less stringent and the variability that results can lead to significant inconsistencies.
As a final anecdote, I've seen the downsides of 503A processing firsthand. A short while ago, our staff was working with a veterinary ophthalmologist whose glaucoma medication was not achieving the desired effect on her patients. Some units she used worked as expected and others did not. The medication was ordered from a large-volume traditional 503A compounding pharmacy. After some testing, it was determined the variability was due to fluctuations in potency from lot to lot. When replaced with the same product from a 503B facility with potency testing supporting its effectiveness, the veterinarian had no further issues. That is ultimately the difference between traditional 503A compounding and 503B.
Veterinarians must often find a balance when it comes to prescribing. Price and availability will always play major roles for their clients. The key disadvantage of ordering from a 503B pharmacy is that the turnaround time is generally slower for a newly requested product due to the additional testing and stability parameters that must be met. A prescriber may see the value in ordering a specifically formulated 3.125-mg capsule, despite lack of potency testing, when only 3-mg and 4-mg tablets are available from a 503B facility. A 503B facility would not be able to fulfill an order for this strength. If this formulation is requested frequently enough, it may be added to the production catalogue, but not in nearly enough time to support a patient in immediate need. Concerns vary from clinician to clinician and from patient to patient. It is important that prescribers make informed judgments on the medication they receive to ensure the best possible patient outcomes. Veterinarians, more than ever before, can be assured their order meets standards of safety and quality if they know what to look for in a compounding pharmacy.
Jack Potchen, Pharm.D., received his BS in biology from Rowan University in 2011 and graduated from Temple University School of Pharmacy in 2015. He has worked for Stokes Healthcare since 2010 and currently serves as the supervisor of quality control. Dr. Potchen lives in New Jersey with his wife (a veterinarian), children, two dogs, and two cats. He can be contacted via email at jpotchen@stokeshealthcare.com.