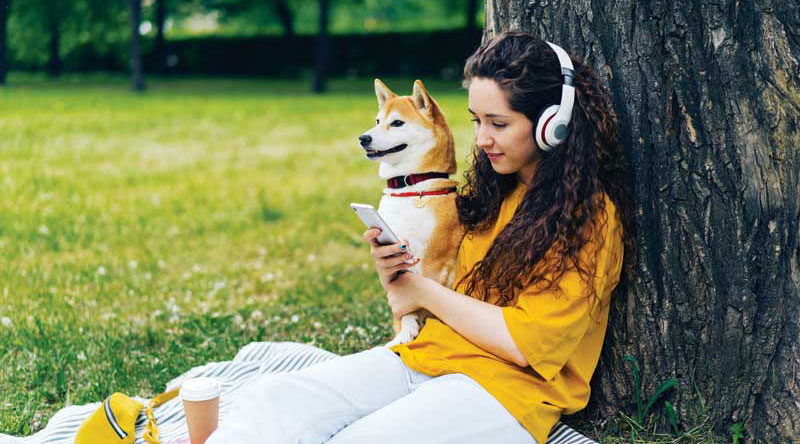 Successful veterinarians who practice in major metropolitan areas will agree millennial clients can be readily pressed into veterinary practice gemstones. In their palpable enthusiasm, you'll sense a willingness to lavish more love and care on their first pets (a.k.a furry starter babies) than previous generations.
Add this winning attribute to the zero baggage mindset they bring to pet insurance, wellness plans, and time-saving technology, and this demographic starts to look very attractive indeed. In fact, successful marketing to millennials just might be the holy grail of veterinary medicine's new golden age (which we currently enjoy, COVID be damned).
Getting them in the door is one thing. But as plenty of practices have learned the hard way (myself included), keeping them can be complicated. How to catch and satisfy the millennial? It's really not so hard. All you have to do is think like one. Here's a quick primer in eight simple steps:
1) Individualize
Millennials value personalized, custom-tailored service that meets them where they are (which is online mostly). They're a curious sort of people, full of fun contradictions and quirky drives. They like products and services that play up their individuality. To that end, veterinarians who want to attract and keep millennial clients would do well to look into brands that target them and read between the lines. Consider the following millennial-targeting companies:
Custom-tailored suits for less than $300? Indochino takes personalization, choice, and convenience seriously. Fit is everything to millennials, which is how you get cut-to-measure denim jeans and sneakers built to your exact specifications, too.
Blue Apron, Plated, and Sunbasket are just a few of the meal-planning services delivering weekly allotments of preselected, premeasured, build-your-own meals. It's like graduating from Legos to home cooking. Only by DIY can many of them afford to indulge their very millennial feeding preferences.
What does all this mean for veterinary practices? It means that, above all, millennials want you to treat their pet as an individual. Know your patient, know her history, get her gender right (for God's sake). Above all, ask smart questions about their pets. They want to know you understand their pet as a person.
In fact, it's no longer enough to be a great practitioner. Not even close. From their POV, if you don't care to get to know their pet, you probably don't care about practicing quality medicine either.
2) Trade-offs and inducements
For all these privileges, millennials know they'll have to pay one way or another. They thoroughly understand the trade-offs. That's why they'll put up with ads when they're unwilling to pay a premium. They'll wait weeks for their custom suit and DIY their dinners just to get a better price on a higher quality item.
When it comes to veterinary care, they go through the same calculations. Quality, convenience, price, and customer service are the variables. But they also respond to inducements. They know how modern marketing works. So they sign up for rewards programs and have come to expect some degree of gamesmanship from their service providers. That's why wellness plans work on them and why they'll happily exchange points for freebies.
Note: This trade-off concept also explains why Chewy.com does so well. In this case, it's all about the price. Yes, millennials are willing to hold their nose and shop for commodities at a big box. But most don't feel good about it. Offer them a good reason and they just might flip. (Hint: Start redirecting millennials to your pharmacy. Plenty are willing to do it just to support their beloved veterinary clinic.)
3) Match their motivation
More so than previous generations, this group wants your A game. Do your best to exceed expectations by matching their degree of motivation. In other words, educate them without condescending, patronizing, or making assumptions about their ability to spend or degree of dedication. Most will surprise you with their willingness to learn more about their pet's injuries, illnesses, or nutrition than you'd ever expect from most other clients.
Not sure you explained everything as they like it? Solicit questions several different ways. Invite them to share more than they seem to naturally want to. While you're at it, ask them to keep a list of questions before each visit, recommend they keep logs of events, suggest they send you email updates. And don't forget to follow up! (They won't easily forgive if you don't.)
4) Partnership, not patronage
Doctors don't have the luxury of an automatic upper hand with millennials. In case you hadn't noticed, this social media-driven and politics-savvy generation has been taught doctors have agendas, too. Veterinarians have to work hard to overcome this obstacle. How better to achieve this than to surprise them by explicitly inviting them into an egalitarian partnership?
5) Validate their choices
Most of my millennials have done their homework before their first visit. And they've been warned (by breeders, trainers, friends, and Dr. Insta) that veterinarians aren't always so open to certain notions with respect to vaccination, feeding methods, and sterilization (among other hot-button issues).
To get them to see things from your POV, partnership is crucial. But you can't exactly do that if your knee-jerk response to their raw diet decision is a scoff or an eye roll. Do the unexpected: Say something positive instead. Praise their dedication, for example.
6) Bring the tech
Here's where tech really shines. It's crucial to have a fabulous front staff, of course, but if you have great tech, it'll do the heavy lifting for them. And millennials eat this stuff up. They've come to expect apps, telemedicine, and text reminders. They want to book their own appointments, access their pet's records online, and get a text when their pet's lab work is ready, too. Lots of the newer practice information management systems offer features along these lines, but so do plenty of apps you can adopt for your practice.
7) Make it social
And if you can also offer an experience that's eminently sharable on social media, you'll have won over the millennial demographic forever. To accomplish this, all you have to do is partake of a steady diet of a social media on the platforms that matter to millennials. (Where's your TikTok account already?) Think: Are you allocating your marketing funds to the most effective medium… or merely the easiest?
8) Looks matter
Finally, consider that millennials can be a bit superficial, too. I mean, if they're going to put you on their Instagram, they probably want you to look like a modern or even cool veterinary clinic. It's hard to recommend you to friends if they run the risk of having you reflect anything but gloriously on them.
Yes, if you want to attract millennials, you definitely need to live in their shoes for a bit. Sure, there's a downside to keeping them happy (they can be fickle as well as superficial, easy to offend, and tough to win back), but I believe they're absolutely worth the work. As I tell my team members when they complain about the pickiness this demographic tends to exhibit, "Give me one helicopter millennial for every two other clients and I'd be more satisfied with my job. And I'd be making more money, too."
Patty Khuly, VMD, MBA, owns a small animal practice in Miami and is a passionate blogger at drpattykhuly.com. Columnists' opinions do not necessarily reflect those of Veterinary Practice News.