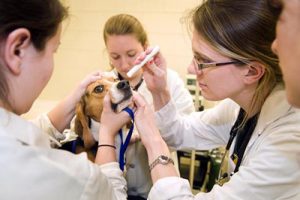 When considering improvements in veterinary students' education, veterinary colleges invariably focus on the subject matter of the veterinary medical curriculum. Everyone possesses some expertise in it and therefore believes he or she knows (arguably) what it should contain. However, to be an effective teacher, other attributes are necessary. Colleges should be giving more attention to the human dimensions of education.
Recently, I participated in a study that allowed me to meet a number of current veterinary students and recent graduates and discuss their college experiences. This was not a statistically validated population survey; it was simply a collection of opinions. The results were interesting.
Perceptions of the material content of the DVM curriculum and the professional and academic qualifications of the teaching faculty were pleasingly positive. However, respondents expressed concerns about rigid lecture formats, information overload, and the impersonal atmosphere of the classroom. What students wanted was a less homogeneous education that respected and accommodated them as individuals with unique backgrounds, needs, and prior learning experiences.
Too often, students are persuaded that medical science is a set of hard facts, every detail of which must be memorized and recalled. However, scientific facts are seldom perfect or permanent; many in use today will be modified—or even replaced—tomorrow. This is not to imply that facts are not important—the current state of knowledge must be thoroughly understood. Yet at the same time, medical education should acknowledge areas of scientific uncertainty and controversy, and promote intellectual freedom and critical thinking. Besides learning the art of medicine, students must possess the ways of thinking required by medical science, thus developing the kinds of imaginative minds that are indispensable for professional progress. In clinical education, its highly specialized training also should include discussing some of the bigger questions facing the veterinary profession. It is often the lack of such perspectives that leads to the overinterpretation of facts as opposed to concepts (quantity versus quality).
At its best, veterinary medical education is a dynamic partnership between teacher and student. However, this relationship is becoming more challenging. As colleges face severe budget cuts, an easy remedy is to raise tuition and increase enrollment. Class size and faculty-student communication are inversely related; it can be difficult for teachers to get to know every student personally unless the class is a manageable size. Unquestionably, some faculty are adept at relating individually to a large number of students, whereas others are not. Large student numbers may be especially problematic for the individual who needs special assistance.
Personal education coexists with that of information. Faculty members who are true mentors and role models—not just "instructors"—inspire professional attitudes and behaviors that last a lifetime. Great teachers win the hearts and minds of their students. Perhaps it is more by our example than our knowledge that we enable veterinary students to become the kind of veterinarians they are meant to be.
Peter Eyre, DVM&S, BVMS, BSc, Ph.D., is professor and dean emeritus of the Virginia-Maryland College of Veterinary Medicine at Virginia Tech in Blacksburg, Va.