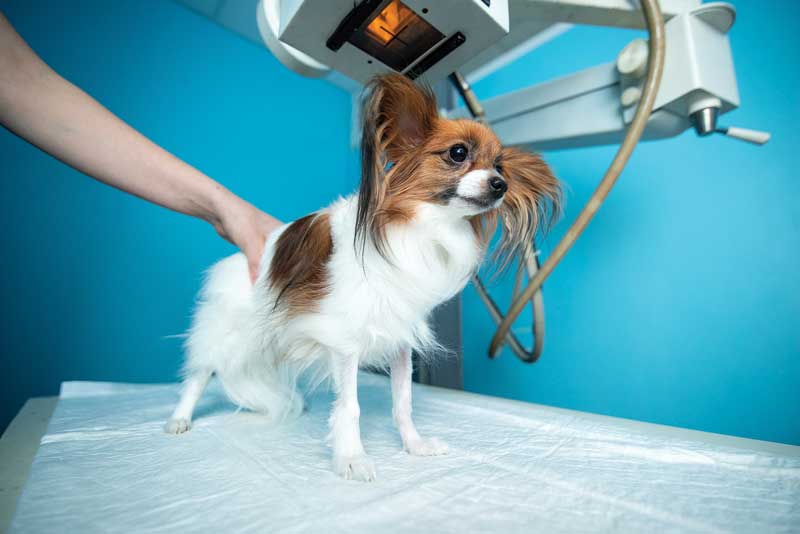 Digital X-ray equipment should work within your practice and your workflow and start to generate return on investment quickly. When selecting X-ray equipment, there are a number of factors to consider, such as state safety regulations, traffic flow, workflow, and the software you will use to run it.
It is important to start with a shielding report
Regulations will vary from state to state on X-ray equipment. It is very important to start with a shielding report. A physicist will study the blueprint of the room where the equipment will stay, the material of the walls, and what is on the other side of those walls, as well as the estimated usage of the equipment.
The physicist will consider all those factors and write what is called a shielding plan. Most often, machines are safe enough so the only required shielding is two sheets of drywall—one sheet on each side of the wall. However, clinics should get this in writing from a physicist to know there is no need for additional shielding to meet state requirements for protection.
Once the machine is installed, a required report of installation will be completed and sent to the proper regulating department of that clinic's state.
The state also expects the clinic to register the equipment. Practices can either file a new registration or amend their current registration to remove and add new equipment as needed. Note: Every state does require the machines be registered so they are aware of what radiation-generating equipment is installed and in use. 
Plan electrical in advance
Electrical requirements need to be easy for an electrician to look at—written in 'electrician language,' if you will. This professional will know exactly what kind of electrical supply the practice would need in that room to use for the machine.
Ideally, your X-ray supplier will visit the clinic to make sure the proper electrical is in place. On install day, practices should expect the team to show up before the equipment arrives to unload it, bring it into the clinic, and start setting everything up. This process should go smoothly if your supplier has helped the practice plan the space well, and if the shielding and electrical requirements have been met. 
How it all fits together
It is important everything fits together in the X-ray room, and a veterinary clinic design specialist can help with this. It should be placed in a certain part of the clinic to not only reduce the cost of shielding requirements, but also improve the traffic flow. Of course, practices will want their X-ray systems close to the surgery room, but keep in mind, it should also be accessible in case an emergency comes in the door and needs to go straight into X-ray.
There are a lot of machines out there that will produce radiation to create an image. One of the biggest factors in purchasing a long-term use product like a digital X-ray system is the software. How will practice staff use it? Is it user-friendly? Does it work with other software in the clinic? Can staff view images in other places? Would the practice own the images? Ownership of images allows teams to move around and share them as you want. Not every software allows full control over the images.
What to look for in X-ray software
Software developed specifically for the X-ray system is a must. It allows practices to easily send the images because it is stored locally on that computer. This is invaluable. If, for some reason, a practice network stops working, the X-ray system will still function, and staff will still be able to take and view images.
Even better is software that can automatically send all images to the cloud so they are stored off-site. If something happens, a copy of all practice images is saved. Clinics can share those images from either the local workstation or from the cloud, pulling up those images on any internet-enabled device.
Look for same-day installation and training
It is a reasonable goal to have X-ray installation finished in the same day, including training staff to take and view images. A company offering follow-up support is important so as questions arise, clinics have someone to contact.
A good support team would have the ability to access the practice's computer remotely to see what is on the screen, as well as answer all questions. Those might range from, "How do I do this?" to, "Why is the system doing this?"
A support team should be more than happy to answer those questions right away, to ensure the best value for a practice's imaging dollars. Ask for a software demonstration, as well as a chance to play with it.
Most-asked question following installation
Field technicians get asked a lot about shadow imaging outside of the collimated field, and clinics are concerned there might be a problem when it is just simply scatter radiation. It has always been there, but these new receptors are so much more sensitive, they pick it up.
When a veterinarian sees a white outline outside of the main collimated field, it is simply a good reminder of why it is so important to wear gloves, apron, and thyroid collar. And, of course, your dosimetry badge!
That is worth a reminder: Each employee will receive a dosimetry badge, as well as a control badge, which should be kept in a safe area so they can test the difference between the two badges. This way, the practice not only protects employees to make sure they are not over-radiated, but also protects itself because the practice has documentation.
Kris Fluke has extensive experience with X-ray equipment, having installed numerous units for doctors, chiropractors, dentists, and veterinarians. He currently works as a service technician for Patterson Veterinary, where he handles installations, repairs, and maintenance of all types of veterinary medical equipment.