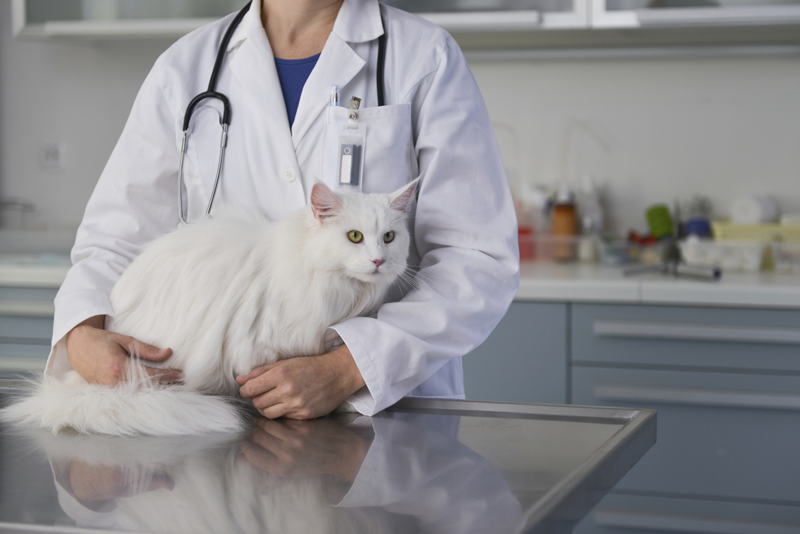 Imagine a world where every patient you see is relaxed and unafraid, where the animal stands calmly for a blood draw or willingly lies down for a radiograph.
In this world, clients regularly bring their pets into the clinic, not just at times of illness or injury but for wellness visits and preventive care. An eager dog wags his tail as he drags his owner toward the front door and a cat happily head-butts you during her examination.
Sound too good to be true? Marty Becker, DVM, doesn't think so.
Dr. Becker, a nationally known veterinarian and a Veterinary Practice News columnist, has expanded the Fear Free initiative he founded in 2010. The program now offers certification of veterinary professionals.
The major goal of the eight-module online course, which concludes with a test, is to teach veterinarians and clinic staff to identify signs of fear in pets and to reduce or remove anxiety triggers in the hospital environment.
"You're trained in veterinary school to find things [physically] wrong," Becker said. "Fear was like a disease we didn't know existed, or we thought of it like the common cold.
"With Fear Free, all you're doing now is looking at physical well-being and emotional well-being. You're looking at and caring about both."
What Is Fear Free?
Certification participants learn how to reduce or prevent stress in the clinic environment. Tactics include using scents like pheromones—especially for cats—playing relaxing music, warming the exam table, examining the pet on a mat on the ground, rewarding with treats, and utilizing mild sedation and analgesics for potentially painful or scary procedures.
Combined, all the techniques, protocols and products work to reduce fear, anxiety and stress, which leads to a more cooperative patient and safer and more efficient treatment, Becker said. As a result, veterinarians should see stronger client relationships and increased client retention and patient visits.
The course, available at individual and group rates, qualifies for nine hours of RACE-approved continuing education credit.
Fear Interferes
A fearful patient is, of course, more difficult to examine and treat, but fear manifests physically as well.
"Dogs and cats exhibiting fear, anxiety and stress often have a higher body temperature, blood pressure, heart rate and respiratory rate," said Lisa Radosta, DVM, Dipl. ACVB, of Florida Veterinary Behavior Service in West Palm Beach. "In addition, hematologic parameters, such as blood glucose, white blood cell count and cortisol, are likely to be altered."
The calmer a patient, Dr. Radosta said, the more accurate the diagnosis and more successful the treatment.
Becker has spread the word about Fear Free techniques for the past six years and has seen dramatic results, such as dogs becoming excited to go to the veterinarian and clients more willing to bring their pets in.
"People who stopped coming in, start coming in," he said. "People who stopped coming in as often start coming in more often.
"It's a better experience for everyone: the pet, the pet owner and the people who are working there."
Why Now?
Veterinarians have always cared about their patients' physical well-being. But a shift in the way society views pets has led to increased concern for their emotional well-being, and veterinarians are in a position to embrace it.
"Our clients are driving this movement to some extent," said Radosta, a member of the Fear Free executive committee. "This generation of veterinarians is aware of the extremely close bond that our clients have with their pets. Clients are asking for their pet's anxiety to be relieved and making decisions about their pet's health care based on their pet's stress levels. Our pets play a different role now than when compared to 40 years ago."
Fueling increased concern for animals' emotional well-being, or perhaps as a result of it, new research has emerged with regularity and gotten lots of play in the news. And social media sites teem with pet stories and videos that tug at the heartstrings.
"Over the past 10 years I have noted more and more studies on emotions in animals," Radosta said. "We hear stories of elephants that stay with a loved one who was ill or dying, or dogs who will not leave their canine companion when injured.
"These stories are easily found in the news, and pet owners are aware of them. The days of believing that animals are robotic, without emotions, are over."
Creating Calm
The Fear Free course, unveiled at this year's American Animal Hospital Association conference, is designed to teach veterinary professionals how to identify signs of fear in pets. The signs are often quite different from stress signals in humans.
"I remember when some of the behaviorists were talking about the signs of fear and anxiety, some of the stuff that they said was bad I had always thought was good," Becker said. "When a pet came in and acted like it was going to sleep and really resting, I thought, 'That pet is nice and calm.' Well, now I know that's not a good sign."
Radosta is predicting a widespread shift in the way pets' emotional needs are handled in medical settings.
"Veterinarians love animals or we would not have chosen to devote our lives to helping them be healthy and well," she said. "We have come a long way with dermatology, behavioral medicine and dentistry, for example, since I graduated in 2000. Veterinary medicine will continue to evolve for the good of our patients and clients. This is part of that evolution."
The launch of Fear Free certification garnered higher-than-expected interest, Becker said, with more than 800 registrations and 110 certifications in the first month.
"We're not the first profession to do this," Becker said. "Pediatricians had to learn how to look at emotional and physical well-being. We just needed an awakening, I guess. That's why the response has been so good."
Veterinarians can expand their influence with pet owners by making emotional health equally as important as physical health, he said.
"If you ask the public, 'Who looks after the physical well-being of pets?' they say veterinarians," Becker said. "If you ask, 'Who looks after their emotional well-being?' they might say the humane society.
"Now we're going to have a chance to gain that back, where people think, 'Wow! The vet looks after everything.'"
Additional information about Fear Free certification is available at www.fearfreepets.com.
How Fear Free Borrows From Exotics
Veterinarians looking for techniques to help pets remain calm and cooperative during medical treatments can take a lesson from the zoological world. "Marine mammal trainers were probably the first to explore the potential of training animals to cooperate in medical care in the '60s and '70s" said Barbara Heidenreich, an Austin, Texas, animal training and behavior consultant specializing in avian, exotics and zoo animals. "It has become more prominent in the last 20 years, and many zoos see it as a very accepted goal to have animals participate in their own medical care."
A 5,000-pound rhinoceros simply can't be forced to open his mouth to have his teeth examined. Sedation is not the best option for frequent care. But conditioning the animal to willingly allow exams and treatments is a win-win for everyone.
"Animals are empowered to choose to participate, and when they do, good things happen. This creates a very eager participant," said Heidenreich, an adjunct clinical instructor at Texas A&M University and a member of the advisory group for the Fear Free initiative.
Heidenreich uses force-free methods to get animals to cooperate. These include positive reinforcement and systematic desensitization.
"In the zoological community we regularly collect blood, perform ultrasounds, give injections, brush teeth, trim hooves, and much more, on a wide variety of species, all without restraint."
Heidenreich traveled to Indonesia, where in just one training session she helped teach a giraffe to load into a restraint chute and permit touching in preparation for injections.
"This work is extremely important because anesthetizing giraffes is high risk," she said. "Within 20 minutes we had an animal that had never before willingly stood in a restraint chute, standing there and allowing us to touch his hip with quite a bit of pressure."
Giving equal consideration to an animal's physical, behavioral and emotional needs is the key to providing better care, she said.
"It's extremely rewarding knowing the work we do makes such a difference in the care we can provide for zoo animals," Heidenreich said. "I know it would benefit domestic species, and I hope to see it implemented more in the companion animal community."
3 Easy Fear Free Concepts
Veterinarians and practice owners may be concerned about the time necessary to implement Fear Free, Radosta said. However, many of the concepts are easy to put into practice.
Radosta provided examples of techniques that can go a long way toward creating a calmer experience for patients and clients.
1) Let the client know what you are doing.
"Say, 'Ms. Jones, we are going to do a physical examination now. Because Fido is a small dog, we are going to do the exam on the table,'" Radosta said. "Letting people know what you are doing eases their anxiety."
2) Use table and floor mats. 
A mat may reduce a patient's anxiety by providing a secure, comfortable place to stand. "We use grooming mats or the Pet Vet mat," Radosta said. "You can also use bath mats or yoga mats. Clean the mats in between appointments to keep everything sanitary."
3) When appropriate, use food or toys during procedures, from start to finish. 
"Many of us give treats after the exam is over, but that doesn't help the pet to feel better during the exam," Radosta said. "The less stressed the patient is, the easier it is to handle, so we want to reduce stress during the examination."
---
Originally published in the July 2016 issue of Veterinary Practice News. Did you enjoy this article? Then subscribe today!