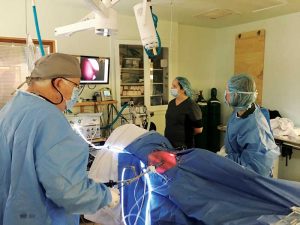 The advantages of laparoscopy are obvious—smaller incisions, less pain, faster recovery, and less scarring. It is no wonder, then, that laparoscopy continues to advance in application, instrumentation, technique, and training.
The minimally invasive surgical procedure, often called "keyhole surgery" because of the small incision into which the fiber-optic instrument is inserted, provides veterinarians with an increasingly wide array of applications. These include gastropexy to eliminate the risk for gastric dilatation and torsion in older large-breed dogs, splenectomy for reasons of cancer or trauma, suturing of colon (colopexy) or urinary bladder (cystopexy) to the abdominal wall for different medical conditions, laparoscopic ovariectomy, and adrenalectomy due to cancer.
Although cholecystectomy is much less common in dogs than in people, new studies may propel this particular application further, according to Boel A. Fransson, DVM, PhD, ACVS, founding fellow, minimally invasive surgery, professor of small animal surgery at Washington State University (WSU).
"Recently the success rate of gallbladder surgery by laparoscopy has been shown to be high in larger numbers of dogs than the early reports, encouraging its use," Dr. Fransson said.
Diagnostics—liver, pancreatic, kidney, and intestinal biopsies—are another big application, according David Twedt, DVM, DACVIM, a professor of clinical sciences at Colorado State University Veterinary Teaching Hospital. Even laparoscopic-assisted surgical procedures, such as intestinal foreign body removal, are gaining traction, he added.
"As with any surgery, the technique changes and improves," Dr. Twedt said. "I believe the big thing is we are always finding new procedures, new techniques, or new equipment with which to do a surgical procedure."
Improvements
While the basic scope is about the same, the quality of the equipment has improved over the years, according to Twedt.
"Monitors, cameras, light sources, and telescopes improve yearly," he said. "The monitors and cameras are now 4K, some with 3-D, and abnormal tissue can be determined with special lighting."
Fransson pointed to barbed sutures as an important facilitator of laparoscopy.
"Barbed suture makes the challenges of suturing laparoscopically much easier and has opened up new possibilities for surgeries like gastropexy, cystopexy, and colopexy," she said.
Single-site portal—where the scope and all the instruments are inserted through the device in one 3-cm incision—and threaded cannulas also are paving their way within the field. Fransson is currently researching whether threaded cannulas make for a safer and more effective entry.
If laparoscopic instrumentation and techniques are improving, so must the training.
"Minimally invasive surgery is an advancing specialty," Twedt said. "In fact, the American College of Veterinary Surgeons (ACVS) now requires its residents to have training in minimally invasive surgery."
When Fransson began practicing laparoscopic surgery more than a decade ago, she liked the benefits it provided her patients, but found it was a challenging technical procedure. Last year, she developed the Veterinary Assessment Laparoscopic Skills (VALS) program, a simulation training and certification program to help veterinary surgeons strengthen their skills in laparoscopy. (For details, visit valsprogram.org.)
Previously, the only way to get better at laparoscopy was through practicing on cadavers or starting with simple techniques on patients and developing the skill slowly, according to Fransson. VALS allows surgeons to develop advanced skills more quickly outside of the operating room, she said.
VALS has had a great start, but it hasn't penetrated into the awareness of many veterinary surgeons, according to Fransson.
"Overall, we surgeons tend to think about equipment to facilitate and make surgery simpler, than to think about our own skills training," she said. "The former is a little more 'sexy.'"
However, Fransson noted VALS certification is required by the newly instituted ACVS fellowship training in minimally invasive surgery, which may propel the program further.
Colorado State University offers both laparoscopic surgical and diagnostic courses. Further, its T C. Wayne McIlwraith Translational Medicine Institute includes an endoscopic training center.
Putting laparoscopy in the spotlight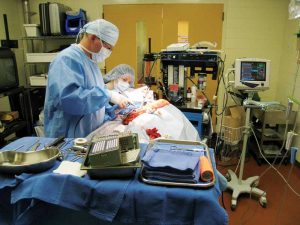 Veterinary laparoscopy certainly has advanced, but Fransson hopes to see it expand even further. For example, she would like to see more surgeons take on laparoscopy. Increased training availability is a start, but the lowering of equipment costs also would be beneficial, she said.
Most of the laparoscopic courses Twedt teaches are to those in private practice, he said.
"The limiting factor is expense of instrumentation," he added.
However, once paid for, one can make it profitable and even time effective as one's experience using it improves.
"The basic equipment also can be adapted (light source, camera, monitor, etc.) for respiratory, gastrointestinal, and cystoscopy," Twedt said.
Research fuels growth, which is why Fransson would like to see more emphasis in this area, particularly research showing how laparoscopy compares to traditional techniques.
"As with all new surgical development, the first wave of medical journal articles is mainly describing that different surgical procedures can be done laparoscopically," she said. "However, what surgeons need to know ultimately is that a new technique is at least as safe and effective as traditional surgery. That can only be shown by comparing laparoscopy to open surgery side by side. We have recently started seeing those type of papers and that is great. We need more. We already know laparoscopy leads to less pain and faster recovery, so now we (as a community) need to ensure the long-term outcomes are as good as or better than open surgery."