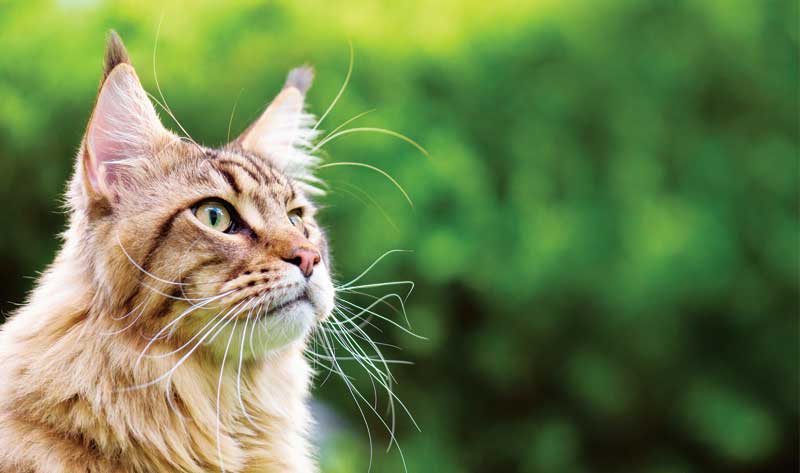 If you've never treated a cat for dilated cardiomyopathy (DCM), thank the Winn Feline Foundation. If you've ever vaccinated a cat for feline leukemia, thank Winn. If you've adjusted a diabetic cat's diet by adding protein and simultaneously creating a weight loss plan that sent the cat into remission, thank Winn. If you've tested a cat's blood pressure or offered a cat an appetite stimulant, well … you know what organization to thank.
"The past 50 years the Winn Feline Foundation has been in existence certainly have been golden for veterinarians, their feline patients, and the clients who love them," said Janet Donlin, DVM, CAE, CEO of the American Veterinary Medical Association.
"No other organization that I know of in the world has impacted cats as much as Winn, which has been on the forefront of cat health studies for 50 years," said Shila Nordone, Ph.D., president of the Winn Feline Foundation board of directors.
Joan Miller, Winn's president for 16 years, a member of its board of directors for 20 years, cat show judge for 32 years, a general cat fancier since 1970, and the most recent recipient of the AVMA Humane award, is arguably the queen of cats.
She recalled that 50 years ago the foundation began when longtime Cat Fanciers' Association attorney Robert Winn, during a CFA board meeting, suggested a scholarship fund, which was established with a $125. In 1971, the CFA Foundation was renamed the Robert H. Winn Foundation for Cat Research to honor Winn following his death.
Funds well spent
Over five decades, Winn has funded about $6 million in feline health studies, including many conducted by some of the most noteworthy researchers on
the planet. Among them is Niels Pedersen, DVM, Ph.D., professor emeritus University of California, Davis School of Veterinary Medicine.
"Throughout my infectious disease research, particularly with feline infectious peritonitis, Winn Feline has been right there with me," said Dr. Pedersen. "Winn's support has made a significant difference."
"Without that [Winn Feline Foundation] support, finding the first mutation that causes feline heart disease and finding the primary cause of feline dilated cardiomyopathy never would have happened," said Mark D. Kittleson, DVM, Ph.D., DACVIM (Cardiology), professor emeritus at the UC Davis School of Veterinary Medicine.
Famously, it was Paul Pion, DVM, Ph.D., DACVIM (Cardiology), Veterinary Information Network founder, who wondered in the mid-1980s why cats were being diagnosed so often with DCM. His notion was that cat food didn't contain enough taurine. Only Winn would give him the funding he needed—$10,000—to prove his point.
Somehow, Winn's decision was considered risky at the time. The result was that appropriate taurine levels were added to pet food due to Dr. Pion's discovery, and today most veterinarians can go an entire career without diagnosing DCM.
Hypertrophic cardiomyopathy (HCM) is another story, but genetic mutations in Maine coons and ragdolls were revealed thanks to Winn funding. Today, with a simple cheek swab test, breeders can determine whether they want to move forward with a breeding program if a mutation for HCM exists.
"Winn has always been on the cutting edge; never afraid to fund innovative studies," said Vicki Thayer, DVM, DABVP (Feline), executive director for Winn. "Sometimes the scientific advisory committee and board will take a higher risk, and the reward is very high."
Projects funded during the past 50 years that have yielded practical results are far too many to list here. Here's a sampling of what the foundation has helped to achieve:
Recognizing and understanding feline leukemia, or feline lymph node disease, as it was called back in the day
Treating feline diabetes with a high-protein diet, insulin, and simultaneous gradual weight loss to help a significant number of diabetic cats enter into remission
Discovering an appropriate and effective feline appetite stimulant
Developing a mechanism to measure blood pressure in cats and indicate its importance to feline health
Championing studies that have resulted in proven specific treatments to support cats with several types of cancer
Demonstrating blood typing in cats
Defining how coronaviruses enter a cell and mutate to cause FIP
Improving the treatment and prevention of Tritrichomonas foetus
Understanding how catteries and shelters can efficiently deal with ringworm
A good future requires greater funding
"Much of what veterinarians do every day was first discovered by research funded by Winn," said Brian Holub, DVM, chief medical officer for VetCor, private practitioner, and longtime Winn scientific advisor. "Veterinarians may have no idea of the role Winn has played; Winn is the best kept secret in cat health."
Winn's tag line is "supporting the health and well-being of every cat, every day," because the organization doesn't discriminate—a good study is a good study if it has practical applications—whether it's breed specific, for all cats, or focusing on community or shelter cats.
Studies underway today and planned for the immediate future are focusing on stem cells, and advances are happening surprisingly fast, but more science is needed, according to Thayer.
Unfortunately, when it comes to feline health funding, cats are not man's best friend. But veterinarians can help change that.
"We're the choice if you want to make a difference for cats," said Thayer. "Rather than giving to one institution (as veterinarians often do to honor client cats that have passed away), we evaluate the best studies of those submitted from around the world."
"Cat health specifically has always been challenging to fund," said Dr. Nordone, who was the chief scientific officer at the American Kennel Club Canine Health Foundation for four years. "And that has to change—for the sake of all cats."
That's why the Winn Feline Foundation created Cures 4 Cats Day, which was inaugurated and will be celebrated annually on Oct 21.
"It's about time that America's most popular pet receives the attention it deserves," said Thayer. "We need to enhance awareness and celebrate the importance of cats in our lives."
 CURES4CATS DAY
Cures4Cats, which celebrated its inaugural day on Oct. 21, is Winn Feline Foundation's annual day of awareness dedicated to highlighting Winn-funded research, the critical need for evidence-based medicine, early-stage biomedical research, and health answers involving cats.

Since 1968 Winn Feline Foundation has been dedicated to supporting studies to improve feline health. In 2018, the foundation will celebrate its 50th anniversary and the many milestones achieved in feline health.
Steve Dale writes every other month for Veterinary Practice News. A certified animal behavior consultant, he speaks at animal welfare and veterinary conferences. His website is stevedale.tv. Columnists' opinions do not necessarily reflect those of Veterinary Practice News.