Suggested Veterinary Products
Originally published in the October 2015 issue of Veterinary Practice News
One paid employee and a network of dedicated volunteers keep the World Small Animal Veterinary Association (WSAVA) focused on its mission of advancing the health and welfare of companion animals worldwide.
Guiding the group is President Colin F. Burrows, BVetMed, Ph.D., Dipl. ACVIM, a professor emeritus at the University of Florida College of Veterinary Medicine. He's also a co-founder of North American Veterinary Community (NAVC), whose annual conference in Orlando, Fla., has enjoyed record-setting attendance in recent years.
Dr. Burrows has been recognized worldwide for his work, earning honors such as the British Small Animal Veterinary Association's Woodrow Award in 1992, the Royal Canin Award from the American Animal Hospital Association in 2005 and the XIIth International Veterinary Congress Prize from the American Veterinary Medical Association in 2008.
Veterinary Practice News sat down with the native of Colchester, England, to talk about his career and WSAVA.
Q. One day you're serving on the WSAVA board and then suddenly you're president. How did it happen?
A. In April 2012, Peter Ihrke, a dermatologist from UC Davis, took over. In early May Peter had to have surgery for back problems, but he never properly recovered. They discovered that Peter had a brain tumor, a very aggressive one. Because I hadn't been on the board that long, Jolle Kirpensteijn took over as interim president. He was at Utrecht University as a professor, but he wanted a career change and was headhunted by Hill's Pet Nutrition, so Oct. 31, 2013, was his last day at Utrecht and Nov. 1 was his first day at Hill's. He's responsible for global professional relations, and that obviously is a major conflict of interest. So I stepped into the role. [Ihrke died in February 2014].
Q. When did you go to the University of Florida?
A. I arrived in Florida as an internist, as an associate professor, in August 1980. I taught gastroenterology. I was in the medicine clinics, internal medicine, until 1995, when the then-department chair, Mark Bloomberg, sadly had a heart attack and died. I was asked by the dean to be acting chair, and then I applied for the job. I was department head and chief of staff of the Small Animal Hospital until I retired in 2011.
Q. Your involvement with NAVC goes way back, including many years as CEO. How did that start?
A. Two University of Florida Extension vets—Tom Lane and Gene Cope—had been to the Western States Veterinary Conference in February 1982 and on the way back they said, "Why not an Eastern States Veterinary Conference?" So they went to the then-dean, Kirk Gelatt, and he fronted the money with a personal check for 50 bucks to incorporate as a not-for-profit in the state of Florida. I was there at the time running the continuing education committee at the University of Florida. One day, Gene, who I didn't know very well at the time, knocked on my office door and in his Texas drawl said, "Howdy, y'all. We're putting on a little ol' veterinary conference. How would you like to help with the small animal program?" In a weak moment I said yes. I made calls to the people I knew in the field and said, "We're putting on this conference in Florida in January. We're not sure if we can pay you. We have enough money to fly you here. Would you like to come?" They all said yes. To break even we wanted about 440 people. As it turned out we had close to 650. The rest is history.
Q. WSAVA is essentially an association of associations—96 member organizations around the world representing 165,000 veterinarians. What does your group do exactly?
A. We're in the business of companion animal association development and professional continuing education. Through our annual World Congress, when he see a void we try to do something about it. So there's a continuing education committee and we take speakers on basic topics to countries that are unable to do very much—Myanmar, Vietnam, some countries in Latin America. Twenty-odd years ago we started in Eastern Europe and went to Hungary, Bulgaria, Poland, Slovenia, Slovakia and Russia and helped them with CE and developed their own associations, and they've now become stronger and they hold meetings on their own. And now we've reached out to Africa through the African Small Companion Animal Network, or AFSCAN. Nigeria was accepted as a member association of the WSAVA in May. Kenya is in the process. Cambodia is starting to form an association. One of the most important things we've done recently is global pain management. [The guidelines were launched in May at the World Congress in Bangkok.]
Q. WSAVA also works on rabies control, right?
A. We have a joint memorandum of understanding with the World Organization for Animal Health (OIE) to encourage the elimination of rabies through vaccinations. Rabies kills over 60,000 people a year, mainly through rabid dog bites. It's been shown that if you can vaccinate 70 percent of the population, it drops.
Q. Are there many fully trained small animal veterinarians in developing countries such as Vietnam, Cambodia and Nigeria?
A. No. In many of those countries the focus has been on large animal and preventive medicine, and companion animals have been an afterthought. But as countries develop and people get some disposable income—it's happened time and time again—people want pets. India is so big that the veterinary education and abilities there are much higher in the cities than in the boonies. There's a practitioner in Mumbai who's developed his own emergency and critical care practice. He was one of the first people to benefit from CE. He was telling me that in veterinary schools north of Mumbai no companion animal medicine is being taught. So one of the things that we're doing with the global edition of Clinician's Brief—I'm the editor—is to get input about the needs in developing countries. An upcoming article is on what basic instruments do you need for surgery, how do you hold a scalpel, how do you drape a dog for surgery, what's a sterile technique? It may sound ridiculous to a vet in Seattle or Portland, but it's a tremendous challenge.
Q. How can individual practitioners help WSAVA?
A. Our 2016 World Congress is in Cartagena, Colombia. We will be putting out a call for volunteers to go to specific places in Latin America to help with veterinary care in impoverished areas. There's another major outreach program that we're doing in conjunction with World Rabies where we will be calling for volunteers to go to Malawi in Africa to help vaccinate dogs against rabies. We'll provide housing and vaccines, but people will be expected to get themselves there. The OIE has a goal of eliminating rabies from the world by 2030. It's ambitious, but it's beginning to gather momentum. Vets are very good at giving of their time and talent to noble causes.
Q. WSAVA is funded largely through industry support and association dues. How is WSAVA doing financially?
A. Our overall budget this year is $980,000. There is an old saying: "They have champagne tastes on a beer budget." We could have champagne tastes, but we are very strictly controlled by how much money we have and how it's allocated. People come to us and ask for things, but it's not like we're a charity. The proceeds from the Fun(d) Run [at the 2014 World Congress in Cape Town, South Africa] went to AFSCAN for rabies control. This year, half of the Fun(d) monies went to the veterinary association in Nepal. We have a number of industry partners that donate to various things. Merck, for example, is the sole sponsor of the vaccination guidelines group. Continuing education has four companies that give $40,000 each. The One Health committee has a number of companies that give $5,000 each.
Q. WSAVA is truly an international organization.
A. We have an honorary secretary from Thailand, a vice president from Singapore, our treasurer is from Quito in Ecuador, our office is in Canada.
Q. How do things get done with only one paid office employee?
A. We have 13 or 14 committees and task forces that are chaired by enthusiastic believers in the cause who surround themselves with like-minded individuals from around the world. They all volunteer their time. The monies for their travel, et cetera, usually come from industry.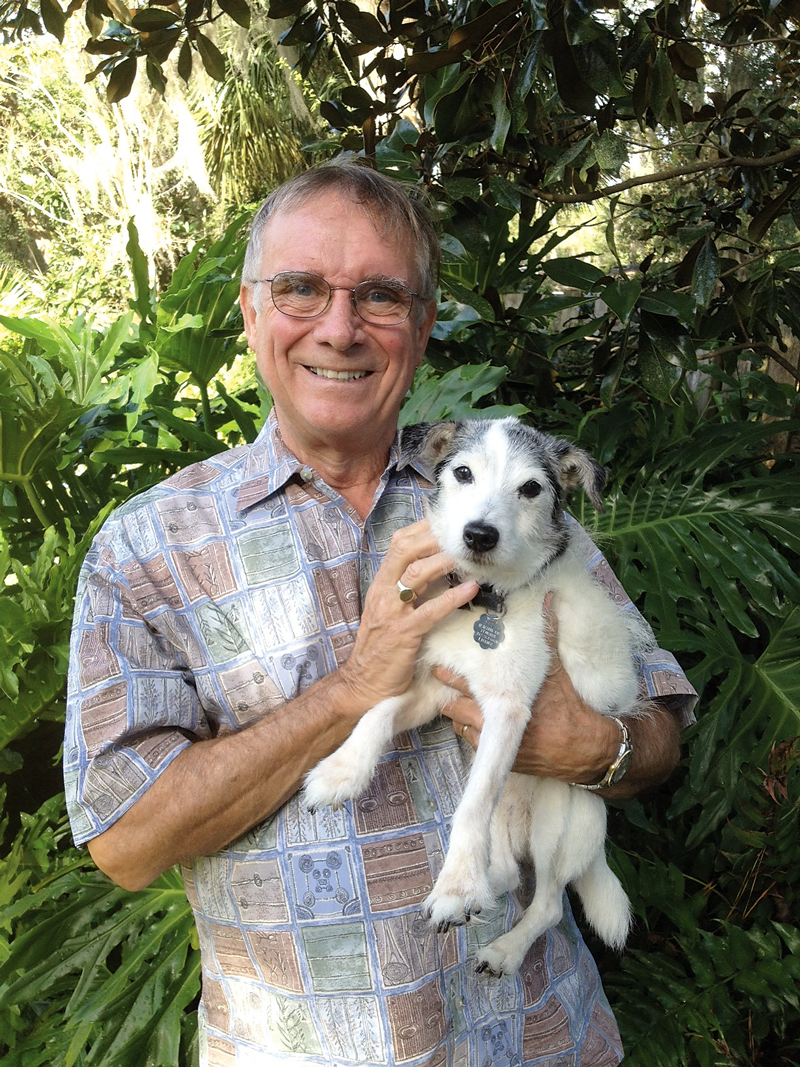 WSAVA
A board-certified veterinary internist, Dr. Colin Burrows is a 1969 graduate of the University of London Royal Veterinary College. He earned his Ph.D. in comparative medical sciences from the University of Pennsylvania in 1980.
Q. They are spread around the world, so how do they communicate?
A. Conference calls, emails. The One Health committee recently met after the ACVIM meeting in Indianapolis and came up with ambitious plans for the coming year, one of which is to publish a series of vignettes of important diseases from the veterinarian's and the physician's side. Questions that might be asked are, "I'm pregnant. Should we get rid of the cat?" "I'm going to get backyard chickens. What should I look out for?" They will be published in Clinician's Brief and I think in a family practice journal.
Q. Any other big issues?
A. Drug availability. I was in Bosnia, visiting a veterinary school, and the only drug that they have to anesthetize patients is ketamine. And yet in Russia a vet is in jail for illegally importing ketamine. The Chinese and Russians are trying to make ketamine a Schedule I drug because—and this is too political—they just don't want to be bothered with it. Ketamine is so bloody important to vets, it's all that a lot of them have. We published an article in Clinician's Brief that talked about pain management in birds, and the board member from Quito said, "Colin, this is all very lovely, but you do realize we don't have access to any of these drugs? They're banned." We have to work with industry and associations globally and make them understand that drug availability is an important part of animal welfare. It's good for people—it's about human health as well.